News Issues Interviews Order About Follow Support Submit Contact ©MONU


MONU's global reputation and international profile provides a unique outlet in which to promote your institute, brand or event. To advertise in MONU is excellent value-for-money in comparison to local and consumer-oriented magazine rates. MONU's distribution strategy offers an ideal tool for institutes and companies that want to advertise and promote their brand on an international level, from Rotterdam to New York, from Berlin to Sydney.

Each issue of MONU has around 60.000 online readers and a printed edition of 3.000 copies. MONU offers a worldwide distribution network. A European distribution network via press and bookshops in Austria, France, Germany, Netherlands, Spain, Switzerland and the UK and overseas in Australia, New Zealand, India, Canada and the USA. MONU is distributed by Idea Books, Netherlands and Bruil & van de Staaij, Netherlands. MONU is available at selected newsstands and bookshops worldwide. Among others: Librairie LE MONITEUR, 15, rue d'Uzes, 75002 Paris, France; NAI Booksellers, Museumpark 25, 3015 CB Rotterdam, Netherlands; AA Bookshop, 32 Bedford Square, London WC1B 3ES, United Kingdom; do you read me?!, Auguststrasse 28, 10117 Berlin, Germany; Perimeter Books, 748 High Street, Thornbury, Melbourne, Australia; Artbook at MoMA PS1, 22-25 Jackson Ave, Queens, New York 11101, USA. If you are interested in our rates and policies please email to info@monu-magazine.com.


MONU's current supporters are:


BAUHAUS UNIVERSITY WEIMAR'S INTERNATIONAL MASTER COURSE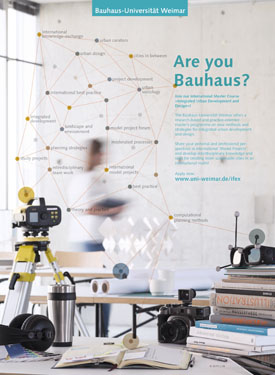 Join their International Master Course
"Integrated Urban Development and Design"!
The Bauhaus University Weimar offers a research-based and practice-oriented master's programme on new methods and strategies for integrated urban development and design.
Share your personal and professional perspectives in international 'Model Projects' and develop interdisciplinary knowledge and skills for creating more sustainable cities in an international realm!
Apply now: www.uni-weimar.de/ifex


BIRKHÄUSER'S VIENNA – THEN AND NOW


Vienna – Then and Now
Paintings and Photo graphs
in a Historical Dialogue
Rudolf (von) Alt, Stefan Oláh
ALT WIEN NEU /
OLD VIENNA NEW
Ed. by Leonhard Weidinger

Rudolf (von) Alt painted people, landscapes, villages and towns in the countries of the Habsburg monarchy as well as in Crimea, Italy and Germany. In his pictures, he also documented the emergence of Vienna as a cosmopolitan city between the 1820s and the beginning of the 20th century. Stefan Oláh photographs architecture and living and cultural environments from the Himalayas to Brazil – and in Vienna. In this publication, paintings by Rudolf (von) Alt are juxtaposed with photographs by Stefan Oláh. The artists' positions – and their lines of sight - are almost identical. Their motifs are similar – or not. The historian Leonhard Weidinger introduces the pairs of images with richly informative texts about the buildings, their history and their surroundings.

2017. 264 pages. 76 color ills.
22.8 × 29.2 cm
HC EUR (D) 57.95 / RRP USD 66.99 /
GBP 47.99
ISBN 978-3-0356-1450-3
www.birkhauser.com


ESTONIAN ACADEMY OF ARTS' MA PROGRAMME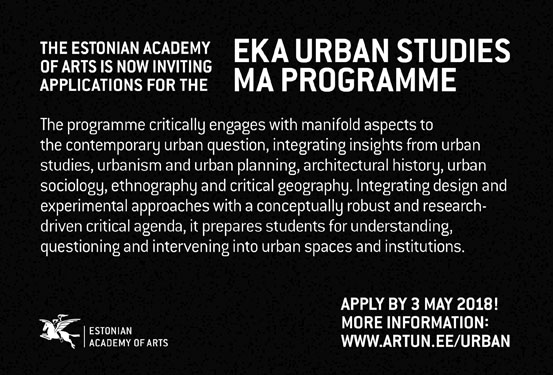 The Estonian Academy of Arts is now inviting applications for their Urban Studies MA Programme.

The programme critically engages with manifold aspects to the contemporary urban question, integrating insights from urban studies, urbanism and urban planning, architectural history, urban sociology, ethnography and critical geography. Integrating design and experimental approaches with a conceptually robust and researchdriven critical agenda, it prepares students for understanding, questioning and intervening into urban spaces and institutions.

Apply by 3 may 2018!

More information: www.artun.ee/urban


SOTINE'S HANDMADE JEWELLERY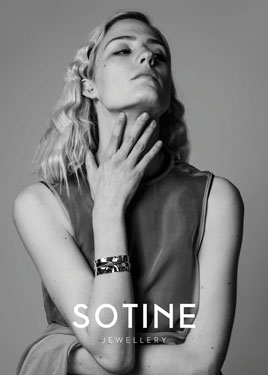 The jewelry of Rotterdam-based SOTINE is handmade, with great attention for detail and care. The materials they use are honest and selected with the purpose to create the best product.
Natural materials such as coral, seashells and gemstones are found on their inspiring trips across the globe.

www.sotine.com


INCOGNITA'S ARCHITECTURE TRIPS: DISCOVER EASTERN EUROPEAN ARCHITECTURE AND URBANISM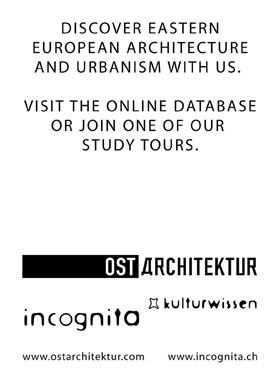 Have a closer look at the programme of the Switzerland-based "Incognita Kulturwissen" that organizes faszinating architecture trips around the world.
Visit their online database or join one of their study tours.

www.incognita.ch
www.ostarchitektur.com