News Issues Interviews Order About Follow Support Submit Contact ©MONU


MONU's global reputation and international profile provides a unique outlet in which to promote your institute, brand or event. To advertise in MONU is excellent value-for-money in comparison to local and consumer-oriented magazine rates. MONU's distribution strategy offers an ideal tool for institutes and companies that want to advertise and promote their brand on an international level, from Rotterdam to New York, from Berlin to Sydney.

Each issue of MONU has a printed edition of 3.000 copies. MONU offers a worldwide distribution network. A European distribution network via press and bookshops in Austria, France, Germany, Netherlands, Spain, Switzerland and the UK and overseas in Australia, New Zealand, India, Canada and the USA. MONU is distributed by Idea Books, Netherlands and Bruil & van de Staaij, Netherlands. MONU is available at selected newsstands and bookshops worldwide. Among others: Librairie LE MONITEUR, 15, rue d'Uzes, 75002 Paris, France; NAI Booksellers, Museumpark 25, 3015 CB Rotterdam, Netherlands; AA Bookshop, 32 Bedford Square, London WC1B 3ES, United Kingdom; do you read me?!, Auguststrasse 28, 10117 Berlin, Germany; Perimeter Books, 748 High Street, Thornbury, Melbourne, Australia; Artbook at MoMA PS1, 22-25 Jackson Ave, Queens, New York 11101, USA. If you are interested in our rates and policies, please email to info@monu-magazine.com.


MONU's current supporters are:


LUCERNE UNIVERSITY OF APPLIED SCIENCES AND ARTS:
MASTER STUDIES IN ARCHITECTURE IN SWITZERLAND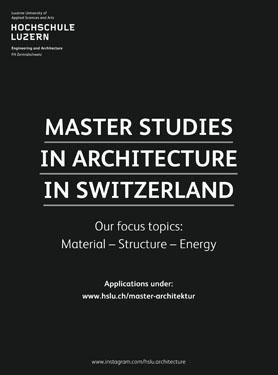 The master's program focuses on a broader understanding of architecture in the area of conflict between technology and context.

Focus topics: Material – Structure – Energy

Applications under: www.hslu.ch/master-architektur
More info: www.instagram.com/hslu.architecture


CIVA´S EXHIBITION: SUPERSTUDIO MIGRAZIONI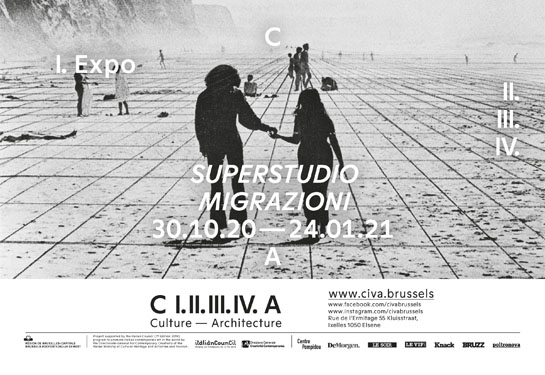 30 October, 2020 - 24 January, 2021
Location: Rue de l'Ermitage 55, 1050 Brussels

Situated at the crossroads of architecture, design, art, and anthropology, Superstudio's work remains intriguingly contemporary.
Their radically imaginative oeuvre has been rediscovered in the late 1990s and has affirmed itself as an important source for young architects and artists today.

More info: www.civa.brussels


STROOM DEN HAAG'S EXHIBITION:
CAPTURING CORONA. THE LOCKDOWN IN PHOTOS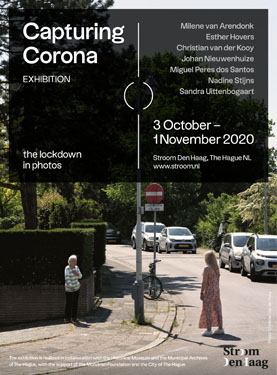 3 October - 1 November 2020
Location: Stroom, Hogewal 1-9, The Hague


In general, historical events are engraved in our collective memory through music, iconic images from films and photographs. Since last spring we find ourselves in a unique moment in history. We all felt it, but it was not always visible. It is precisely this special moment in time that calls for an artistic interpretation. Over the past months the Hague photographers Milene van Arendonk, Esther Hovers, Christian van der Kooy, Johan Nieuwenhuize, Miguel Peres dos Santos, Nadine Stijns and Sandra Uittenbogaart captured the impact of the corona virus on public space. This resulted in a collection of unusual and exceptional photographs. Sometimes you will recognize the location where the picture was taken, but more often the emphasis is on feelings and emotions.

The Hague hosts more presentations about the city in times of corona. In the Affiche Galerij for example you can visit the exhibition Stay Sane Stay Safe; and The Hague Historic Museum collects objects and stories of citizens. This Corona Collection is growing day by day; you can find a sneak-preview online.
The exhibition is realized in collaboration with the Historical Museum and the Municipal Archives of The Hague, with the support of the Mondrian Foundation and the City of The Hague.

More info: www.stroom.nl


ROTTERDAM'S INDEPENDENT SCHOOL FOR THE CITY:
THREE-MONTH EDUCATIONAL PROGRAMME ON CONTEMPORARY URBANISM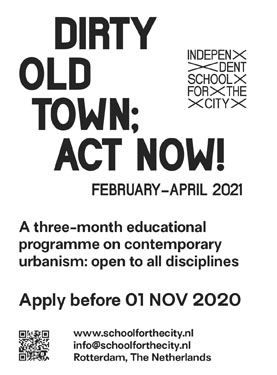 Starting in February 2021, the Independent School for the City offers a unique 12week programme, where you get the chance to develop your own critical position towards the inescapable complexity and contradictions of the contemporary city.
Participants in the programme will be offered a series of lectures, excursions and workshops focusing on specific research methods and pressing social issues such as the Anthropocene, Superdiversity and Crime in relation to our urban surroundings. Participating in the programme gives you the opportunity to meet a diverse team of urban specialists, designers and researchers. You'll work together in a community of learning where you will have the freedom to deepen your knowledge and develop your own position towards the pressing urban issues of our time.
Application deadline: 01 November 2020
More info: www.schoolforthecity