News Issues Interviews Order About Follow Support Submit Contact ©MONU


MONU's global reputation and international profile provides a unique outlet in which to promote your institute, brand or event. To advertise in MONU is excellent value-for-money in comparison to local and consumer-oriented magazine rates. MONU's distribution strategy offers an ideal tool for institutes and companies that want to advertise and promote their brand on an international level, from Rotterdam to New York, from Berlin to Sydney.

Each issue of MONU has a printed edition of 3.000 copies. MONU offers a worldwide distribution network. A European distribution network via press and bookshops in Austria, France, Germany, Netherlands, Spain, Switzerland and the UK and overseas in Australia, New Zealand, India, Canada and the USA. MONU is distributed by Idea Books, Netherlands and Bruil & van de Staaij, Netherlands. MONU is available at selected newsstands and bookshops worldwide. Among others: Librairie LE MONITEUR, 15, rue d'Uzes, 75002 Paris, France; NAI Booksellers, Museumpark 25, 3015 CB Rotterdam, Netherlands; AA Bookshop, 32 Bedford Square, London WC1B 3ES, United Kingdom; do you read me?!, Auguststrasse 28, 10117 Berlin, Germany; Perimeter Books, 748 High Street, Thornbury, Melbourne, Australia; Artbook at MoMA PS1, 22-25 Jackson Ave, Queens, New York 11101, USA. If you are interested in our rates and policies, please email to info@monu-magazine.com.


MONU's current supporters are:


INCOGNITA'S ARCHITECTURE TRIPS: DISCOVER EASTERN EUROPEAN ARCHITECTURE AND URBANISM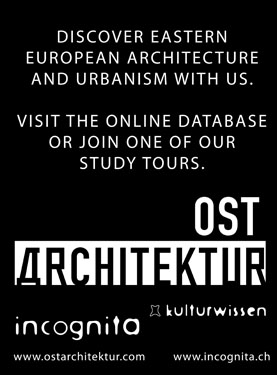 Have a closer look at the programme of the Switzerland-based "Incognita Kulturwissen" that organizes faszinating architecture trips around the world.
Visit their online database or join one of their study tours.

www.incognita.ch
www.ostarchitektur.com