News Issues Interviews Order About Follow Support Submit Contact ©MONU


MONU's global reputation and international profile provides a unique outlet in which to promote your institute, brand or event. To advertise in MONU is excellent value-for-money in comparison to local and consumer-oriented magazine rates. MONU's distribution strategy offers an ideal tool for institutes and companies that want to advertise and promote their brand on an international level, from Rotterdam to New York, from Berlin to Sydney.

Each issue of MONU has around 60.000 online readers and a printed edition of 3.000 copies. MONU offers a worldwide distribution network. A European distribution network via press and bookshops in Austria, France, Germany, Netherlands, Spain, Switzerland and the UK and overseas in Australia, New Zealand, India, Canada and the USA. MONU is distributed by Idea Books, Netherlands; Bruil & van de Staaij, Netherlands; and Disticor Magazine Distribution Services, Canada. MONU is available at selected newsstands and bookshops worldwide. Among others: Librairie LE MONITEUR, 15, rue d'Uzes, 75002 Paris, France; NAI Booksellers, Museumpark 25, 3015 CB Rotterdam, Netherlands; Art Data, 50 Cunnington Street, London W4 5HB, United Kingdom; do you read me?!, Auguststrasse 28, 10117 Berlin, Germany; Perimeter Books, 748 High Street, Thornbury, Melbourne, Australia; St. Marks Bookshop, 31 Third Avenue, New York, NY 100003, USA. If you are interested in our rates and policies please email to info@monu-magazine.com.


MONU's current supporters are:


THE ESTONIAN ACADEMY OF ARTS' URBAN STUDIES MA PROGRAMME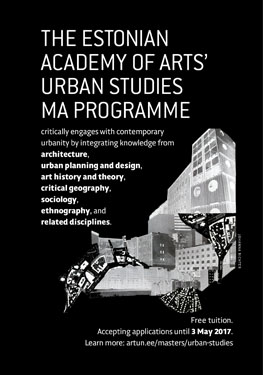 The Estonian Academy of Arts' Urban Studies MA Programme critically engages with contemporary urbanity by integrating knowledge from architecture, urban planning and design, art history and theory, critical geography, sociology, ethnography, and related disciplines.

Free tuition.

The Urban Studies Master's programme at the Estonian Academy of Arts is now accepting applications until May 3rd.


Learn more: artun.ee/masters/urban-studies


STADSLAB'S MASTERCLASS: TBILISI COURTYARDS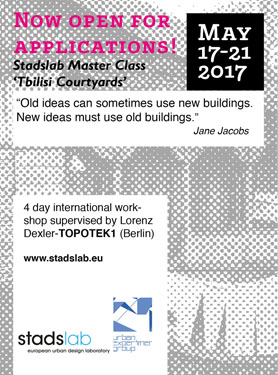 Now open for applications!

The next Stadslab Masterclass (May 17-21, 2017) will be in Tbilisi, capital city of Georgia. Application deadline is April 1.
The 4 day program - co-organized by the Tbilisi Urban Experiments Group - will focus on the typical courtyards that can be found in the city. These intimate semi-public spaces were originally planned as urban gardens, but have been densified over the years. The houses in the courtyards are often still the wooden architecture, typical for the southern Caucasian Region, but most are in a degraded condition. These micro-neighborhoods are very interesting in terms of their social role. The Master Class wil aim to develop strategies for social and spatial design to rejuvenate these courtyards and rethink their role in the Tbilisi of the 21st century.
Landscape architect Lorenz Dexler of the well-know Berlin firm TOPOTEK1 will supervise the Master Class together with Stadslab director Marc Glaudemans.
Please use application form on their website www.stadslab.eu

Stadslab European Urban Design Laboratory
Fontys School of Fine and Performing Arts
P.O. Box 90907, 5000 GJ Tilburg
The Netherlands
T +31 8850 870 291, +31 8850 875380
info@stadslab.eu
www.stadslab.eu


UNIVERSITY OF LEUVEN'S MASTER OF HUMAN SETTLEMENTS AND MASTER OF URBANISM AND STRATEGIC PLANNING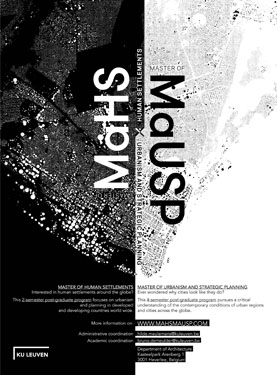 Master of Human Settlements:

Interested in human settlements accross the globe?
This 2-semester post-graduate programme focuses on urbanism and planning in developed and developing countries world wide.

Master of Urbanism and Strategic Planning:

Ever wondered why cities look like they do?
This 4-semester post-graduate programme pursues a critical understanding of the contemporary conditions of urban regions and cities across the globe.

More information on: www.mahsmausp.be

Administrative coordination: hilde.meulemans@kuleuven.be
Academic coordination: bruno.demeulder@kuleuven.be

University of Leuven
Department of Architecture
Kasteelpark Arenberg 1
3001 Heverlee, Belgium


ESTONIAN ACADEMY OF ARTS' INTERDISCIPLINARY MASTER'S PROGRAMME IN URBAN STUDIES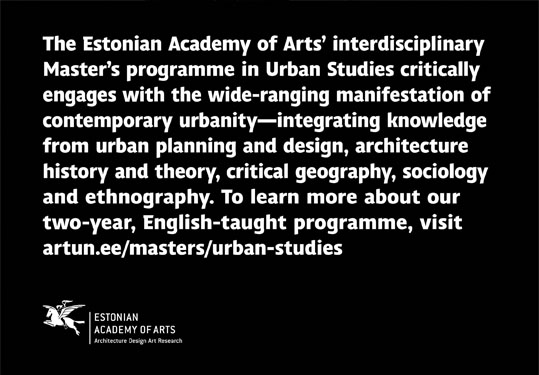 The Estonian Academy of Arts' interdisciplinary Master's programme in Urban Studies critically engages with the wide-ranging manifestation of contemporary urbanity-integrating knowledge from urban planning and design, architecture history and theory, critical geography, sociology and ethnography. To learn more about our two-year, English-taught programme, visit www.artun.ee/masters/urban-studies.
ESTONIAN ACADEMY OF ARTS
Architecture Design Art Research


ERASMUS UNIVERSITY ROTTERDAM'S INSTITUTE FOR HOUSING AND URBAN DEVELOPMENT STUDIES (IHS)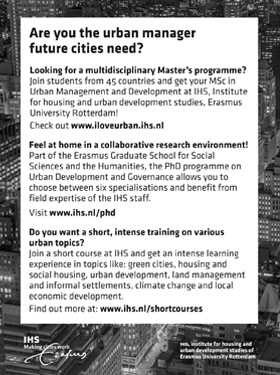 Are you the urban manager future cities need?
Looking for a multidisciplinary Master's programme?
Join students from 45 countries and get your MSc in Urban Management and Development at IHS, Institute for housing and urban development studies, Erasmus University Rotterdam!
Check out www.iloveurban.ihs.nl
Feel at home in a collaborative research environment!
Part of the Erasmus Graduate School for Social Sciences and the Humanities, the PhD programme on Urban Development and Governance allows you to choose between six specialisations and benefit from field expertise of the IHS staff.
Visit www.ihs.nl/phd
Do you want a short, intense training on various urban topics?
Join a short course at IHS and get an intense learning experience in topics like: green cities, housing and social housing, urban development, land management and informal settlements, climate change and local economic development.
Find out more at: www.ihs.nl/shortcourse
IHS
Making cities work
IHS, Institute for housing and urban development studies of Erasmus University Rotterdam


INCOGNITA'S ARCHITECTURE TRIPS: DISCOVER EASTERN EUROPEAN ARCHITECTURE AND URBANISM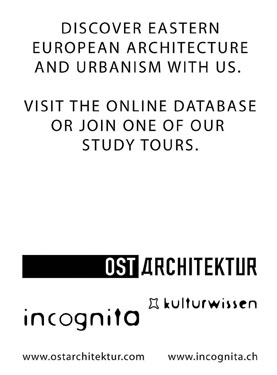 Have a closer look at the programme of the Switzerland-based "Incognita Kulturwissen" that organizes faszinating architecture trips around the world.
Visit their online database or join one of their study tours.
incognita kulturwissen
Fides-Maria Kistler und Samuel Scherrer
Herrenvogel
CH-3052 Zollikofen/Bern
+41 (0)31 558 36 96
info@incognita.ch
www.incognita.ch
www.ostarchitektur.com