News Issues Interviews Order About Follow Support Submit Contact ©MONU


20-11-17 // MONU #27 ON SMALL URBANISM IS ON DISPLAY IN STOCKHOLM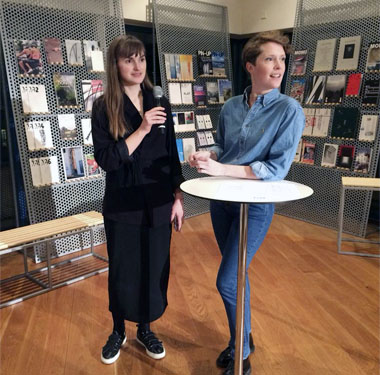 The curators Agnes Gidenstam and Naima Callenber at the opening of the exhibition

MONU's new issue #27 on "Small Urbanism" is on display at Sweden's national centre for architecture and design "ArkDes" from November 16 - December 3. According to ArkDes there is a revolution underway in architecture and design publishing that is giving a voice to independent editors and critics as never before. ArkDes dives into this debate with the help of guest curator Agnes Gidenstam and Naima Callenberg of Studio Nock, staging an exhibition in their library and a major symposium on contemporary architecture and design publishing.

The exhibition has to be understood as a collection, an open archive, and an exhibition of independent architectural publications. The collection comprises more than 100 journals and zines from 60 different publishers, all of which can be perused in ArkDes' library throughout the duration of the exhibition's run.

MONU #27 is supported by University of Leuven's Master of Human Settlements and Master of Urbanism and Strategic Planning, Stadslab's Masterclasses: "Darling Intercultural Space" and "Shenzhen Urban Villages", Rotterdam's Het Nieuwe Instituut: Exhibition "The Other Architect", Stroom Den Haag: Exhibition "Céline Condorelli" - Proposals For A Qualitative Society (Spinning), Incognita's Architecture Trips: Discover Eastern European Architecture and Urbanism. Find out more about MONU's supporters in Support.


08-11-17 // NEW CALL FOR SUBMISSIONS FOR MONU #28 - CLIENT-SHAPED URBANISM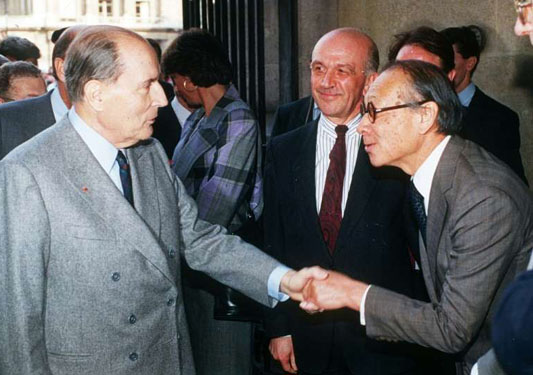 President François Mitterrand and I. M. Pei at the inauguration of the Louvre Pyramid in Paris on March 29, 1989.
©Belga Image

According to Alejandro Zaera-Polo, in a recent interview on Yale University Radio, you do not need a big budget to produce good architecture, but a good client who is sophisticated and intelligent. We could not agree more. Yet, the importance of the client in shaping our built environment, whether it comes to buildings, neighbourhoods or entire cities, is not included sufficiently in urban and architectural debates and discussions and thus largely forgotten, underestimated, and under-investigated. This is why we wish to dedicate an entire issue to the topic of "Client-shaped Urbanism"... continue reading in Submit.


16-10-17 // MONU #27 ON SMALL URBANISM RELEASED



"… And Though She be but Little, She is Fierce!", the title of Liz Teston's contribution using a quote from Shakespeare's "A Midsummer Night's Dream", captures the content of this MONU issue on "Small Urbanism" very well. For when it comes to urbanism, small things seem to matter, whether they are actions, small physical elements, information and communications technology, or small-scale interventions... continue reading in Issues and get a printed copy here.

(Cover: Image is courtesy of Slinkachu. The image is part of his contribution "Little People" on page 65. ©Slinkachu)

This issue is supported by University of Leuven's Master of Human Settlements and Master of Urbanism and Strategic Planning, Stadslab's Masterclasses: "Darling Intercultural Space" and "Shenzhen Urban Villages", Rotterdam's Het Nieuwe Instituut: Exhibition "The Other Architect", Stroom Den Haag: Exhibition "Céline Condorelli" - Proposals For A Qualitative Society (Spinning), Incognita's Architecture Trips: Discover Eastern European Architecture and Urbanism. Find out more about MONU's supporters in Support.


02-06-17 // OFF-CENTRED CONSIDERATIONS IN THE URBAN AGE BY FEDERICO ORTIZ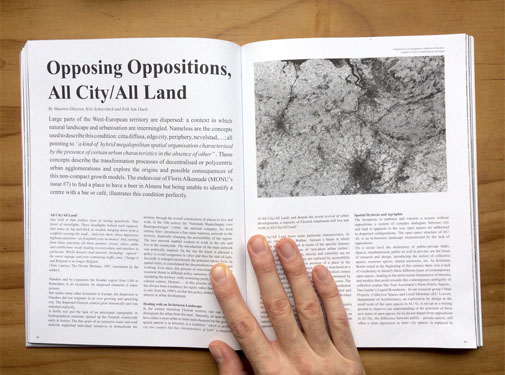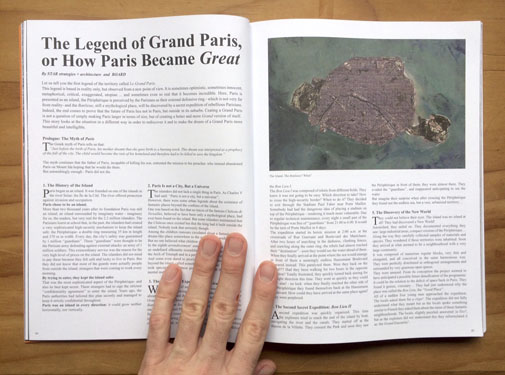 Left: No more dichotomies, AC/AL
Right: The Grand Parisian Sea by STAR strategies + architecture and BOARD

In a world undergoing a process of constant urbanization, which appears to cover the entirety of our planet's surface, we have become familiar with the idea of living in the "Urban Age" and with statistics that predict, for example, that by 2030 60% of the world's population will live in cities. Since 2004, MONU has been working towards the disentanglement and collective understanding of the process of global urbanization. With its latest issue, the magazine seems to demonstrate, and at the same time question, the nature of this process, characterizing it primarily as one of decentralizing urbanization.
With as many diverse perspectives as collaborators, MONU #26 DECENTRALISED URBANISM probably originated in a triggering question: Are cities like London, New York and Paris, with their centralizing power, the ones to blame for Brexit, Trump, and Marine Le Pen? These elections revealed the power of the underestimated peripheral (suburban, rurban and rural) populations, as well as exposing a series of territorial asymmetries that come along with the urbanization of our planet.
Instead of looking at the city from its centre to its periphery, MONU #26 concentrates on the polycentric suburban structures not always considered as part of the city. The result is a striking vision that defines what urban is, or may actually be: empty church squares, outlet malls in the middle of nowhere, logistic harbour landscapes, brand new houses on sandy roads, quiet shops in post-industrial suburbs, vacant residential developments in small villages, agricultural landscapes and community gardens, and of course cars, cars and parking lots everywhere.
In this sense one of the articles that I find central to the issue is "The Autoroute State and the Geeks Empire" by Constantina Theodorou, who questions the narrative of the Urban Age and asks for new understandings of what urban, central and territoriality mean. Apart from her own answers to these questions, we find both similar and alternative views on this matter. For Maarten Gheysen, Kris Scheerlinck and Erik Van Daele, our problem is that we are unable to read and write about the current planetary urbanization. To counteract this spatial dyslexia and agraphia, they propose the notion of "AC/AL": an in-between landscape characterised by the lack of opposition. In "Opposing Oppositions, All City / All Land" there are no more dichotomies between urban-rural, private-public, or natural-artificial, just AC/AL. Others intend to produce alternative narratives, like the OMA-esque project "The Legend of Grand Paris, or How Paris Became Great" by STAR + BOARD, in which the city centre dies in order to save the greater urban territory. The text is accompanied by provocative images such as a satellite view of central Paris as an island, surrounded by water.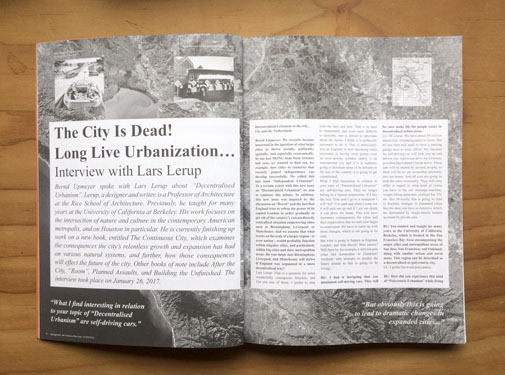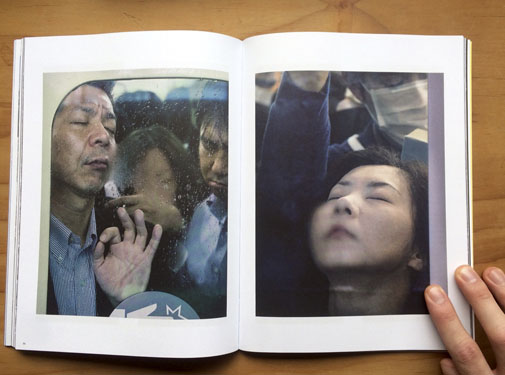 Left: Lars Lerup asks: why do you need centrality?
Right: Compressed commuters captured by Michael Wolf

Another of the collaborators that declares the city is dead is Lars Lerup. In an interview with Bernd Upmeyer, Lerup not only questions the need for centrality but also defines urbanization as a fast and slow moving apparatus. Movement becomes a recurring topic in this last issue of MONU, as many of the articles identify various subjects in decentralised cities related to key urban flows: immigration, shrinking suburbs, refugees, destination shopping, higher birth rates, commuter traffic, depopulation, and of course cars, but this time autonomous cars, which seem to be the next transformative stage of urbanization.
Finally, returning to the front cover, one can contemplate an intimate moment in the decentralised urban landscape: the image of a man, probably commuting, with his cheek squashed against the glass doors of a train. This picture belongs to a series of photographs by the artist Michael Wolf, whose contribution to MONU #26 entitled "Tokyo Compression" I encounter as an incredibly beautiful and breathtaking visualisation of what it is like to live in today's decentralised urban territories.


Federico Ortiz is an architect, researcher and writer form Argentina. He studied History and Critical Thinking in Architecture at the Architectural Association. He is interested in publishing and curatorial practices in architecture.This review was first published by Archinect on June 1, 2017.

MONU's issue #26 is supported by University of Leuven's Master of Human Settlements and Master of Urbanism and Strategic Planning, KotorAPSS' Architecture Prison Summer School, University of Liechtenstein's Master (MSc) of Architecture, Erasmus University Rotterdam's Institute for Housing and Urban Development Studies (Ihs), Incognita's Architecture Trips: Discover Eastern European Architecture and Urbanism, The Estonian Academy of Arts' Urban Studies MA Programme, Stadslab's Masterclass: Tbilisi Courtyards. Find out more about MONU's supporters in Support.


10-05-17 // MONU #26 IS EXHIBITED IN GOTHENBURG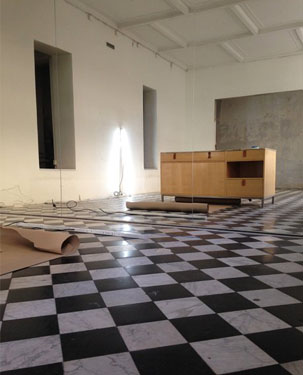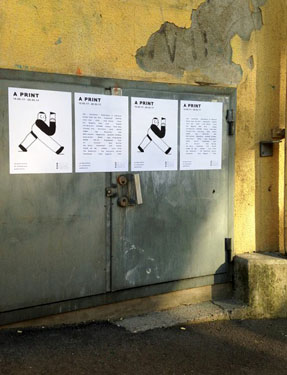 From May 10 - 28, MONU's issue #26 is exhibited at "A PRINT" in Gothenburg, Sweden. A PRINT is a collection, an open archive and an exhibition of independent architecture publications and zines. The ambition is to promote and showcase alternative publications for innovative commentary and criticism on architecture. The exhibition is organized and curated by Studio NOCK, a non-profit association run by Agnes Gidenstam and Naima Callenberg.


01-05-17 // NEW CALL FOR SUBMISSIONS FOR MONU #27 - SMALL URBANISM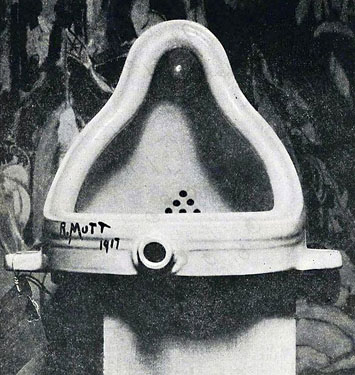 Marcel Duchamp's Fountain photographed by Alfred Stieglitz at the Art Gallery 291
after the 1917 Society of Independent Artists exhibit.

Big is beautiful. Jarrik Ouburg made that quite obvious some years ago in his contribution to our MONU #6 issue on "Beautiful Urbanism", in which he described the city of Tokyo with its urbanity, its scale and density, as an inexhaustible source of beauty. Size seems to matter. We have all known that ever since Rem Koolhaas claimed that "beyond a certain scale, architecture acquires the properties of Bigness", in his legendary manifesto "Bigness, or the problem of Large" from the early 1990s.
However, since the biggest innovations and changes in our society increasingly seem to occur on the small and micro level, we recently became fascinated by the other end of the spectrum: Smallness. When Koolhaas stated that the best reason to embrace Bigness is the one given by climbers of Mount Everest - "because it is there" - we believe that the best reason to concentrate on Smallness is "because it is almost not there"... continue reading in Submit.


18-04-17 // MONU #26 ON DECENTRALISED URBANISM RELEASED



Centrality is dead. Lars Lerup does not hold back in an interview with us entitled "The City Is Dead! Long Live Urbanization…". In this new issue of MONU we discuss what centrality means for cities today and explore and assess cities that are organized in a decentralized or polycentric way - something we call "Decentralised Urbanism" - in general and as a strategy to plan the growth of cities and their metropolitan areas. Thus, to a certain extent, we continue the discussion of MONU #19, entitled "Greater Urbanism", on how metropolitan areas of cities should be organized in terms of governance, politics, space, architecture, sociology, ecology, and economics, but now with a focus on "Decentralised Urbanism". According to Lerup we eventually should be able to understand urbanization as a vibrant kind of fast and slow moving apparatus, and in a way as a virus that reproduces itself at the same time... continue reading in Issues and get a printed copy here.

(Cover: Image is courtesy of Michael Wolf. The image is part of his contribution "Tokyo Compression" on page 81. ©Michael Wolf)

This issue is supported by University of Leuven's Master of Human Settlements and Master of Urbanism and Strategic Planning, KotorAPSS' Architecture Prison Summer School, University of Liechtenstein's Master (MSc) of Architecture, Erasmus University Rotterdam's Institute for Housing and Urban Development Studies (Ihs), Incognita's Architecture Trips: Discover Eastern European Architecture and Urbanism, The Estonian Academy of Arts' Urban Studies MA Programme, Stadslab's Masterclass: Tbilisi Courtyards. Find out more about MONU's supporters in Support.


29-03-17 // CONTESTED ENTITIES BY ENORA ROBIN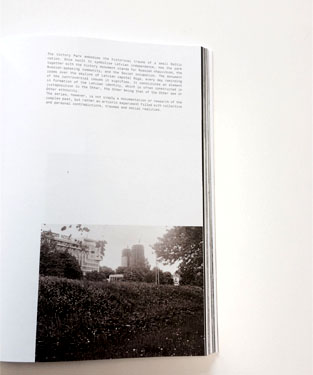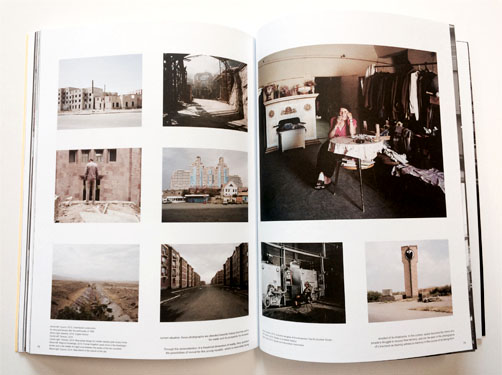 Left: "MONU #25 takes us through a journey across forgotten parts of Europe, traversing the Balkans, the Caucasus and the Baltic States", page 27, contribution "Victory Park" by Arnis Balcus
Right: Since the collapse of the Soviet Union, Armenia has been making the transition between the old order and a new political project that has yet to be achieved,
pages 78-79, contribution "The Unfinished" by Julien Lombardi

I came across MONU during my early doctoral investigations on critical, non-academic publications looking into this arguably poorly unknown, plural and contested entity that is the city. MONU does not actually qualify as a non-academic outlet, for the breadth and depth of the analysis it offers, but still provides critical insights on the ways urban forms are shaped by socioeconomic, institutional and political forces without falling in the trap of being highly jargoning, inaccessible or theoretical. It speaks to a wide audience interested in urban policy, activism, architecture, and social movements, all from a multidisciplinary lens. MONU mixes text of different textures with images, collages and various forms of writing, including short and long city stories, mixed up with photographic journeys and conversations with architects, artists and urbanists. By treating its form and its content as equally important, MONU de facto invites the reader to think about socio-political processes and their material manifestation simultaneously. By inviting contributors coming from critical yet distinct disciplinary fields, it forces us to see the city with multiple eyes all the way through. For its 25th edition, the magazine focused on Independent Urbanism as a unifying theme to reflect upon the consequence and meaning of independence in the context of post-soviet, post-apartheid, post-conflict, post-colonial cities. All these posts, for they constitute historical breaking points, obviously raise questions of reconstruction and identity formation, alongside and simultaneous to issues of continuity, memory, and constant negotiation between cities' past, present and future. MONU's Independent Urbanism takes us through all these issues by bringing together city stories from Eastern Europe, Africa, Asia as well as Ireland, shedding light on phenomena and places that are often overlooked by dominant urban discourses, which, be that in the news or in academia, often focus stories from the so-called Global Cities of the West and rising Asian countries. MONU takes us through a journey across forgotten parts of Europe, traversing the Balkans, the Caucasus and the Baltic States, where cities are trying to reinvent themselves after their freshly acquired "independence" from the soviet union; and after years of civil war for some of them (in Kosovo, Serbia and Moldova); it sheds lights on Nigerian and South African cities struggles with modernist visions of the future and the endemic socioeconomic and political problems inherited from their colonial past; it explores the civic and grassroots movements that are reshaping the face of Belfast after years of religious conflicts; and finally, it invites us to consider the true meaning of independence and the potential of a more vocal urbanism in Taiwan - a journey I found eye opening, fascinating, and extremely inspiring.

Enora Robin is a researcher at the UCL City Leadership Laboratory and Doctoral Candidate at the Department of Science, Technology, Engineering and Public Policy of the University College London.This review was first published by Archinect on March 16, 2017.

MONU's issue #25 is supported by University of Leuven's Master of Human Settlements and Master of Urbanism and Strategic Planning, Estonian Academy of Arts' Interdisciplinary Master's Programme in Urban Studies, Erasmus University Rotterdam's Institute for Housing and Urban Development Studies (IHS) and Incognita's Architectural Study Tours. Find out more about MONU's supporters in Support.


13-12-16 // THE SPIRIT OF FREEDOM: REVIEW OF MONU #25 - INDEPENDENT URBANISM BY MINDAUGAS REKLAITIS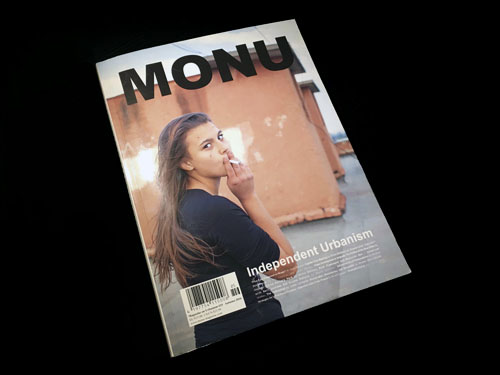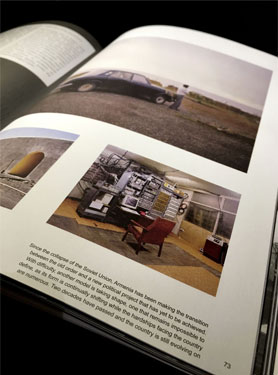 Left: Cover of MONU #25
Right: Julien Lombardi's contribution "The Unfinished"

Sociologist Wendy Griswold wrote in her book Cultures and Societies in a Changing World that "the social world always changes first, with culture lagging behind." This phrase highly impressed me and I started to collect pieces of evidence to prove or reject this idea personally. And while I was reading MONU's most recent issue, #25 on Independent Urbanism, Wendy's insight was following me in every single page, treating urban environment as an expression of collective culture.

Independent Urbanism focuses on countries that recently established or regained their independence, and analyses what consequences this huge social transformation brought to their cities and urban environment. In the wide geography of the case studies, starting with the Baltic countries, former Yugoslavia region and finishing with Taiwan, you can find many particular and unique examples of urban euphoria, challenges, difficulties, successes and failures influenced by independence. The majority of articles in Independent Urbanism are highly related with the historical perspective, which describes the fresh cultural path to the present urban reality of newly developed countries. Each story is interesting, unique, and opens different urban horizons in specific social, cultural and geographical contexts.
But on the other hand it is possible to perceive the historical similarities: usually each country had long years of oppression with diverse urban strategies and plans, then together with the independence enormous social transformations happened, leading to a difficult and peculiar period of time for development of the new country and its culture.

If you are a reader of this MONU issue who lives in a post-soviet or post-oppression country, then you probably know what it means to become independent, what the challenges are that you face and what consequences all this brings – because it is a part of your everyday life or at least very recent past. But it is extremely useful to know that your country is not alone and many others are dealing with similar challenges, which are widely represented in Independent Urbanism. For example: the discussion of who is making development decisions in the city of Skopje, politicians or urban planners and architects; the construction of a new history, which never actually happened, attempts to invent one's own identity, and attempts to escape the USSR history in the cities of former Yugoslavia, where kleptocracy is widely spread under the title of neoliberalism; the emigration challenges in Prishtina; the top-down decision making by foreign investors and the political elite in Belgrade; the public space transformation difficulties in Vilnius; the ecological ethic questions in Solana Ulcinj; the cultural and architectural import in Georgia; or the embodied democracy in the architecture of Prague. This is only a small part of the great stories I found in MONU's most recent issue, which provides an opportunity to learn from others, compare cultural and urban development in different countries or towns, and collect knowledge for future discussions.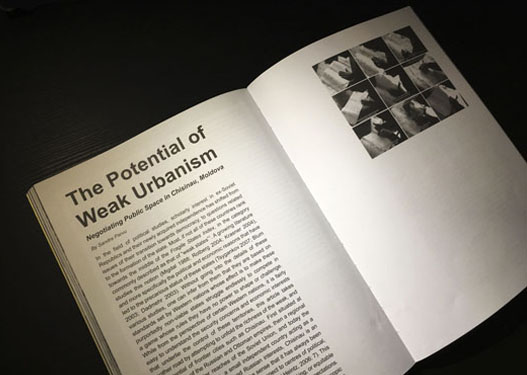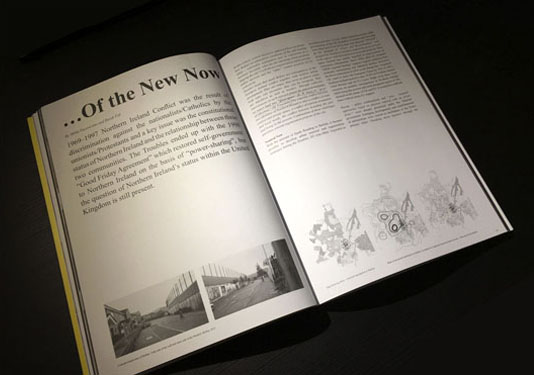 Left: Sandra Parvu's article "The Potential of Weak Urbanism" that opens the possibilities and a new attitude to the urban reality that young independent countries are facing
Right: "…Of the New Now" by Milda Paceviciute and Burak Pak

If you are a reader who has always lived in an independent country, then every article may open even more layers of interest, starting with the history and finishing with the urban realities and potentials of emerging young countries. Together you can feel the spirit of freedom in impressive photo reportages from different newly developed countries.
But in such cases I usually ask myself – so what? What shall or can I do about that? Is there any solution for all these urban challenges and struggles, which are widely and professionally described in Independent Urbanism? Fortunately, I can say - yes! At the very end of the magazine I found great inspiration in the article "The Potential of Weak Urbanism." It opens the possibilities and a new attitude to the urban reality that young independent countries are facing. This article finalizes the whole MONU issue, brings the stories together in one narrative, and opens a new perspective to an alternative urban future. This is the reason why MONU's new issue should be in your must-read list: it is neither about the urbanism of the past nor about the urbanism of the present, but actually about the newly emerging and next generation of urbanism, which we still have to perceive.

Mindaugas Reklaitis is an architect. He is interested in the critical space practice and is a PhD student at Vilnius Academy of Arts researching on how an interactive and performative artistic approach can be used as a research tool of urban environment. Currently he is doing an internship in a Copenhagen-based artist office. This review was first published by A Daily Dose of Architecture on December 9, 2016.

MONU's issue #25 is supported by University of Leuven's Master of Human Settlements and Master of Urbanism and Strategic Planning, Estonian Academy of Arts' Interdisciplinary Master's Programme in Urban Studies, Erasmus University Rotterdam's Institute for Housing and Urban Development Studies (IHS) and Incognita's Architectural Study Tours. Find out more about MONU's supporters in Support.


25-11-16 // INDEPENDENT URBANISM: NOSTALGIA AND NON-PLACES BY AMY TIBBELS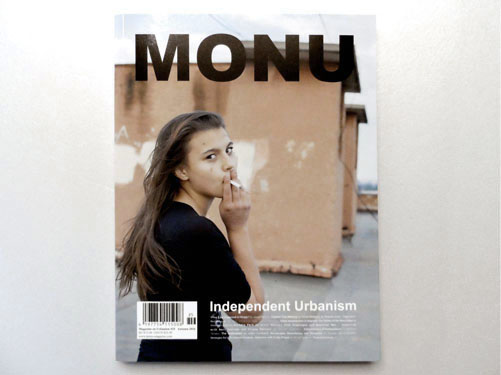 Cover page. Xuisha "if I stay here, I have no possibilities".

In 2010 we became familiar with instagram and along with it a new way to represent ourselves. In the same year, the Republic of Macedonia's capital city Skopje decided to completely cover itself with false neo-classical facades, embodied with hundred year old representation. The 25th issue of MONU "Independent Urbanism" provides a platform to unveil the multitude of decisions that had to be made by countries after becoming independent- and more specifically the cities within these countries. The magazine's photo essays have an indispensable heaviness within this particular issue of MONU, in it's twelve years it has never featured as many as three. Of this we can be appreciative in largest part because these intimate images bring authenticity to some inconceivable realities. But further, what I find integral to each of these photo essays is a nostalgia, which becomes a binding agent of most articles as if being the authors' communal grand answer to the question; what happened to these cities after independence? In their transformations cities are either courteously welcoming or sedating this nostalgia. What I find to be left in many of these cities is something so far not clearly defined, it seems to hold many pseudonyms; the Other, no-mans land, third space, space of otherness or non-place.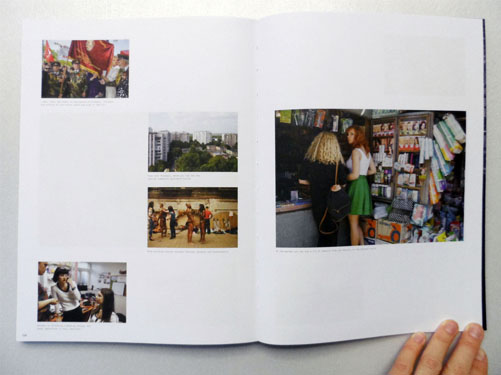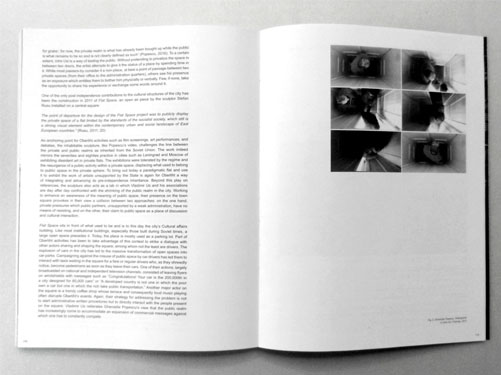 Left: Pages 124-125. Julia Autz' photo essay Transnistria. Soviet veterans and markets filled with Ukrainian-worldwide consumables.
Right: Pages 118-119. Sandra Parvu's article The Potential of Weak Urbanism. Ghenadie Popescu's videograms of his public space intervention Intre Usi.

The magazine begins and ends with Julia Autz' photo essay Transnistria. Our first subject is the cover-girl, 14 year old Xuishu who wants to leave her home of Transnistria, a "self-proclaimed state...not recognized by anybody - not even by Russia". Xuishu embodies a longing to emigrate that much of the city's youth share. Resistance and longing are framed side by side in the photo essay showing both; veterans of soviet time in melancholic nostalgia "holding an old soviet Lenin flag high in the air", and beacons of Transnistria's youth such as Xuishu, wanting more. Here also, Autz exposes the county's national confusion, amid youth desperate for something else are markets filled with Ukrainian-worldwide consumables and celebrations of Soviet victory day, which is still the most important holiday in Transnistria. Russian and Ukrainian people are the larger groups deciding to stay in Transnistria and so; adopted nostalgia and uncertainty of what to reminiscence is clouding the chance for this region, especially its youth, to have a clear identity. Like in Transnistria, nearby Chisinau's youth also find themselves enveloped in the city's "unlikely point of resistance" as part of an in-between state, "pressed between Romanian and Ukrainian lands" explained by Sandra Parvu in her article. Parvu perfectly compliments the photo essay by referencing artist Ghenadie Popescu who inconveniently placed himself in a tiny thermal buffer zone between rooms to liken the spatial characteristic to that of Moldova between nations, suffering a persistent afterlife of the Soviet rule. Parvu explains this to say that Moldova "cools the heated conflicts between the European Union and Russia by disregarding its sovereignty and changing its boundaries as they please". This same dual nostalgia is also discussed earlier in Pravus's article where she describes a resulting "parallel geography". Taxi drivers navigate the city of Chisinau with an atlas of its streets possessing both Soviet names in Cyrillic, and post-Soviet names in the Roman alphabet. Despite old names being connected to the Soviet nomenklatura they are still very commonly used, and this "parallel geography" is a clear result of the city's uncertain nostalgia. These two articles were well placed together at the magazine's end, revealing cities of not one or the other strategy but within a struggle trying to welcome both.

While Chisinau and most other Moldovan cities have lacked power to make big decisive transformations, many cities in other newly independent countries have found themselves in the contrary situation, in anticipation for considerable change. This is condensed well in Gruia Badescu's statement that many countries with new independence such as those of post-Yugoslavian countries, have developed a heritage focus on one of two things; "EU sanctioned cosmopolitanism or of highlighting one's nation and silencing the minority (or former majority) presences", in either case avoiding nostalgia. A recent example is found in the magazines first article, where Jasna Mariotti identifies the Republic of Macedonia's largest city; Skopje. After an earthquake in 1963, the city embraced its chance to modernize. Beginning in 2010, the city made a second decision to revamp, but this time a premeditated "amnesia was omnipresent", filling its once modern city centre with buildings of a style considered "baroque [and neoclassical], a pseudo interpretation of a historical style, and a striking contrast to the modernist and novel architecture that dominated the city centre". To complement these new icons of grandeur, "faux facades" have been clipped on and statues scattered over the city like jewelry as if it was "dressed up in nostalgic recall". The 2010 development sprang quickly into realization by 2014, and I find inconceivable that such a project shares the same year of foundation as instagram or the ipad. Apart from its displacement, it was an arguably improper solution to sedate and forget the slow melancholic transition from independence it had suffered. In South Africa's Johannesburg, Claire Lubell claims that money has replaced race and the city is, similarly to Skopje, sedated in this case by an "idealized world of excess focused on play, fantasy and consumption". These new spaces with such superficial cohesion aim to not only avoid the apartheid but also to "reinvent it, a process for which Johannesburg is notorious". I am pleased to see a vary in the magazine's geographical examples such as this, because here I see Johannesburg's consumption sitting similarly to Transnistria's market, however in this case with much greater antipathy for nostalgia.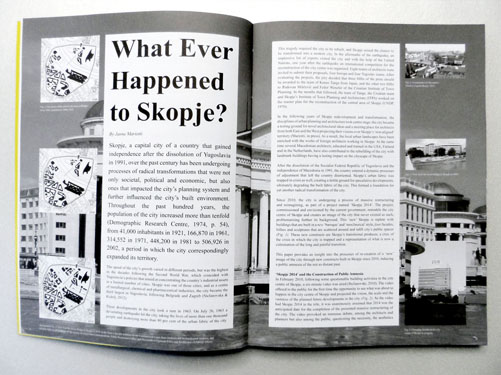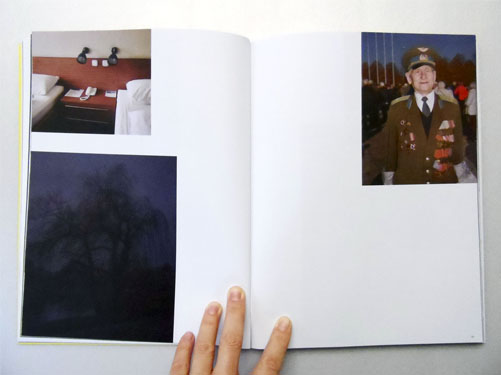 Left: Pages 04-05. Jasna Mariotti uses Skopje Constitutional Court as an example of the city's recent transition.
Right: Pages 24-25. Arnis Balcus' photo essay Victory Park. Riga and the Other.

In his photo essay Victory Park, Arnis Balcus presents "the Other", other sex or ethnicity. Also, his play with a duality of inside and outside is a framing for the duality of political transparency in Latvia's most influential city; Riga. The collective and personal both share a discomfort and stagnation, nostalgia for the past like many other cities mentioned, and slow uncertainty about the future. This is terribly polar to the image that Riga city architect Gvido Princis courteously paints in the magazine's second interview, where he notably forgoes the opportunity to discuss Riga's clearly evident issues of divide in ethnicity as mentioned by Balcus. The divide began with independence, but was fostered in the country's lengths taken for NATO membership. For example; the 2002 law requiring parliamentary candidates to be Latvian speakers, and the 2004 Russian language restriction in school institutions, which have strongly maligned Russian citizens in many ways to become and remain "the Other". Balcus is not alone in his use of the other. The term was often mentioned in the magazine, under different flavours of uncertain urban concepts, firstly being the no-man's land. This war-linked term was mentioned by Milda Paceviciute and Burak Pak when describing North Ireland's conflict in Belfast's "derelict lands". They translate the term into more comfortably philosophical or urban inspired by philosophical terms "third space" and "space of otherness". The overuse of this terminology in the response of authors reveals a very large scale confusion and lack of identity, a common and still apparent struggle for countries in new states of independence. However, in most mentions these terms have been roughly transplanted directly from examples fashioned by urbanists in the mid-90's. The most applicable of these is Marc Auge's. Within his 1995 analysis of supermodentity Auge's term of "non-place" is described as an area not defined as relational, historical or concerned with identity.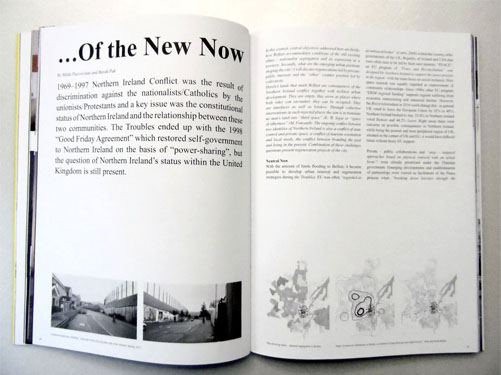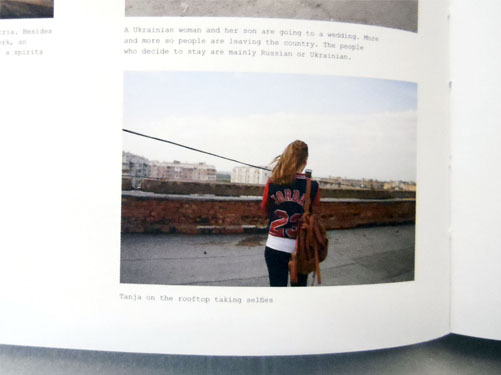 Left: Pages 40-41. Milda Paceviciute and Burak Pak portray Belfast's derelict "space of otherness".
Right: Pages 126 detail. Julia Autz' photo essay Transnistria. Tanja on the rooftop taking selfies.

Two decades later I think Marc Auge's term could be resettled here to understand this widespread confusion and waiting that new countries are stuck with, as some authors in this issue have begun. Here it is possible to collect these experiences that contribute to ambiguous independent identities, from post-emigration emptiness to Soviet nostalgia. This could also be a lens for us to imagine how the youth of most cities inside this magazine view their cities, as a non-place disconnected to history and identity. It should be clear to see why Xuishu and her many similarities dream of leaving. I also consider that this youth will search for identity externally, predominantly through technology. This is something we all do, science and technology has always been a contributor to identity. However, if technology and globalization are to become a resolve for lack of other sense of self, we need to be careful in the way we rely on elements of our world that we have created. This is especially vital for people like Xuishu within a place where people are vulnerable under these national uncertainties. A person that perfectly assembles this idea is another of Autz' subjects; Tanja from Transnistria. "Tanja on the rooftop taking selfies". Here we see something not too unfamiliar, a young girl taking a selfie facing the city's skyline. But what she holds in her hand has capabilities to connect Tanja, especially for a youth in search for something different the scale of technology's potential is huge. This is something with consequences still to be seen, in fact it should be stressed that answers to most obstacles within this magazine still remain to be seen. I feel that in an optimistic frame this issue of MONU is similar to Montenegro's pavilion in Venice, one of the magazine's articles angled towards a possible success. Bart Lootsma explains that their open project was taken to Venice with an aim to "get attention for it in order to put the issue on the public agenda" but what was crucial was to also "give the project a different authority in Montenegro", this was attempted through locally held debates and participation. As a parallel, the magazine also draws attention, stressing these current and vulnerable states and the best outcome would be an eagerness among readers, wanting to see what happens next for these independent countries and their cities. I think the magazine is right in claiming it "functions as a platform for the exchange of ideas and thus constitutes a collective intelligence on urbanism". But what I think needs to follow this issue, and I hope to see, is a different authority applied to the difficulties in each of the cities mentioned, just as is happening in Montenegro.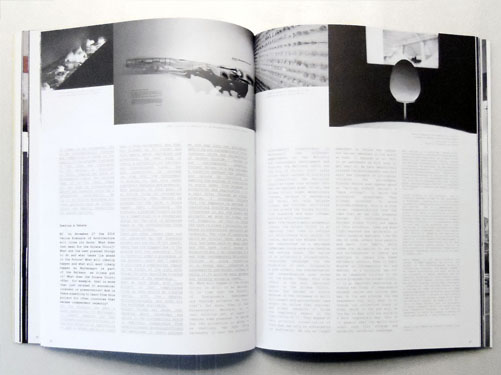 Pages 56-57. Interview with Bart Lootsma and Dijana Vucinic "Pink Flamingos
and Muscular Men". Exhibition and forum for debate in Venice.


Amy Tibbels is an architecture student from the University of Technology Sydney, in Australia. She spent time studying in Denmark at Arkitektskolen Aarhus and is currently on an internship in Rotterdam. This review was first published by Archinect on November 24, 2016.

MONU's issue #25 is supported by University of Leuven's Master of Human Settlements and Master of Urbanism and Strategic Planning, Estonian Academy of Arts' Interdisciplinary Master's Programme in Urban Studies, Erasmus University Rotterdam's Institute for Housing and Urban Development Studies (IHS) and Incognita's Architectural Study Tours. Find out more about MONU's supporters in Support.


31-10-16 // NEW CALL FOR SUBMISSIONS FOR MONU #26 - DECENTRALISED URBANISM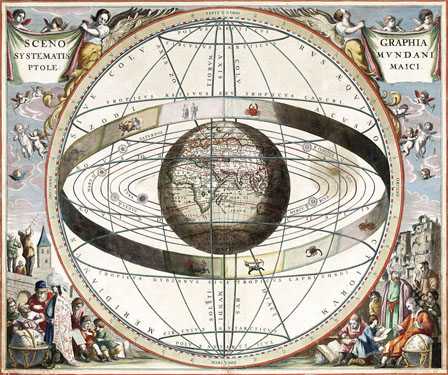 The solar system with the world at the centre. Illustration from the star atlas
"Harmonia Macrocosmica" by Andreas Cellarius (1660).

When in 2007, almost ten years ago, we conducted an interview with Floris Alkemade for MONU's issue #7 on "2ND RATE URBANISM" about a Dutch city called Almere that was founded in the 1980s as a decentralised town with multiple centres, he explained that once, when he tried to find a place to have a beer there, he passed by an endless number of similar-looking houses but could not find any centre where a bar or café might have been, as the city never became dense anywhere. He described this experience to us as being dumped somewhere close to hell... continue reading in Submit.


17-10-16 // MONU #25 ON INDEPENDENT URBANISM RELEASED



A city in a country that recently gained independence is likely to undergo processes of radical transformation and massive restructuring and re-imagining that are not only societal, political, and economic in nature, but can also impact the planning system of a city and influence its built-up environment. Jasna Mariotti makes this quite clear in her contribution to MONU, entitled "What Ever Happened to Skopje?". This new issue of our magazine deals with various phenomena impacting cities of countries that became newly independent which we call "Independent Urbanism"... continue reading in Issues and get a printed copy here.

(Cover: Image is courtesy of Julia Autz. The image is part of her contribution "Transnistria" on page 121. ©Julia Autz)

This issue is supported by University of Leuven's Master of Human Settlements and Master of Urbanism and Strategic Planning, Estonian Academy of Arts' Interdisciplinary Master's Programme in Urban Studies, Erasmus University Rotterdam's Institute for Housing and Urban Development Studies (IHS) and Incognita's Architectural Study Tours. Find out more about MONU's supporters in Support.


29-08-16 // MONU #23 AND #24 ON DISPLAY IN HAMBURG, BASEL AND VANCOUVER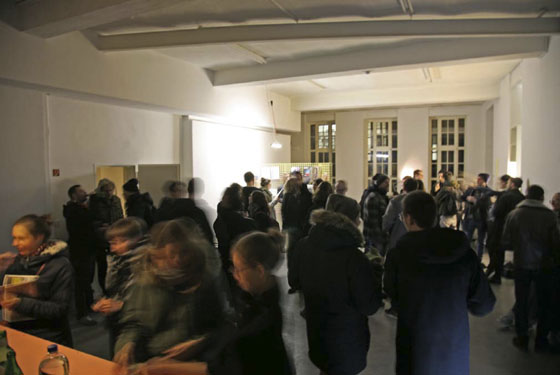 Opening of the "Heft" exhibition in Hamburg

Since March 4, 2016 MONU's issue #23 is featured in a project room for independent magazines called "Heft" in Hamburg, Germany. From June 14 to 19, 2016 MONU #23 was additionally on display at Basel's "LISTE", one of the world's most important fairs for contemporary young art. MONU's current issue #24 will be presented and exhibited at the fifth annual Vancouver Art/Book Fair from October 14 to 16, 2016 by "Project Space" at the Vancouver Art Gallery.


10-08-16 // THE SACRED, INTRICATE MESHWORKS OF OUR INNER DRAMAS - MONU #24 REVIEWED BY COLIN BILLINGS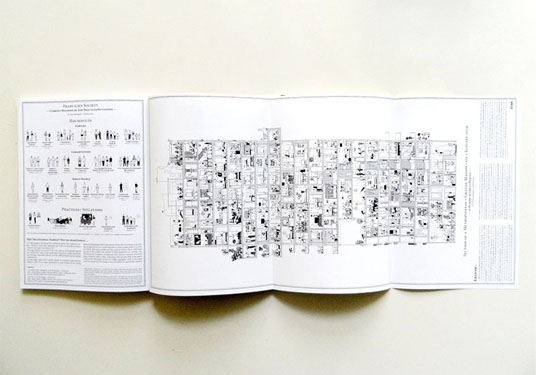 Spread with illustrations by STAR strategies + architecture, Illustrator: Masha Krasnova-Shabaeva

This, the 24th issue of MONU, is dedicated to "Domestic Urbanism", arguably the root urbanism of the city as a coherent human settlement. It prominently features interviews by MONU editor Bernd Upmeyer with Andres Jaque and Herman Hertzberger – one of the most important and vocal humanizing figures in architecture – along with 17 other contributions from brilliant emerging practitioners and critics.

Shot from the perspective of urbanism, MONU #24 exquisitely illustrates the tensions between architecture and its building. The cover artwork by STAR strategies + architecture illustrates the sacred, intricate meshworks of our inner dramas brutally cemented together by the thinnest, most minimal of buildings. Many of the contributions delve into the poetics, profound political aesthetics, or advanced experimentation with the domicile-as-an-interior and it's influence on the urban realm.

Let's play a game! As an exercise, I challenge you to read through this and the past issues of MONU (particularly Interior Urbanism and Participatory Urbanism) and note the recurring presence of play as an achievement of a great urbanism; an achievement that supplies us with a vibrant, enchanted ambiance that seems to be infinitely brimming with energy and constantly on the verge of erupting into some form or another of social play.

Any conversation about real, raw urbanism, would be incomplete without exhaustively embracing these grounds necessary for the critical plays that we enact in and around our domiciles in a desperate effort to realize our full domestic theatre. This third space of architecture – the place where architecture and human settlement meet – is constantly being reorganized by our plays so that we may realize life in a concentrated, more ordered form: a form that is a performance of our own individual volition, laden with opportunities for synchronicity, serendipity, and coincidence.

This third space is the radical playground that the city so thirstily craves and holds up as an emblem of its locale and identity whenever it is achieved. CENTRALA (Simone De Iacobis and Malgorzata Kuciewicz) touches on this in their contribution, "How to Domesticate A City: Adaptive Tools to an Urban Environment". What if we propose an imaginary extension of this flawlessly constructed concept as something more along the lines of "How Do You Dedomesticate A City?" since so much urban design, planning, and architecture is devoted to protecting us from our worst fears, to the point of erasing any and all distinctness or diversity in our human terrain. "How Do You Drive The City Absolutely Crazy?" might be an effective architectural platform for a Domestic Urbanism fearlessly delineated by urban jambs of tense, vulnerable, palpable passage building and pocket interventions attuned to articulating our human plasticity.

Without room for play there is no full domestic realm of urbanism; play re-territorializes the bland. Domestic Urbanism demands an Architecture from the Outside – from the third space. It demands for us to make rooms where our radical plays take place and are practiced as a cure for the malaise of disenchantment found so readily in the smooth modern daily routine – to be practiced with a fever!


Colin Billings is an American architectural critic and co-founder of Dominique Price Architects in San Francisco, California, an architecture and critical urbanism practice that probes the form-giving semiotic that emerges from architecture's coincidence with the language of human settlement. He has contributed to essays published in Rethinking the Informal City: Critical Perspectives From Latin America and Modular Structures in Design and Architecture and is preparing to release a monograph exploring the building technique and architectural contribution of Will Bruder, co-edited with Dominique Price. This review was first published by A Daily Dose of Architecture on July 13, 2016.

MONU's issue #24 is supported by University of Leuven's Master of Human Settlements and Master of Urbanism and Strategic Planning, Erasmus University Rotterdam's Institute for Housing and Urban Development Studies (IHS), University of Liechtenstein's Master (Msc) of Architecture and Incognita's Architectural Study Tours. Find out more about MONU's supporters in Support.


12-07-16 // ON DOMESTIC URBANISM - A REVIEW OF MONU #24 BY MITSUHIRO SAKAKIBARA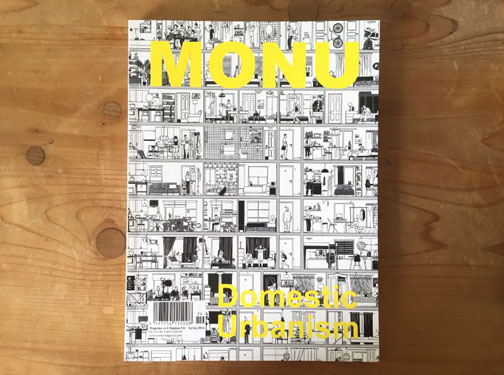 […]

As the theme of domestic urbanism suggests, the latest issue focuses on the "things that are usually hidden and private" within the domestic realm and examines their relationships to the city. Here I will provide a simple review of the latest issue of MONU while drawing on some Japanese examples that tie into the theme.

The first such example that comes to mind when reading this issue is the work of architectural scholar Uzo Nishiyama, who conducted an enormous amount of research on domestic living and laid the foundations in the 1940s for an approach to housing planning that was better adapted to people's actual lifestyles. He advanced his ideas through texts such as Korekarano sumai (The Housing of Tomorrow, 1947) as a counterproposal to the unrealistic housing policies proposed by the Jutaku Eidan (Housing Corporation) for solving the housing shortage problem in the country during and after World War II. A more modern example that comes to mind is the work of sociologist Chizuko Ueno, who has explored the relationship between domesticity and society, the relationship between room layouts and domestic gender issues, and the roles of the architect through discussions with architects and architectural scholars like Riken Yamamoto and Shigebumi Suzuki.

This issue of MONU shows that there are many more diverse topics that can be explored through the theme of domestic urbanism. Its content includes articles that discuss subjects familiar to Japanese readers, such as "Chantal Akerman, Yasujiro Ozu, and the Poetics of Intimate Space" by photographer/filmmaker Sander Hölsgens, which examines interior scenes in the films of Akerman and Ozu, and "Socialist Urban Planning and the Housing Question: At Home in Skopje" by architectural scholar Jasna Mariotti (a specialist on post-socialist cities), which discusses the urban planning of Skopje in the Republic of Macedonia (the city center was built based on a master plan by Kenzo Tange).

It also features research like "The Minor Composition of Threshold Domesticities" by architect Lucía Jalón Oyarzun, which looks at elements such as rooftops and external staircases that occur in the intermediary zones where urban and domestic spaces mix. A piece that I found to be particularly interesting is "The Fridge, the City and the Critique of Everyday Life" by urbanist/writer Justinien Tribillon, which explains just how much the refrigerator has changed the way people consume the city. An example of a similar analysis to this is presented in historian Andrew Gordon's Fabricating Consumers: The Sewing Machine in Modern Japan (2013). This book focuses on a highly domestic element, the sewing machine, to examine issues such as fashion, the social advancement of women, and the modernization of society and makes the argument that the introduction of the sewing machine to Japanese households transformed consumers into producers.

As suggested by the range of topics mentioned above, the theme of domestic urbanism appears to have great potential for drawing connections between architecture and a variety of different fields. Interesting examples of topics for thinking about this theme can also be found in the context of Japan. For instance, there is a feature titled "Kakucho suru 'watashinchi'?" ("The Expanding Concept of 'My Home'?") in the April 2008 issue of Kenchiku Zasshi (Architecture Magazine) that looks into the manga kissa (lit. "comic café") and their private booths, which previously had not been given much attention from an architectural perspective. Considering how the manga kissa has become a ubiquitous commercial/spatial typology that can be found in almost any Japanese city, one could say that the domestic space we have known as the living room has been externalized from the home into the city.

More recently, the idea of turning domestic spaces into public spaces has been gaining ground in Japan with the rise of home-rental services such as Airbnb. However, such services are subjected to regulations because there have been instances of spaces being used for unpermitted purposes and of spaces becoming a source of problems with neighbors. While the aforementioned booths of the manga kissa technically are not examples of "sharing economy" spaces, they have also continued to be subjected to regulations because of a law on entertainment businesses known as the Fueiho (Businesses Affecting Public Morals Regulation Law). Both of these spaces can be seen as examples of domestic spaces that have become political arenas, exactly as Andrés Jaque discusses in the MONU interview titled "The Home as Political Arena".
The bounds of the domestic are continuing to expand further with the explosive spread of smartphones and tablets. The domestic is no longer something that can or should be shaped into a common generalized mold as in the days of Nishiyama. Rather, it is something that can be defined differently by each individual. What we should do is examine how these variously defined realms of the domestic are encroaching into the realms of the city and society?—?and vice versa?—?and identify the boundary zones where they meet, for it seems that that is where we can observe the latest forms of living that are actually taking shape and find the keys to thinking about the roles of architecture/housing today. This issue of MONU presents a variety of concrete approaches for how we can go about this and opens the door to new research on domestic living.


Mitsuhiro Sakakibara is a Japanese architect, researcher, editor, writer, and since 2014 part time lecturer at Kyoto Seika University. Since 2008 he is running the research-based project called RAD - Research for Architectural Domain.This review was first published by Dezain on July 12, 2016.

MONU's issue #24 is supported by University of Leuven's Master of Human Settlements and Master of Urbanism and Strategic Planning, Erasmus University Rotterdam's Institute for Housing and Urban Development Studies (IHS), University of Liechtenstein's Master (Msc) of Architecture and Incognita's Architectural Study Tours. Find out more about MONU's supporters in Support.


11-07-16 // FOLLOW MONU ON INSTAGRAM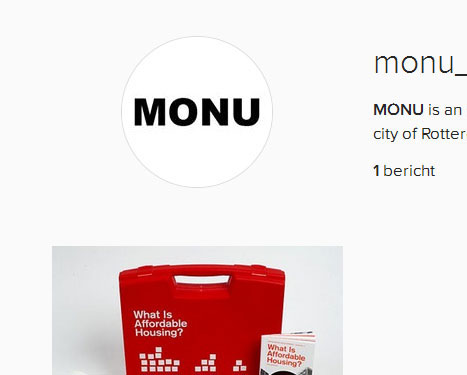 As of today, MONU Magazine can be followed on Instagram too.


02-05-16 // NEW CALL FOR SUBMISSIONS FOR MONU #25 - INDEPENDENT URBANISM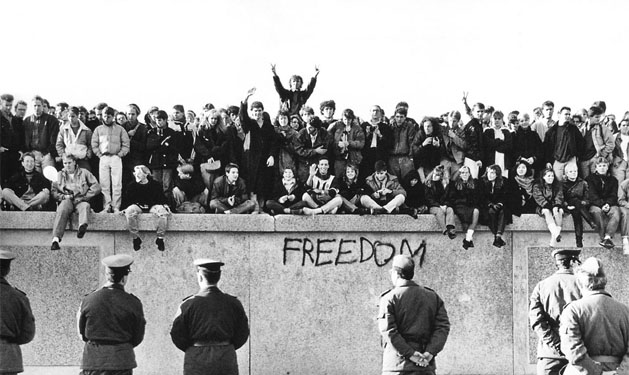 East German guards watch the crowds massing on top of the Berlin Wall in 1989. Photo: GDR Museum

Although the idea that the nation-state as the exclusive agent of connections and relations between political communities is increasingly considered obsolete, the world has witnessed the emergence of more than 30 new countries over the last 3 decades. Especially the fundamental changes in world politics that unfolded across Europe at the end of the 1980s and early 1990s - most emblematically symbolized by the fall of the Berlin wall in November 1989, that led to the dissolution of the USSR and Yugoslavia - caused the creation of most of the newly independent states... continue reading in Submit.


18-04-16 // MONU #24 ON DOMESTIC URBANISM RELEASED




What happens in domestic interiors appears to be very relevant for our societies. At least, that is what Andrés Jaque argues in our interview entitled "The Home as Political Arena" for this new issue of MONU. This issue, "Domestic Urbanism", deals with the domestic aspects of cities, and everything that is related to the human home and habitat, the scale of the house, people's own universe, things that are usually hidden and private. According to Jaque, a great number of the processes by which our societies are shaped take place in domestic interiors, the domestic realm, and in relation to very domestic elements such as the table setting, the Christmas tree, or the TV remote control... continue reading in Issues and get a printed copy here.

(Cover: Image is courtesy of STAR strategies + architecture. The image is part of their contribution "The Interior of the Metropolis" on page 106. ©STAR strategies + architecture; Illustrator: Masha Krasnova-Shabaeva)

This issue is supported by University of Leuven's Master of Human Settlements and Master of Urbanism and Strategic Planning, Erasmus University Rotterdam's Institute for Housing and Urban Development Studies (IHS), University of Liechtenstein's Master (Msc) of Architecture and Incognita's Architectural Study Tours. Find out more about MONU's supporters in Support.


05-04-16 // PARTICIPATORY URBANISM AND YOUR DESIGN PRACTICE - REFLECTIONS ON MONU #23 BY RYAN DEWEY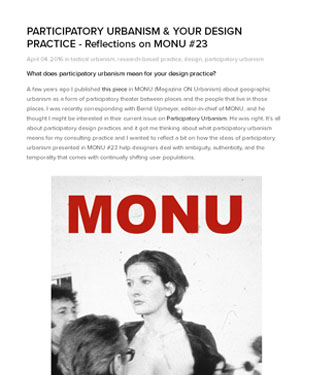 What does participatory urbanism mean for your design practice?
A few years ago I published this piece in MONU (Magazine ON Urbanism) about geographic urbanism as a form of participatory theater between places and the people that live in those places. I was recently corresponding with Bernd Upmeyer, editor-in-chief of MONU, and he thought I might be interested in their current issue on Participatory Urbanism. He was right. It's all about participatory design practices and it got me thinking about what participatory urbanism means for my consulting practice and I wanted to reflect a bit on how the ideas of participatory urbanism presented in MONU #23 help designers deal with ambiguity, authenticity, and the temporality that comes with continually shifting user populations.

Participatory Urbanism wants you to give up control
MONU #23 opens with Distributing Power, an interview with Jeremy Till, in which Till immediately addresses "fake participation" where architects pretend to involve people while retaining control over the product. Till argues that the only way to prevent design from becoming a "politically required token of democratic involvement" is to be radically committed to giving up control. But architects, planners, and designers have a hard time giving up control because they use expertise as a mode of control. Their professional knowledge is enough to let them know how people want. This reminds me of the adage that people don't know what they want until you give it to them.
One solution might be relying on professional knowledge to act as guide in participatory design. For instance, instead of using expertise as a tool of power, architects can use professional knowledge to assist participants through the design process. Goodwin's (1994) notion of "professional vision" highlights the benefit of expertise by showing that the professional has the ability to see nuances of a scene that are invisible to the untrained eye simply because of their expertise and knowledge acquired through experience. Trained designers have a special kind of vision when it comes to solving design problems, and Till acknowledges this by charging designers to use their skill to empower people in "new forms of social constructions" (p.9). According to Till, professionals have an obligation to empower non-professionals - to help users engage in designing and to relinquish control over the process, even though it poses "a real challenge to professional values" (p8).

[...]

After reading MONU #23, I come away with the sense that participatory urbanism is an issue that every designer needs to think about, and quickly as we continually move toward post-disciplinary design that increasingly design with citizen-experts at the table. MONU #23 is a good field guide to some of those issues.


Ryan Dewey is an artist and cognitive scientist. He works on embodied cognition and visual attention, focusing on finding new ways to experience the world. He is a member of the Center for Cognition and Culture at Case Western Reserve University, and founder of Geologic Cognition Society (GeoCog.org).The entire review can be read on Ryan Dewey's blog, where it was first published on April 4, 2016.


18-02-16 // DISTRIBUTING POWER: JEREMY TILL ON THE COMPLEX NECESSITY OF PARTICIPATORY URBANISM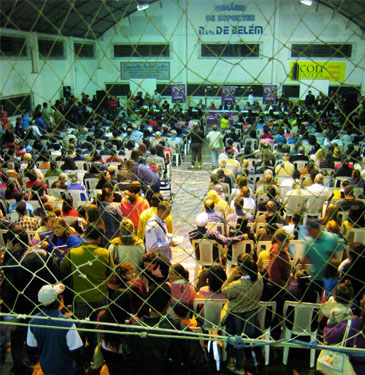 Residents of Porto Alegre, Brazil,
gather for the annual Regional Participatory Budgeting assembly.
©Michael Fox

Read excerpts of MONU's interview with Jeremy Till on ArchDaily.

In this interview from MONU Magazine's latest issue on "Participatory Urbanism", Bernd Upmeyer speaks to Jeremy Till, a British Architect, writer and educator who has written extensively about the need to for architects to relinquish control and involve local communities in their design process.


21-12-15 // HOW TO ESCAPE FROM THE NIGHTMARE OF PARTICIPATION - A REVIEW OF MONU #23 BY ETHEL BARAONA POHL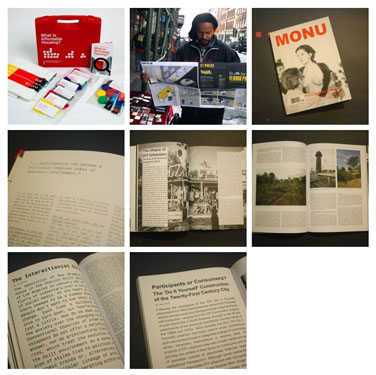 The term 'participatory urbanism' has become a buzzword recently, and several publications focused on participation and participative processes had been published in the past years. Thus, what is the reason to make one more publication about this topic? Is still any interest on the topic or themes left to discuss? Perhaps is precisely because of that, within all the noise that emerges when a term starts getting trendy and overexposed, when it's important to find those spaces that allow serious discussions to get in deep and to have a critical debate. This is the spirit of MONU #23, entitled Participatory Urbanism, where the pros and cons of participation are confronted.
Markus Miessen has already written that participation can be a nightmare, when it gets trivialised, commodified or adopted by governments to take less responsibility on their actions. As Miessen explains, "Supported by a repeatedly nostalgic veneer of worthiness, phony solidarity, and political correctness, participation has become the default of politicians withdrawing from responsibility." In this critical context, on the most recent issue of MONU it's possible to find several thought provoking written pieces and projects which permit to have a wider overview of different interpretations of participation both in architecture and urban design, even challenging the preconceived notions we have about architecture.
On an interview with Bernd Upmeyer, Jeremy Till argues that in participative practices one moves into new forms of the commons and shared spaces, which from the start can be understand as a contradiction to the standard premises of architecture, based on individualism and control. The social responsibility of the architect and its political implication should be in the core of a real participatory process, according to Till. Nevertheless, the process itself can be used as well just to fulfill the architect's obligations. But even with this fact on sight, at this point there is an optimistic approach that it's defined by the idea that there is still hope for architects, there is special knowledge they can share and bring to the table, based on social and spatial skills that can be used to empower new forms of social constructions.

Participation as a process of confrontation is also described by Gonzalo López on his essay 'Towards a New Urbanism', where he's focused on the different possible scales of urban movements to develop a theory about Open Source Urbanism, a concept that implies a direct involvement of the citizen. This is a shift from traditional large-scale urban planning into new ways of thinking, understanding and working in and for the city. Some of the movements remarked by López—tactical urbanism, co-housing, collective architectures, among others—are exemplified by the projects published on the same issue, such as the case of the alternative urban practices at Ostkreuz [Berlin], described by Nina Gribat, Hannes Langguth and Mario Schulze as a site for experimentation,—within a series of failed development plans—that have settled the ground for a new civic modus operandi, based on sharing services and social economic networks. It is important to note that the political and economic limitations are revisited in this essay, to avoid the simple or superficial fetishization of this kind of practices and to discuss as well its failures, problems and governmental manipulation. What is described as an 'Absolute Present' can be summarized by the way that terms like 'flexibility', 'self-responsibility', or 'entrepreneurialism' are used to justify projects developed under precarious conditions.
The work of the Center for Urban Pedagogy (CUP) is a remarkable example of how to take the participatory approach to a long term process. Founded in 1997, the CUP is a nonprofit organization initiated by a trans-disciplinary collective, including backgrounds on architecture, history, public policy, political theory, and graphic designers, that work together to visually communicate complex urban-planning processes. Damon Rich, one of the founders, talks about the motivations to start this project and how education has been a leading issue on the evolution and success of their work. The pedagogical approach makes possible to move from theory to action, developing projects which deal with important urban subjects—public housing, air quality, waste, and water, among others—taking them along with neighborhood organizations and advocacy groups, and are used to educate others.
If participation is a battlefield, as Damon Rich says, by reading this issue we are reminded that participatory processes, DIY projects, and collaborative approaches are the product of infinite negotiations between different actors, as Uta Gelbke explains in the case of the Holzmarkt Cooperative in Berlin. It is located between the Spree river and Holzmarkt street, where the Bar25 can be found a few years ago. This is a site basically known as a 'hipster village' and the the group that founded the Bar25 wanted to start an alternative attempt of self-organized project, including places devoted to serve organic food, cultural events and more. That's how the Holzmarkt Cooperative was created in 2012, supported by professional planners and legal advisers, along with the Swiss pension fund Abendrot Stiftung, which provided the financial resources. The current importance of the area and the success of the project, are used here as a clear case study of how civil society empowered itself in order to be legitimized as an urban agent.
However, this is also a perfect project to remind the inherent contradictions of participation and to not romanticize all participatory processes per se. It's important to remember that this kind of development often tends to generate the same kind of homogeneity and social limitations that the initiators tend to criticize, as the authors clearly state.
The richness of this issue of MONU lies in the fact that an agonistic overview is presented. Not a romantic, easy description of participation, but a negotiation full of dissent in it's own pages, where the theoretical essays create a dialogue with the projects, sometimes contradicting each others, other times, complementing the information. At that is, at the end, the best way to escape from the nightmare of participation.


Ethel Baraona Pohl is an architect, writer and blogger developing her professional [net]work linked to several architecture publications on projects and theory. She is editor at Quaderns, and contributing editor at Domus and MAS Context, among other blogs and printed magazines and also associate Curator Adhocracy | Istanbul Design Biennial. She is co-founder of the independent publishing house dpr-barcelona. This review was first published by Quaderns on December 16, 2015.


19-11-15 // MONU #23 IN GENOA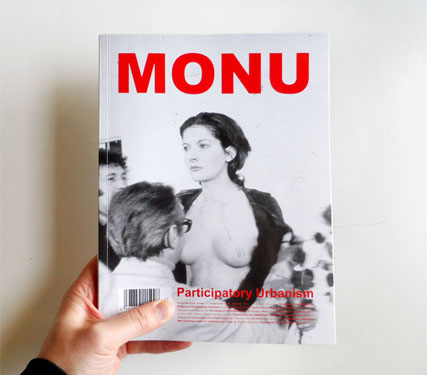 Tomorrow, Friday, November 20, from 11:30 – 16:30, MONU's new issue #23 will be on display and discussed during the Clip, Stamp, Upload: Independent Publishing in Architecture event in the Museo di Sant'Agostino, Piazza Sarzano 35 in Genoa, Italy.
The event is part of the so-called initiative "Big November", a series of architecture related events, promoted by the Architect's Registration Board of Genoa. The aim of this event is to bring the most recent and interesting independent magazines from Italy and Europe to public attention.


05-11-15 // NEW CALL FOR SUBMISSIONS FOR MONU #24 - DOMESTIC URBANISM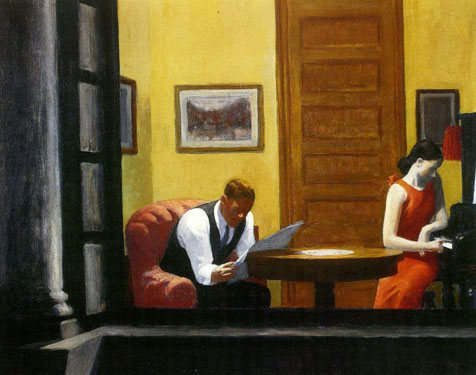 Room in New York, 1932 by Edward Hopper
Over the last three years we at MONU became increasingly interested in the question of 'how should we live together?' - a question that we analyzed, for example, in our issue #18 on "Communal Urbanism", in which we focused on contemporary communal living in cities in general and on contemporary communal housing projects in particular. But at the same time we became more and more intrigued by the question of how life is organized in the indoor spaces of our cities and to what extent interiors become ever more urban, aspects that we investigated extensively in issue #21 entitled "Interior Urbanism". Both questions and issues made us want to delve more deeply into the homes of people and we grew ever more fascinated by the domestic aspects of cities, by everything that is related to the human home, the habitat, and the scale of the house, people's own universe, something that is usually hidden and private... continue reading in Submit.


19-10-15 // MONU #23 ON PARTICIPATORY URBANISM RELEASED



In order to avoid participation in architecture and urban design becoming merely a politically required token of democratic involvement - a kind of fake participation that does not actually engage the participants in any meaningful way - architects, planners, and designers need to commit themselves and relinquish control, as Jeremy Till claims in an interview with us entitled "Distributing Power". With this new issue of MONU on the topic of "Participatory Urbanism" we aim to find out and reassess to what extent individual citizens really can and should become proactive in the production and development of cities and in the shaping of neighbourhoods, and where the limits of such Participatory Urbanism really lie... continue reading in Issues and get a printed copy here.

(Cover Image: Rhythm 0, performance, from Marina Abramovic's contribution on page 82. Location: Studio Morra Naples, 1974, Photo: Donatelli Sbarra. ©Marina Abramovic. Image is courtesy of the Marina Abramovic Archives)

This issue is supported by University of Leuven's Master of Human Settlements and Master of Urbanism and Strategic Planning, Bauhaus University Weimar's International Master Programmes, Luleå University of Technology's Master Of Science in Climate Sensitive Urban Planning and Building, Fontys' Masterclass Lisbon 2016, University of Liechtenstein's Master (Msc) of Architecture, and Erasmus University Rotterdam's Institute of Urban Management (IHS). Find out more about MONU's supporters in Support.


09-09-15 // BART LOOTSMA ON INNSBRUCK, CITY BRANDING AND "GEOGRAPHICAL URBANISM"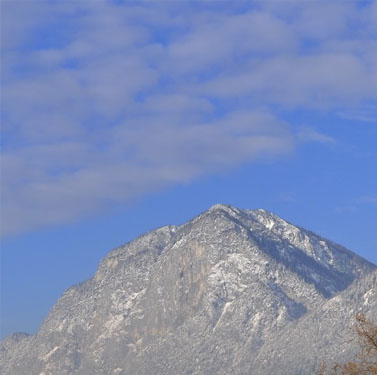 Views from Bart Lootsma's apartment in Innsbruck, Austria. Image © Bart Lootsma
Read excerpts of MONU's interview with Bart Lootsma on ArchDaily.
In this extensive interview, originally titled "Beyond Branding" and published in MONU Magazine's "Geographical Urbanism" issue #20 from April 2014, Bernd Upmeyer speaks to Lootsma about his adopted hometown of Innsbruck, and the role that geography, marketing and the collision of the two play on the identity of a city.


16-07-15 // MONU #22 IN MOSCOW AND BASEL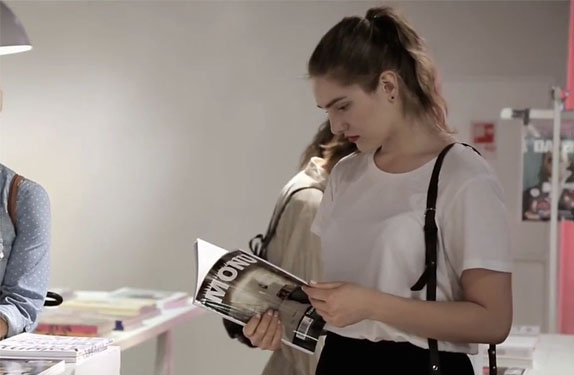 From June 16–21 MONU #22 was on display in Basel and from May 29 - June 21 2015 at Tsvetnoy Central Market in Moscow. The event in Moscow was the final Archizines exhibition. During the last 4 years the exhibition has taken place in 34 cities and seen by thousands of people. Through Archizines, curated by Elias Redstone, MONU has been featured in exhibitions all around the world and has also been included in the Archizines collection at the National Art Library at the Victoria & Albert Museum in London.


22-06-15 // A FRESH ALTERNATIVE TO A STANDARD ACADEMIC JOURNAL - A REVIEW OF MONU #22 BY IULIA HURDUCAS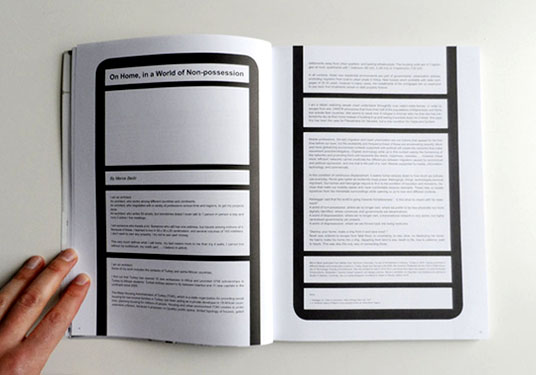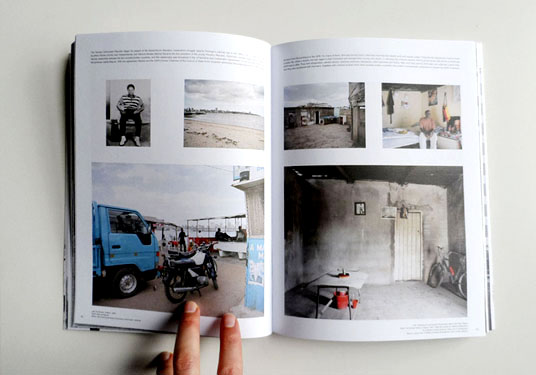 Pages 14/ 15 and 50/ 51 of MONU #22 showing parts of the contributions by Merve Bedir and Malte Wandel
Continuing the conversation on urbanism, this issue of MONU Magazine picks up on a topic opened in MONU #8 on border urbanism. Transnational Urbanism expands the topic of trans-border relations between cities close to nation state borders, to interrogate the flux of exchanges that crisscross a multiplicity of borders. As MONU has accustomed its readers, architects, urban planners and designers, policy makers, sociologists, educators, photographers and filmmakers take part in the conversation. They make up a transnational community of researchers spanning from Rotterdam, the headquarters of MONU, to the United States, and East Asia, passing through Eastern Europe, Africa, and the Middle East. As Merve Bedir stresses in her essay, they themselves live intense transnational lives.

I am a regular reader of MONU ever since my work colleagues got me a subscription for my birthday a couple of years ago. But when I got my copy of MONU #22 for reviewing, instead of zapping through it, like I normally do, I started reading it like a book and letting myself be guided by the editorial skills of Bernd Upmeyer. And what I discovered along the way was the conversation between the articles, as each of them builds on a thread launched by a previous one.
To begin with, as MONU's trademark and opening piece, the interview in #22 is with sociologist Jean-Louis Missika, assistant mayor of Paris. He depicts an image of the global that comprises the world in itself. While Paris' elected challenge is to provide shared infrastructure and housing for the global city's mobile dwellers, Agatino Rizzo's proposition for building a sustainable global city in between Malaysia and Singapore is to offer public space able to downplay social inequalities.

What we read through the pages of this issue is the incredible porosity of borders, as even the most impenetrable of them, like the one between North and South Korea are crossed by cooperation and negotiation efforts that ultimately link joint economic, touristic, and knowledge spaces. Of course, as Yehre Suh shows, such projects are always at risk of being temporarily shut down by unpredicted incidents, or "the fog of international policy." We can equally read how conflict pushes established trade routes between countries officially at war underground, and reconfigures trade landscapes, as Arab traders reorient themselves to China after 9/11 and China's joining the WTO. Caught up in between are Syrians and other asylum seekers whose trajectories are highly controlled and regulated. In spite of this, but also because of it, transnational friendships leak out of detention regimes, as Kolar Aparna's research illustrates.

Stories of work-migration present us the Philippine work-migration industry, and former Mozambican guest workers in the former German Democratic Republic caught in limbo as the fall of socialist regimes in the early nineties has only revealed their work as paying for their country's debt. Splinters of the colonial gaze and the construction of "otherness" are shown to construct also "other" spaces, like the segregated spaces of Philippine workers in the Arab Emirates. Such gazes obscure sight and push urbanism into 'magical' interpretations, like the one offered by half architect – half media philosopher Thomas Mical. However, it is the constant effort of translation that constitutes "the challenge of transnationalism," as Kolar Aparna writes.
Speaking from a European perspective, and the debate on closing the gates of "Fortress Europe," the articles in MONU #22 open up ways for understanding. In particular, one question is raised concerning African migration: how does it articulate with massive development projects around Africa's mineral resources?

Architects and urban planners and designers are gaining momentum in border studies. Next to MONU #22 on Transnational Urbanism, a recent conference at the Sheffield School of Architecture on Border Topologies in October 2014 is proof of the professions' deep engagement with this topic. While MONU is definitely oriented towards the architectural profession, the current number tackles a trans-disciplinary theme, and that is what makes it such a good read, not only for architects. It represents a fresh alternative to a standard academic journal, as much of the articles are indeed by architects involved in academia. However, the freshness is in the practice, as Bernd Upmeyer's editorial skills of construing a conversation from the different articles are definitely an architect's trademark.

Iulia Hurducas is an architect and urban designer. After studying architecture and urbanism in Cluj, Romania, and Hamburg, Germany, she worked for the Romanian-German architecture practice Planwerk, in Cluj. She is currently pursuing a PhD at the Sheffield School of Architecture in the UK on the topic of transnational urban transformations. This review was first published by A Daily Dose of Architecture on June 10, 2015.


08-06-15 // THE TRANSNATIONAL URBANISM OF PARIS: AN INTERVIEW WITH ASSISTANT MAYOR JEAN-LOUIS MISSIKA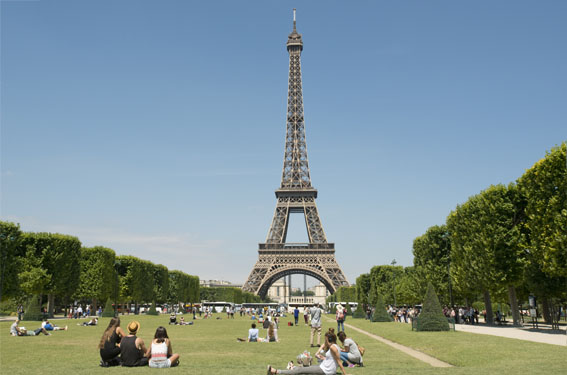 The Halle Freyssinet, a 16,000 square meter railway depot that Paris is preparing to convert
into the world's largest business incubator, "will be as emblematic as the Eiffel Tower".
Image © City of Paris

Read excerpts of MONU's interview on ArchDaily. The full interview, and more articles and interviews on the concept of Transnational Urbanism, are published in issue 22 of MONU Magazine.


27-05-15 // GET A FREE COPY OF MONU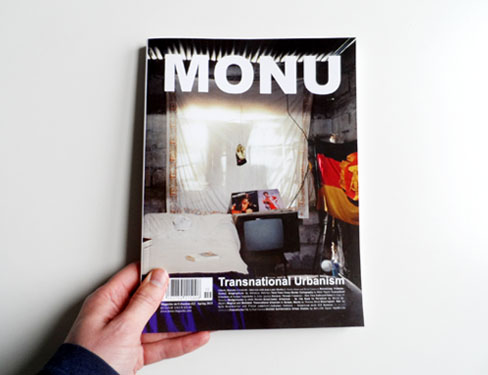 As of today, you can get one free copy of any of the available issues of MONU shipped for free to any place of the world. To receive a free copy of MONU you only need to convince the library of your university or institute to subscribe to MONU.

For further information, please contact freecopy@monu-magazine.com.


01-05-15 // NEW CALL FOR SUBMISSIONS FOR MONU #23 - PARTICIPATORY URBANISM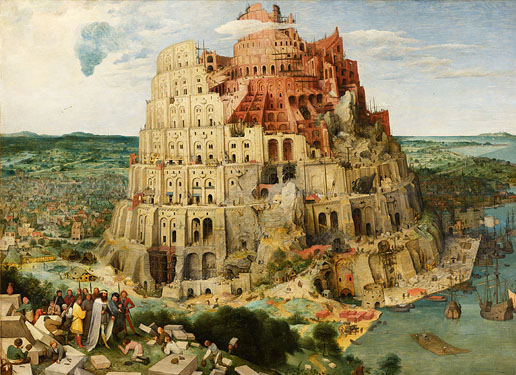 "[…] they may not understand one another's speech. […] and they ceased building the city."
Genesis 11:4-9
We need to talk! We at MONU think that the time has come to talk with you about "participation" in architecture and urbanism and re-evaluate and re-examine developments around this topic in recent years and what the future might hold ...continue reading in Submit.


20-04-15 // MONU #22 ON TRANSNATIONAL URBANISM RELEASED



To prepare our cities for the emergence and growth of transnational lifestyles we need to invent new urban and architectural forms that are adapted to these new ways of life. This is what the French sociologist and assistant Mayor of Paris, Jean-Louis Missika, emphasized in an exclusive interview with MONU entitled "Liberté, Digitalité, Créativité" on the topic of "Transnational Urbanism"... continue reading in Issues and get a printed copy in Order .

This issue is supported by EMU - European Post-masters in Urbanism, Bauhaus University Weimar's International Master Programmes, Fontys' Master of Architecture and Master of Urbanism, University of Liechtenstein's Master (MSc) of Architecture, University of Leuven's Master of Human Settlements, Erasmus University Rotterdam's Institute of Urban Management (IHS), Incognita's Architecture Trips, and Studio for Immediate Spaces - Sandberg Instituut, Amsterdam. Find out more about MONU's supporters in Support.


20-01-15 // LIVING INSIDE: MONU MAGAZINE TACKLES "INTERIOR URBANISM" BY KARLIS RATNIEKS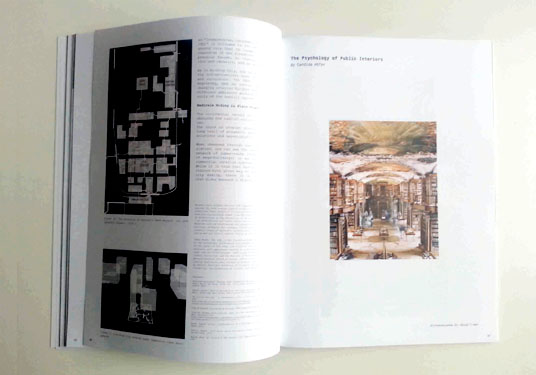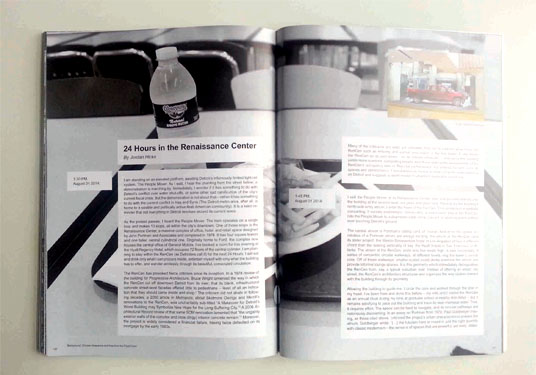 Pages 56/ 57 and 120/ 121 of MONU #21 showing parts of the contributions by Michael Piper and James Khamsi, Candida Höfer and Jordan Hicks

MONU magazine #21 has set out on a journey to study cities from their indoor environments. It is not only about turning the "inside(s)" out, but also involves re-conceptualizing the "inside" itself. While starting with a thorough discussion of the existing interiors in relation to spatial types, the contributors go further to raise new questions on how human subjects within the city are constantly engaging in practices that accept, produce or challenge the limits, scales and different programs of the interior space.

In his seminal essay "Paris – Capital of the Nineteenth Century" (1935) Walter Benjamin presented an analysis of interior as a phenomenon springing out of the forces of production that changed Paris after the French Revolution. Historically the rise of bourgeoisie set out the process of separation of the living-space from the place of work. Interior became a refuge, a sort of a dream-world. As Benjamin writes: "Interior was not only the private citizen's universe, it was also his casing. Living means leaving traces. In the interior these were stressed." The understanding of "interior" as a frame, onto which one's traces of life are accumulated, emerges together with the understanding of dwelling in particular political and economic circumstances.

In today's world it seems we find ourselves no longer capable of separating the places of production from places of refuge. Thus the great value of the latest edition of MONU is precisely in discussing the meaning of the "interior" in relation to forces that produce the city and the contemporary urban structures.

Case studies of Asian, U.S. and European cities or historical research of certain paradigmatic architectural innovations all point to such themes as rising domestication, commodification, privatization and restrictions on common rights in the urban interiors. What manifests in a range of urban developments from museums or "exhibitionary complexes" (blending art, memory and pedagogical aspects) to commercial environments (from the shopping arcades to suburban malls and to experimental mixed-use indoor spaces) is the uncertainty of ability to maintain these built environments with regard to public interest. From singular architectural objects to large infrastructural networks, interiors have been planned in relation to flows of goods, services and human transit. As spaces of circulation at different scales, interiors become the spaces of social encounter. As Shriya Malhotra points out in her research on metro systems in global cities: "Subways are microcosms of the interaction between top-down historic and sociopolitical developments shaping our cities, and people". Social encounters in relation to the quality of wilderness of an interior space are becoming unwelcome – one learns from the interview with Petra Blaise that both private and public developers oblige designers to avoid "wild", ungovernable interior spaces as potentially dangerous.

From the articles it becomes clear that interior continuous to be the place of subject formation – be it cultural, political or social. While we often find ourselves living and leaving traces in interiors evermore dominated by the generic, the seemingly anonymous place can still become the hotspot of new antagonisms that produce new tendencies and movements. There are constant formation processes. In an interview Dutch architect Winy Maas expresses his hope that the public qualities would be on the raise: "Forms of cohabitation can and should be tested more in the future, where we test how we can make spaces in which you will be able to speak freely without the need to shut your mouth." The future development of urban interior spaces can be challenging, especially in regards to keeping democracy alive in our contemporary cities.

Karlis Ratnieks studied architecture at Riga Technical University and urban studies at Estonian Academy of Arts. Karlis works as an architect in Liepaja, Latvia. This review was first published by This Big City on January 19, 2015.


16-12-14 // WHAT IS INTERIOR URBANISM? - A REVIEW OF MONU #21 BY CLAUDIA MAINARDI AND GIACOMO ARDESIO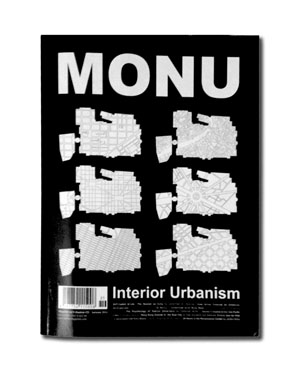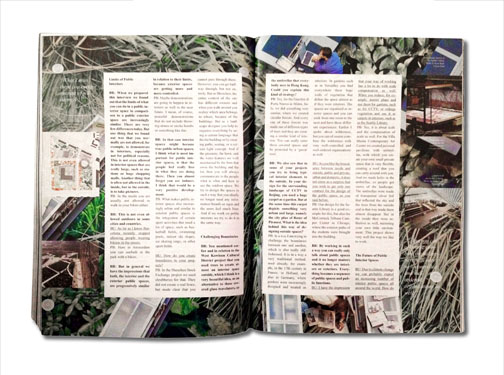 This review was first published on Quaderns on December 15, 2014; photos by Claudia Mainardi

In 1969 Reyner Banham in his book The Architecture of the Well-tempered Environment marked the shift between the concept of interior to that of an artificial environment. Technology and new human needs in fact had become an integral part of architecture, defining a new paradigm to describe indoor space, that it was not any longer a concern of the singular living-cell but rather of its internal atmosphere.
The issue 21 of MONU describes the current development and the extreme consequences of what this Interior Urbanism means. As Brendan Cormier emphasizes in his article Some Notes Towards an Interior Archipelago: "90% of our lives are spent inside. Urban life is an interior affair." This statement manifests the necessity to invert the canonical approach to read and plan cities, unfolding a new possible stream of research which considers how architecture affects our everyday life.
Climate, or the need to erase the atmospheric conditions, is one of the trigger factors of the production of interior urbanism. Michael Piper and James Khamsi in Endless Architecture: Accidental Manifestos for the Interior state that "the interior has grown to become an endless type of urban form" which provides an indoor urbanism between the malls of Toronto producing a protected shelter against a hostile climate. The system grew until the inclusion of the public buildings such as the station and the city hall overpassing the threshold of the commercial status of this air-conditioned environment.
As described in the essay of Inge Goudsmit and Adrienne Simons, maybe the most extreme scenario of indoor urbanism is the case of Hong Kong, where for specific contextual constraints such as the tropical climate and the lack of space, not only the city developed vertically but also the public space defined a network of inner connections where common life develops. Assuming as cases, the extremes of Canada and tropical China, it seems that the necessity for a hospitable public environment, despite the climate, is nowadays an unavoidable condition for the contemporary cities. This need for well tempered buildings represents an important factor for the homogenization of architecture worldwide, even stronger than the cultural one.
Nevertheless the quality of this kind of space manifests the always present antithesis between public indoor life and social control. The fact that the interior pathways of Hong Kong became the place of constrained and channeled commercial episodes with no choice for the citizens is described as one of the risks of interior urbanism by Petra Blaisse in her critical claim for wilderness in urban spaces as pointed out in her conversation Into the Wild. Both interior and exterior public spaces are assuming in fact the same connotations challenging their conventional opposite characters: if public buildings are assuming the spatial organization of interior landscapes, the exteriors are being ruled more and more in terms of use, as if they were buildings.
If it is true that certain internal conditions are able to create new urban spaces (as in the cases described above) the opposite is also true, that some buildings have assumed a character of indoor urbanity. One example is the article by Jonathan A. Scelsa Enfiladed Grids, The Museum as City, which highlights how museums are taking the configuration and the spatial experience of a city through the wise use of the intermezzo or the connective space between exhibition rooms such as in the work of OMA, REX, Jean Nouvel and SANAA.
This condition of blurring between interior and exterior is well described in the interview of Winy Maas, where the metaphor of a "3D Nolli", in relation to the Nolli Map (1784) which first represented the enclosed publicly built surface as part of a continuum with the open spaces of Rome, is used as a tool to interpret a new generation of indoor public spaces like the Market Hall in Rotterdam. Scale and urban density, in the words of Winy Maas, are the "activators" of this kind of internal condition where the boundary between interior and exterior is totally blurred.
Reversing the traditional figure/ground opposition defined by Nolli Map, the poché which represents the private buildings unfold another, less porous, dimension of interior urbanism. In Some Notes Towards an Interior Archipelago, Brendan Cormier describes as an urban paradigm, the network of places that hosts the daily life of human beings. Far from the radical scenarios described by Archizoom in the No-stop City, our everyday life is not the one of the free man in an open indoor environment but rather it is confronted with the problems of ownership, differentiation and exclusivity, that define the gradient of permeability of this continuous interior. Visible and invisible boundaries restrict the possibility of wandering. In a moment in which, through the social networks, our lives have become public in almost every aspect, the interior has become the eminent space of privacy and thus intimacy and freedom.
In our opinion this different approach, so widely explored in MONU 21 in all its different aspects, represents a useful tool to overpass the dichotomy between the city as a system and the building as an object. If in fact we assume that there is a unifying field that relates to all the objects which compose the city, the urban dimension is no longer a matter of juxtaposition. With MONU 20 about Geographical Urbanism, this issue challenges the scale through which we are used to reading/to interpreting the city: from XS to XXL questions, there is a need to understand urban phenomena defining the new extents for urban life.
Claudia Mainardi and Giacomo Ardesio. Both of them graduated in Architecture at the Milan Politecnico, they are both part of the collective Fosbury Architecture and they are currently working at OMA in Rotterdam.


03-11-14 // NEW CALL FOR SUBMISSIONS FOR MONU #22 - TRANSNATIONAL URBANISM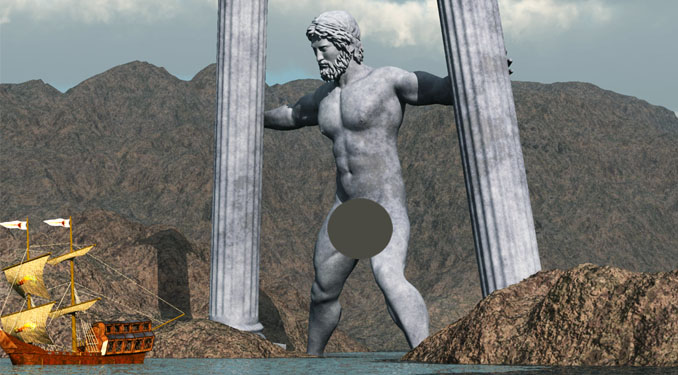 Sailing beyond the Pillars of Hercules, Image by David Potente, ©David Potente

Around six years ago, our issue #8 entitled "Border Urbanism" focused on urban phenomena that appear in cities that are located close to nation-state borders. We were fascinated by the fact that when cities are located close to borders, they often foster very specific economic features or urban anomalies, which cannot be found in cities located in the very centre of a country. Wherever two jurisdictions come into contact, special opportunities seem to arise. We showed how cities that are located close to borders could be described as isolated islands, where a different type of life is possible, and as places conducive to experiments, utopia and dystopia. With this new issue of MONU we would like to expand on, and complement, the topic of "Border Urbanism" through the topic of "Transnational Urbanism"...continue reading in Submit.


20-10-14 // MONU #21 ON INTERIOR URBANISM RELEASED



While our world is progressively becoming more urban everywhere, a process is on its way that seems to penetrate increasingly every part of our life and does not appear to stop at the thresholds of our buildings, but influences interior spaces, in particular public interior spaces, as much as everything else... continue reading in Issues and get a printed copy in Order .

This issue is supported by University of Leuven's Master of Human Settlements, University of Leuven's Master of Urbanism and Strategic Planning, University of Liechtenstein's Master (MSc) of Architecture, Inside - Master Interior Architecture, Erasmus University Rotterdam's Institute of Urban Management (IHS), and Incognita's Architecture Trips. Find out more about MONU's supporters in Support.


18-08-14 // MONU #20 WILL BE ON DISPLAY AT THE VANCOUVER ART/ BOOK FAIR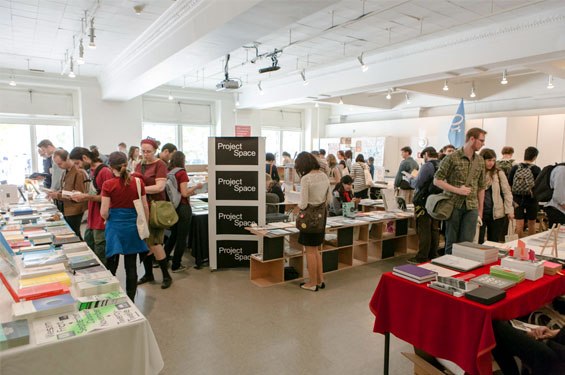 On October 4 and 5, 2014 MONU's issue #20 on Geographical Urbanism will be exhibited on the Vancouver Art/Book Fair.
Free and open to the public, the Vancouver Art/Book Fair is the only international art book fair in Canada and one of only two on the West Coast. In 2014 the event is anticipated to attract over 1,500 visitors from across the Greater Vancouver Area and beyond.
Presented by Project Space, the Vancouver Art/Book Fair is a two-day festival of artists' publishing featuring nearly one hundred local, national and international publishers, as well as a diverse line-up of programs, performances and installations. Featured artists travel to Vancouver from across Canada and the globe, and produce everything from books, magazines, zines and printed ephemera to digital, performative or other experimental forms of publication.


30-04-14 // NEW CALL FOR SUBMISSIONS FOR MONU #21 - INTERIOR URBANISM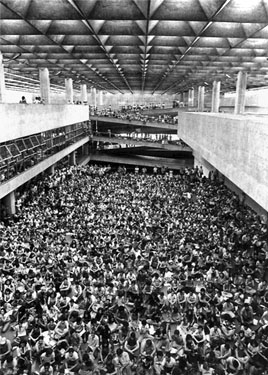 Interior of João Batista Vilanova Artigas'
School of Architecture and Urbanism at
the University of São Paulo, 1969.

When a few years ago we at MONU made the huge mistake of travelling in August to Tokyo, the warmest month of the year in this part of the humid subtropical climate-zone, we were constantly forced to find shelter in the public air-conditioned interiors of the city. But what we experienced there had, due to the dimensions and quality of the spaces, very little to do with the interconnected public interior spaces of bad repute of the past,...continue reading in Submit.


14-04-14 // MONU #20 ON GEOGRAPHICAL URBANISM RELEASED



Contrary to the simplified linear causality of the environmentalism of the past, which posited that natural geography shapes urban patterns, it is now thought that contemporary urbanization shapes the surface of the earth. Nikos Katsikis explains this tremendous current shift in the meaning of physical geography for cities in his contribution "On the Geographical Organization of World Urbanization", putting the discussion of the 20th issue of MONU on the topic "Geographical Urbanism" in a historical context. For Bernardo Secchi this is not much of a problem as he is no fan of natural geography anyway, a position he reveals in our interview with him entitled "Working with Geography"...continue reading in Issues and get a printed copy in Order .


27-03-14 // MONU IN ALL ABOUT MAGS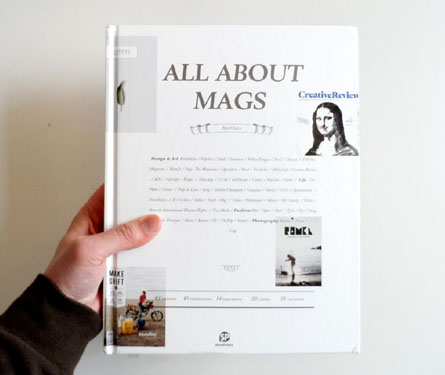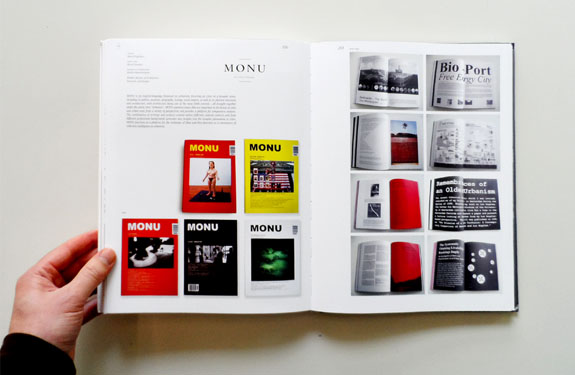 MONU Magazine is featured in the publication "All ABOUT MAGS" that is published by the China-based publishing house SendPoints. SendPoints is distributing design books from their offices in Guangzhou, Beijing and Shanghai.
ALL ABOUT MAGS aims to introduce excellent and distinctive magazines from around the world. According to them each of the 61 featured magazines stand out for its eye-catching design, layout, font system as well as its distinctive publishing philosophy.


10-01-14 // MONU IN SHANGHAI, ARNHEM, BASEL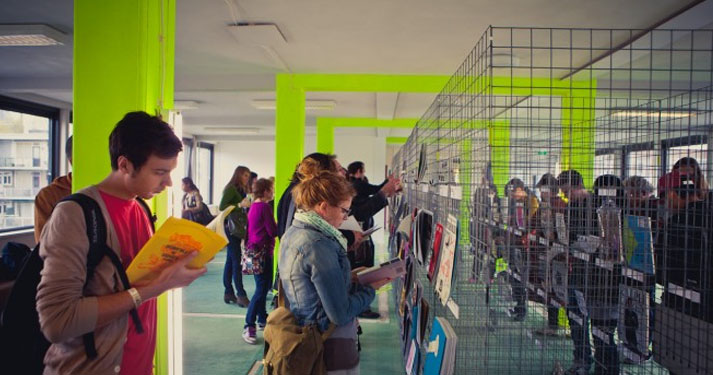 Independent Magazines Biennale, Arnhem

From 11 January - 9 March, 2014 MONU #14 on Editing Urbanism will be exhibited in Shanghai (Archizines at the University of Hong Kong), from 28 March - 29 March MONU #19 on Greater Urbanism will be featured in Arnhem (Independent Magazines Biennale), and from 17 June - 22 June MONU #20 on Geographical Urbanism, to be released by the middle of April, will be on display in Basel (Art Fair Basel) .


02-12-13 // GET COPIES OF MONU WITH A DISCOUNT OF UP TO 30%





As of today MONU Magazine offers special discounts of up to 30% on all available issues (the selection shown is only an example).

10% discount if you order 2 copies of any available issue of MONU (+ shipping)
20% discount if you order 4 copies of any available issue of MONU (+ shipping)
30% discount if you order 6 copies of any available issue of MONU (+ shipping)

Please e-mail your order to offer@monu-magazine.com .


01-11-13 // NEW CALL FOR SUBMISSIONS FOR MONU #20 - GEOGRAPHICAL URBANISM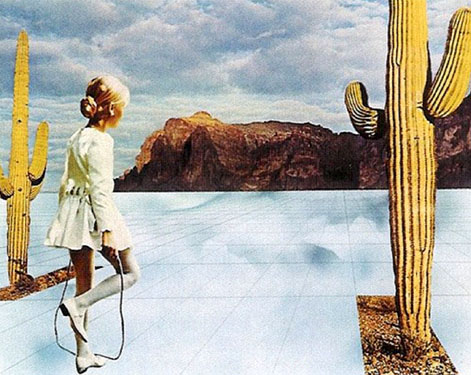 The Distant Mountain, Superstudio, 1971

Could geography, by which we mean the physical geography and in particular the natural geographical features such as landforms, terrain types, or bodies of water that are largely defined by their surface form and location in the landscape, be the last hope of the planet's ever expanding, continuously transforming, and increasingly identical and indefinable urban territories to remain distinguishable and to gain a particular identity in the future? Do hills, cliffs, valleys, rivers, oceans, seas, lakes, streams, canals, or any other kind of geographical feature have the power, in an ever more globalized world in which progressively cities and their architecture look the same, to provide meaning and significance to places, their inhabitants, and users or will all such elements only contribute to an identity that is merely like a mantra as Rem Koolhaas predicted once in "The Generic City"?...continue reading in Submit.


14-10-13 // MONU #19 ON GREATER URBANISM RELEASED



It appears that cities of today, and especially big cities, all around the world, are all struggling with similar problems, as they all have developed huge territories - their metropolitan or "greater" areas - during the twentieth century that cannot be properly understood by anyone in terms of their form, but that now need to be recognized as something that truly exists, because it is a form that is in perpetual transformation and without limits.This is where Antoine Grumbach sees the main difficulty when it comes to "Greater Urbanism" as he explains in an interview with us entitled "Unlimited Greatness"...continue reading in Issues and get a printed copy in Order .


13-09-13 // MONU MAGAZINE IS EXHIBITED IN LISBON, VILNIUS, CHICAGO, AND VANCOUVER





From 12 - 22 September MONU Magazine is exhibited in the Arts Centre of Foundation Serra Henriques in Lisbon, Portugal as an Associated Project of the 2013 Lisbon Architecture Triennale.

From 13 - 15 September MONU #18 on "Communal Urbanism" (photo) is on display at the Vilnius Book Festival in Lithuania. The Festival is bringing Lithuanian and foreign authors, artists, publishers and intelectuals together. In accordance with traditions of other book festivals worldwide, the Vilnius Book Festival events will go on to continue in cafes, clubs and bookshops in the oldtown.

From 13 September - 2 November, MONU Magazine is presented at the Public Works Gallery in Chicago, USA.

From 5 - 6 October, MONU #18 will be featured at the Art/Book Fair in Vancouver, Cananda. The Vancouver Art/Book Fair is a two-day festival of artists' publishing that features nearly one hundred local, national and international publishers of books, magazines, zines, printed ephemera and digital or other experimental forms of publication, as well as on-site programs, performances and installations.


07-08-13 // MONU #18 IS FEATURED IN GERMANY'S LARGEST DAILY NEWSPAPER: THE SÜDDEUTSCHE ZEITUNG






MONU #18 has been featured in the weekend edition of the "Süddeutsche Zeitung" on August 3. MONU appeared in the article entitled "Hier ist die ganze Welt Papier" (Here the entire world is paper). MONU was featured among other journals as a proof that printed publications are not dead when it comes to independent magazines. The Süddeutsche Zeitung is published in Munich and is the largest German national subscription daily newspaper with an average of 441.955 daily sold copies. The title, often abbreviated SZ, literally translates as "South German Newspaper". It is read throughout Germany by 1.1 million readers daily and boasts a relatively high circulation abroad.


19-07-13 // MONU #18 IN PARIS





From July 1st – 7th MONU #18 was exhibited at the CENTQUATRE in Paris (5 rue Curial, 75019 Paris). The exhibition entitled "Habiter le Grand Paris" was focused around the results of the Atelier International du Grand Paris.


26-06-13 // MONU #18 IS EXHIBITED IN BASEL





MONU's issue #18 was exhibited at Basel's "LISTE", one of the most important fairs for contemporary young art in the world, from 11 - 16 June 2013.

For 18 years, the fair has been making relevant contributions to the promotion of young artists and galleries. The intentionally low number of 66 galleries and the high level of sophistication of those galleries are reasons for LISTE's extraordinary success, international reputation and drawing power. (Image: Artwork by Cory Arcangel, Gardar Eide Einarsson, Ryan McGinley, and Dawn Mellor)


10-06-13 // THE GOOD, THE BAD AND THE UGLY – MONU'S MOST VALUABLE URBANISM DEBATE




On February 10, 2011 MONU Magazine organized a debate entitled "Most Valuable Urbanism Debate" that aimed to find out what distinguishes a bad Dutch city from a good Dutch city, and what role architects and urban designers play in the production of valuable urbanism. Excerpts of this debate were published in MONU #14. The debate on one of the previous issues, MONU #13: Most Valuable Urbanism, was moderated by Piet Vollaard. The debate panel included three people with three different ideological backgrounds: Jaap van den Bout, Adriaan Geuze, and Floris Alkemade. After a brief introduction by MONU's editor-in-chief Bernd Upmeyer, and preceding the debate, each of the panel members was asked to make 10 -12 minute statements.
Info about the debate:
Titel: Most Valuable Urbanism Debate
Host: MONU – Magazine on Urbanism
Introduction: Bernd Upmeyer
Moderator: Piet Vollaard
Panel members: Floris Alkemade, Jaap van den Bout, Adriaan Geuze
Location: De Machinist, Willem Buytewechstraat 45, 3024 BK Rotterdam
Date: 10.02.2011
Time: 19:00 – 22:00
Credits:
Organisation and Conception: Beatriz Ramo, Bernd Upmeyer
Transcription: STAR: Philip Vandermey, Francesca Rizzetto
Video and Audio Recording: Selena Savic, Chris Baronavski
Video Editing: Matas Šiupšinskas, Selena Savic
John Lennon Photo: Bob Gruen (The image is courtesy of John Lennon's estate)
Thanks to Andre Kempe for suggesting ideas for this debate.

This debate has been made possible by the Creative Industries Fund NL.


15-05-13 // NEW CALL FOR SUBMISSIONS FOR MONU #19 - GREATER URBANISM





Video stills of the opening title sequence of the American television drama "The Sopranos". ©HBO
"Tony Soprano is emerging from the Lincoln Tunnel, entering the New Jersey Turnpike, one of the Greater New York Roads, and finally pulling into the driveway of his suburban home."

Are cities becoming "greater" these days? When two years ago, in our 14th issue of MONU Magazine entitled "Editing Urbanism", we claimed that in the Western world, the need for new buildings and city districts was decreasing or even ceasing to exist altogether due to demographic changes and financially difficult times, we did not believe in all those new, big-scale, and long-term urban development strategies for the metropolitan areas of certain European cities that were being proposed at the time. The growth numbers that plans such as "Greater Helsinki" envisioned for the year 2050, trying to brand the city as one of the most dynamic metropolises in Europe, predicting a population growth from 1.3 million to 2 million, were too exuberant and too vast...continue reading in Submit.


23-04-13 // MONU #18 ON COMMUNAL URBANISM RELEASED


Music: Supertramp, Give A Little Bit, 1977

How should we live together? is the central question of this 18th issue of MONU on the topic of "Communal Urbanism", focusing on contemporary communal living in cities. According to Martin Abbott's contribution "Learning to Live Together", this is a question often discussed among the housemates of Berlin's 40 year old communal "Hausprojekt Walde". Rainer Langhans, one of the early members of the legendary "Kommune 1", founded in Berlin in 1967, is convinced that in the future we will live increasingly communally. He sees a growing demand for, and interest in, communal life and shared experiences as he explains in our interview with him entitled "Privacy and Ecstasy". But in contrast to his own experiences in Kommune 1, where he experienced an uninterrupted, 24/7, spiritual communal ecstasy of love, the communal life of the future will instead be characterized by temporary communities, where people meet and share spaces, facilities and experiences occasionally, similar to his own current communal life...continue reading in Issues and order a printed copy in Order .


01-02-13 // NEXT URBANISM DISCUSSION ON THE ARCHINED






MONU #17 explored how cities of the "Next Eleven" countries are already different and will be different in the future, from the cities of the "BRICs", but also from the ones of the "MEDCs"- the more economically developed countries, such as the Netherlands - in terms of their politics, their economies, their geographies, their cultures, their social aspects, their technology, their ecology and in the relation to their physical structures, such as their architecture. We and the ArchiNed would like to continue the discussion on the topic of "Next Urbanism" as we believe that there is still more to learn from cities in the Next Eleven countries. Therefore we invited Dutch architects and urbanists that are currently working in cities of one of the Next Eleven countries and architects and urbanists that were born in one of the Next Eleven countries and are currently working in the Netherlands to write about their experiences and to reflect on differences and similarities between both environments. The first in this series are the observations of Paul van der Voort, a Dutch architect living and working in Mexico City.


25-01-13 // BERND UPMEYER LECTURES AT STRELKA





Bernd Upmeyer will lecture about the concept and practice of MONU Magazine on Urbanism at the Strelka Institute for Media, Architecture and Design in Moscow on January 30, 2013. He will furthermore participate in the discussion about architecture, urbanism and media at Strelka's Urban Studies Session on the same day.


07-01-13 // MONU #1 IS REPRINTED



After being sold out for more than seven years MONU's very first issue on the topic of Paid Urbanism has been reprinted and is available again now. Witness the beginnings of MONU Magazine and get a printed copy for €10 at Order.

Editorial from June 2004:

Our experience of urban life today exists as it does because we have a complex system of subsidies interacting with our urban geography. Taxes, once extracted from the market economy cycle back to the masses as paid urbanism. Used wisely or not, spread fairly or unfairly, this money is probably one of the strongest forces animating our urban conditions today. The places we live in today are in many ways shaped by government spending - Subsidized Landscapes. Since the '90s, big enthusiasm about total privatization has subsided. Nowadays, everybody realizes that there is a need to keep certain things in the hand of public administration. Redistribution of enormous revenue is a commonly accepted means of keeping civil democratic societies working. Government intervention, taxing and spending are the terms we use to describe this state. Caught in an enormous network of redistribution that pervades everything and everybody, the power and influence of these processes rarely makes itself visible; we are never fully aware. A Kafkaesque web of bureaucracies constantly recreates and resuscitates our urban landscapes. Drifting through cities with their thousands of invisible dependencies and relationships, no one person can exactly define what keeps everything alive. Everything seems to be vibrant, but somewhere down the line, there are crosscutting streams and flows of decisions and administration behind it. It has been paid for. The multitudinous products of paid urbanism are hard to identify or define, but lie hidden behind every stone of the city. The effects of paid urbanism on urban settings cannot be overemphasized - without paid urbanism, cities as we know them would not exist. This first issue shines a number of spotlights into the thicket of subsidies and paid urbanism. What do networks of subsidies look like in fields like housing and farming in the US and what are their consequences for cities? What are the aesthetic impacts and absurdities of paid urbanism in places as different as Chicago, Coney Island (NYC) and Thuringen (Eastern Germany). We feature projects that rethink the networks of paid urbanism and essays that reflect on the interwoven history of subventions and urbanism.

Contents:

Imagining the Subsidized Landscape by CUP; After Growth by CASE with Reinier de Graaf; Urban Distortion by Shireen A. Barday and Damon W. Root; Urban Money Beats Global Money by Hans-Henning von Winning; The Paid Urbanism Project by Thomas Soehl and Bernd Upmeyer; SpaMania by Kai Jonas; Is a Bathtub Still a Bathtub on Mars? by William Alatriste; Richard J. Daley's Chicago Civic Center and the Modernist Urban Landscape by Emily Pugh


19-11-12 // MONU AS CHRISTMAS PRESENT: DISCOUNTS FROM 10 TO 40%





As of today and until December 31, 2012 MONU Magazine offers special discounts of up to 40% on all available issues.

10% discount if you order 2 copies of MONU (+ shipping)
20% discount if you order 4 copies of MONU (+ shipping)
30% discount if you order 6 copies of MONU (+ shipping)
40% discount if you order 8 copies of MONU (+ shipping)
20% discount if you order 1 bag of MONU (+ shipping)

Please e-mail your order to offer@monu-magazine.com .


15-11-12 // CALL FOR SUBMISSIONS POSTER FOR MONU #18





Support MONU Magazine's global dialogue on urbanism and print and post this CALL FOR SUBMISSIONS POSTER for MONU #18 on the topic of COMMUNAL URBANISM in your faculty, institute, or in your communal kitchen.


01-11-12 // NEW CALL FOR SUBMISSIONS FOR MONU #18 - COMMUNAL URBANISM




Meal in a Political Commune (1968)
© Bildarchiv Preußischer Kulturbesitz, Photo credit: Günter Zint

One of the most fascinating things we at MONU recently experienced during a trip to Brasilia had nothing to do with its famous Oscar Niemeyer monuments or the city itself, but with the context surrounding the city. After two tiring days in the city and having read in a guidebook that in certain regions around Brasilia extra-terrestrial contacts are supposed to be more likely, which provoked the emergence of a number of cults and communes, we decided to rent a car to visit those places...continue reading in Submit.


16-10-12 // MONU #17 ON NEXT URBANISM RELEASED



This new issue of MONU is dedicated entirely to the topic of "Next Urbanism" - meaning the urbanism of the cities of the so-called "Next Eleven" or "N-11", which include eleven countries: Bangladesh, Egypt, Indonesia, Iran, Mexico, Nigeria, Pakistan, the Philippines, Turkey, South Korea, and Vietnam. These countries have been identified as growing into, along with the BRICs - Brazil, Russia, India, and China - the world's largest economies in the 21st century. Next to interviews with Saskia Sassen and with the Nigerian-born architect Kunlé Adeyemi, and a series of contributions that discuss Next Urbanism in general, we feature eleven articles that focus specifically on the cities of each of the Next Eleven countries...continue reading in Issues and order a printed copy in Order .


30-07-12 // THE IDEOLOGY OF PUBLICATION – CONVERSATION WITH BERND UPMEYER





Bernd Upmeyer has been interviewed by the Beijing-based magazine WAI on the topic of ideology. The results of the conversation have been published in their second issue.
[...]
WAI: MONU is willing to explore the concept of urbanism from every possible angle, including the social, political, ideological and artistic spheres. However, something that is not being discussed is the contribution of MONU to the visual culture of architectural publications. An important element of the unique attraction of MONU is its layout (varying from article to article), typography and provocative covers that have featured Godzilla, Jesus, Marilyn Monroe, Superman, and John Lennon. Was the aesthetic approach for MONU a derivative of the content or was it a choice assumed from the beginning as a main concept for the magazine?
Bernd Upmeyer: The fact that every article is different in terms of the layout was a clear choice from the beginning and we have been applying that concept ever since – although a little less wildly today. From the beginning, this choice was meant to emphasize the multiplicity and diversity of the articles and viewpoints and, on the other hand, the result of the fact that I always had trouble with magazines in which I got lost, not knowing whether one article ends, another one starts or images in between are merely advertisements. Some magazines are doing that excessively. I have always considered that very annoying. Therefore, this principle of the layout is not a derivative of the content – however, the emphasis on diversity clearly is. Principally MONU's content always comes first and its layout only serves the content and its readability. MONU's visual culture should not be overrated. When it comes to the covers, we started very naïvely, not knowing how relevant and important a meaningful and attractive cover for a magazine is. We started getting a bit of a clue when the magazine was already three years old and on display and for sale in more and more bookshops. Seeing the magazine on the shelves, especially in the bookshops in Rotterdam, made us think more about its cover, as the cover was the only thing people would see while walking around the store. In addition to that we recognized an increasing interest in the magazine and the moment more people are looking at you, you better get a better haircut, so as not to look like a fool. Thus, you can say that ever since the summer of 2006, starting with issue #5, we are putting more energy in finding interesting and inspiring images that represent the content of each issue. Since the "Godzilla" on the cover of #5 we are trying to provide more direct access to the still invisible content of each issue. But it is not simply about provocation, but more about the belief that a magazine with uncompromising and daring content also needs uncompromising and daring covers.
WAI: While the value of MONU as a platform for open discussion and experimental speculation is undeniable, the importance of strategies such as the "open call for contributions" should not be overlooked. Recent exhibitions like Archizines highlight a resurgence of independent publications that very often are created following this selection tool. When you created MONU, did you see it as an independent exercise or did you anticipate its paradigmatic potential? By the same token, do you feel that MONU, apart from its intellectual contributions, has served as a model for a young generation of independent magazines?
BU: No, we definitely could not foresee its paradigmatic potential, but we were only hoping that it would help us making an interesting magazine. You have to understand that by the time we founded the magazine, we neither knew how to make a magazine, nor did we know any writers or potential contributors. We had no network whatsoever. Not that we believe in networks. Today, we actually avoid making use of our network, as we want to keep the magazine open to new people while avoiding inviting people that we know as most magazines traditionally do. But what is a choice today was a constraint in the past, as we simply had no idea how to get contributors for the magazine. We had a lot of ideas for topics, but no ideas for authors. Therefore, the "open call for contributions" was for us at that moment the only way to start a magazine. That we receive today so many proposals and submissions of such a high standard is incredible and fantastic and we are very grateful for that. I would be very happy if MONU served as a model for a young generation of independent magazines as I feel that that we truly did some kind of pioneering work here. As I mentioned before, in 2004, when we introduced the device of "open calls for contributions" in our first issue as a tool of finding contributors, this was not common for architectural and urbanism magazines. Being a role model shows that we have created something meaningful and interesting. That is a big honour for the magazine itself and for its authors. But what is more important is that in recent years MONU has contributed to bringing back a new critical edge to the architectural and urban discourse and if this approach has inspired others to start similar magazines, that can only be judged positively.
WAI: How would you describe the evolution of MONU from the first issues to the current ones and how do you envision the future of MONU?
BU: The evolution of MONU has to be understood as a continuous attempt – driven by tireless curiosity – to improve the magazine with every single issue with regard to the diversity and quality of the contributions, the relevance of the articles in general and in relation to the particular topic of the issue, the relevance of each topic taken by itself, its appearance and layout, and finally its financial sustainability. In that sense, I believe that our last issue was the most elaborate – however, most of the earlier issues contain a lot of very good and relevant contributions too, coupled with the charm of something that is in the process of becoming something very special and unique. I see the future of MONU in the same vein: as a magazine that will continuously improve, yet will continue to take risks and flirt with failure. And as long as people are still motivated to contribute and we are not getting tired of initiating new topics and investing time and energy into something that will probably never have a secure and stable financial base, MONU Magazine on Urbanism will keep looking forward to its next issue.
Read the entire conversation here.


23-07-12 // MONU IN SINGAPORE




MONU Magazine has been invited to be exhibited in Singapore between 1st–12th August 2012. MONU will participate in the so-called "THE U CAFÉ exhibition", to be held at the now defunct Tanjong Pagar Railway Station in Singapore.
THE U CAFÉ launched in 2011 as an UNDERSCORE initiative to bring together independent cafés and magazines for good coffee and good reads. During its inaugural launch, THE U CAFÉ collaborated with 8 selected independent cafés to showcase a selection of over 30 international award-winning magazines. Over a duration of 3 months, café-goers were able to browse freely through the magazine library and enjoy specially created signature snacks and drinks. Due to the overwhelming customer response, THE U CAFÉ was extended an additional 3 months.
THE U CAFÉ 2012 will feature a specialty one-off menu crafted by the good folks at The Plain. Visitors will be able to lounge in a library of select local and international magazines of distinct content, while enjoying scenic views of the historic Tanjong Pagar Railway Station.


07-05-12 // MONU IN NEW YORK, TOKYO AND BERLIN







MONU Magazine on Urbanism is currently being exhibited in New York (Storefront for Art and Architecture (Image 1), 17 April – 9 June 2012), Tokyo (Hillside Terrace Forum (Image 2), 3 May - 13 May 2012), and Berlin (do you read me?! (Image 3), 26 April - 26 May 2012). (The exhibitions in New York and Berlin are part of the Archizines World Tour curated and initiated by Elias Redstone)


30-04-12 // NEW CALL FOR SUBMISSIONS FOR MONU #17 - NEXT URBANISM




(Image: ©BOARD. Original image: Photo still from Lewis Milestone's 1960 "Ocean's 11" film starring Peter Lawford,
Frank Sinatra, Dean Martin, Sammy Davis, Jr., and Joey Bishop. ©Warner Bros)

Over the past ten years a lot has been researched, analyzed, written and said about cities in the largest developing countries and emerging economies such as Brazil, Russia, India, and China. Let us call it "BRIC Urbanism" as BRIC is the acronym that refers to these countries. Recently, however, things have changed and while time moved on, a new generation of emerging economies is on the march that might feature an urbanism different from anything seen before. This development has triggered our curiosity and we see it as urgent and necessary to understand what is happening in the cities of these newly emerging economies...continue reading in Submit.


17-04-12 // MONU #16 ON NON-URBANISM RELEASED



The rural as a strict counterpart to the urban appears to be a condition of the past. At least, this is what Kees Christiaanse posits in an interview with us entitled "The New Rural: Global Agriculture, Desakotas, and Freak Farms". He points out that, today, non-urban spaces interact so frequently and intensely with urbanity that you can no longer describe something as strictly rural. Therefore, we can no longer separate the city from the countryside as these are not polarized entities and each other's enemies, but rather the result of each other. Evidently, to be an urbanist today means that one must also be a regionalist as Edward W. Soja puts it in his contribution "Remembrances of an Older Urbanism"...continue reading in Issues.

To get a printed copy of this new issue, please e-mail your order to order@monu-magazine.com.


23-03-12 // MONU #15 AT FACING PAGES FESTIVAL IN ARNHEM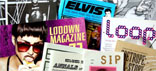 MONU's most recent issue #15 will be exhibited at the Facing Pages Festival in Arnhem, The Netherlands from 20 - 22 April 2012. Facing Pages is a biennial festival about independent magazines. With a three-day event, Facing Pages brings leading independent magazine makers and aficionados to Arnhem. The event shows what part the independent magazine currently plays in the development of our visual culture. Facing Pages is set up by Joost van der Steen and William van Giessen.


06-02-12 // MONU IN MILAN AND NEW YORK






MONU Magazine on Urbanism is currently being exhibited in the Spazio FMG in Milan (27 January – 23 February 2012), Italy and will be exhibited in the Storefront for Art and Architecture in New York from 17 April – 9 June 2012. (Photos: Mauro Consilvio / SpazioFMG/ The exhibitions are part of the Archizines World Tour curated and initiated by Elias Redstone)


24-01-12 // DO WE SIMPLY HAVE TO STOP HAVING SEX...?







In August 2009 the editorial of MONU #11 on the topic of "Clean Urbanism" started with the lines "Do we simply have to stop having sex to produce Clean Urbanism - i.e. an urbanism that is dedicated to minimizing both the required inputs of energy, water, and food for a city as well as its waste output of heat, air pollution as CO2, methan, and water pollution, Samo Pedersen asks in his piece "Sci-fi greenery..or just Responsibility?". In fact Randall Teal sees the growing world population frequently ignored in discussions on sustainability, as he points out in his article "Coming Clean: Owning Up to the Real Demands of a Sustainable Existence". Fewer people spend less energy, and as the gas and oil supply will come to an end sooner or later, saving energy may be a cheaper and smarter solution for cities than depending on renewable energies, as Gerd Hauser, one of the leading researchers on the implementation of the EU Directive on Energy Performance of Buildings, explains in an interview with us, entitled "Domes over Manhatten"..."
These lines are now featured on a bag designed and produced by MONU Magazine. The bags were produced in a limited edition of 50 pieces. To get a single bag for €10,00 + shipping (NL €1,50; EU €2,55; WORLD €2,85) please e-mail your order to bag@monu-magazine.com . You will receive instructions and invoice through Paypal by e-mail. If you prefer to pay without PayPal, please let us know.


16-01-12 // MONU IN ARCHIZINES CATALOGUE






MONU is featured in the Archizines Catalogue published by Bedford Press and edited by Elias Redstone. This catalogue, accompanying an exhibition curated by Elias Redstone for the Architectural Association, explores the relationship between architecture and publishing. Themes addressed in a series of new essays include the role of publishing in academia and architectural practice, and the representation of architecture in fictional writing, photography, magazines and fanzine culture.


02-01-12 // MONU MAGAZINE AVAILABLE IN INDIA





After already being available in bookshops in Europe, Australia, and North America, MONU Magazine is now available in Asia too. As of today, all available issues of MONU can be purchased at Mumbai's Art & Design Book Store. An almost complete list of bookshops that carry MONU can be found in Order (scroll down).


22-12-11 // INTERVIEW WITH BERND UPMEYER AT ARCHIZINES EXHIBITION






Curator Elias Redstone interviewed MONU's editor-in-chief Bernd Upmeyer for the Archizines Exhibition at London's Architectural Association. The answers were screened at the exhibition.

Elias Redstone: What is the relationship between architecture and publishing?
Bernd Upmeyer: To a certain extent, both architecture and publishing can be understood as processes of information production. Yet, neither architecture nor publishing should be completely reduced to the production of information. However, when I started publishing MONU magazine around seven years ago, after having been trained first and foremost as an architect, the first printed issue of MONU became in a way my first fully realized, or to put it more correctly, my first fully built project under my own name. In this way, and from my point of view, publishing and architecture were very closely related. Nevertheless, in my experience, the production of architecture is a much more active and narcissistic process, whilst the production of a publication is far more passive, more mediating and collaborative.

ER: How do you 'edit' architecture?
Bernd Upmeyer: MONU magazine is first of all a magazine on urbanism that focuses on cities in a broader sense, including their politics, economies, geographies, their social aspects, but also their physical structures, the point where architecture comes into play. In that sense architecture is only one field of many in the magazine - fields which are all brought together under the umbrella term urbanism. When editing the magazine, I of course always try to select those contributions that are most relevant for the chosen topic for the particular issue in order to come to conclusions regarding the problem under discussion. But what I find actually more interesting about the question "how I edit architecture" is the impact that MONU can have on cities and thus on the built environment - the architecture. Because I believe that by putting certain topics on the agenda, the magazine is actually able to modify and even correct, and therefore "edit", architecture by changing and manipulating the views and perspectives of its readers in a positive way, which will eventually also influence the built environments in our cities.

ER: What is the role of printed matter in the digital age?
Bernd Upmeyer: I think that the role of printed matter in the digital age is very much related to the costly, complicated and time-consuming way in which printed publications are produced and distributed. Everybody who has ever produced a printed publication knows what I am talking about. Even if you simply print your magazine on an ink-jet printer in your kitchen and staple it together by yourself, it still remains so much harder to do than publishing something online. And once you have made that kind of effort, you are not going to waste it on low-quality information. That fact alone secures a certain quality among printed publications. Furthermore, I believe that a certain fascination with "materiality", with real and physical objects will never entirely disappear. Although MONU magazine is already available digitally as well, I could not imagine producing it only digitally at this moment. The idea that a magazine can be a physical object of art and not only a transmitter of information always appealed to me.

ER: How are architectural publications changing?
Bernd Upmeyer: I would be tempted to say that the increased accessibility and availability of information and the easier connectivity between people that the internet provides today, can only be judged positively. But whether it works for you as an advantage or disadvantage depends on your approach. The whole situation offers both: great opportunities, but also great dangers of misuse. Because what I see is that, especially over the last ten years, the situation has impacted and changed architectural publications in a lot of negative ways. The reality that producing a magazine became so much easier and faster than twenty years ago, resulted in the fact that today the shelves of bookshops, but also a huge number of internet websites, are groaning under the weight of an ever-growing stack of rather uncritical, low-quality and image-oriented architectural publications that will eventually hollow out the entire architectural profession.


19-12-11 // ACROBATIC NARRATIVES





Excerpts from the interview (MONU #15 ) with Wouter Vanstiphout - member of Crimson Architectural Historians in Rotterdam and professor of Design and Politics at the Faculty of Architecture of Delft Technical University.
Beatriz Ramo: We would like to discuss with you some delicate issues around the current understanding of ideology, or better, the flexibility and malleability that "ideology" has been put through until becoming a brand. From general, large-scale city strategies to much smaller interventions in Rotterdam, examples of success as branding operations but questionable in the transparency and honesty of its message, which is heavily loaded with rhetoric about the public, the social, the participatory, the creative…etc. We are confronted by plenty of these ideologies which turn into highly hypocritical and unethical promotional strategies. How does one judge that? Would you be able to justify them?
Wouter Vanstiphout: What I find is that it is difficult to distinguish between authentic social or ecological motivations, and motivations that are used as window dressing or smokescreens for something else. Today, even the most hard-nosed developer, corporate architect or neoliberal politician uses language of community and sustainability to the extent that there is nothing on the surface you can disagree with. (…)
BR: We see more and more groups and collectives that call themselves 'activists' whose manifestoes lay in the social, urban participation, social action, etc. Although conceived with the best of intentions, often the results of their actions are closer to a celebration of themselves as the protagonists of their activism rather than a committed action with a serious outcome. What do you think about this urban activism displayed all around Europe?

WV: There are offices that do it in an authentic way, out of a real feeling of anger or commitment… and that is fantastic. And there are many offices that are exactly as you said… There is a change in the cliché of the figure of the architect. Twenty years ago the cliché was a bit Spanish-looking: cultured, qualitative, formalist, intellectual…And then Rem [Koolhaas] came and the architect became this ruthless robot man, destroying everything we found comfortable; being awful to everyone… And everybody copied that model, from Ben van Berkel to every single Swiss architect in the world under 50.
But now we have this third model: Alejandro Aravena, Alfredo Brillembourg, Alexander Vollebregt, my colleague from Delft, switching easily from Haitian slums to Lecture rooms, perfectly comfortable with UN Habitat and Worldbank bureaucrats, dressing with a certain hippie-chic, adored by their students for their empathy, approachability and enthusiasm, and most of all breathlessly admired for their willingness to talk about helping the world, eradicating poverty, emancipating the poor. (…)

BR: What I find distressing is how these architects or their actions are being used by authorities or institutions; like marriages of convenience. This profile: young + fresh + social activist has been fully institutionalized. (…)

WV: (…) This strange lightness of these groups of architects is not really dangerous for society, it's just useless for society… it is just dangerous for themselves. That is why I am so fascinated with what many young offices are doing, will they succumb to the comfort zone of the creative industry deal, providing lightweight actions, that are really just designer objects, or will they find their own position, their own discourse, shed their roles of bad boys and girls in designer magazines and developer boardrooms?

(…)
Bernd Upmeyer: In this a-critical moment, do these tricky and popular "ideologies" offer a great chance to designers and urban planners, who in the name of the social or the green can act with more freedom?

WVS: Yes, but look at the roots of the a-critical attitude of present-day architects. Don't you agree that the preachings of Rem Koolhaas of the early 1990s, against a critical attitude towards the mega-urbanization in Asia, was a pioneering moment in this a-critical attitude? Critics of the autocratic regimes in Singapore, China, later the Arab states, were being castigated and silenced for being arrogant and neo-colonial. I always found this an exasperating rhetorical trick; especially because you could not help thinking that it was self-serving, because the direction of this a-criticality always moved in the same direction as the offices portfolio. So you always got the feeling, that not the country's government was being shielded, but the ethics of the office itself. (…)
BU: With what kind of urban ideologies do you think we are dealing at the moment? How do they relate to urban ideologies of the past?

WV: I continuously go back to 1980s and 1990s. Embracing monster capitalist machines was kind of sexy, attractive. Today cities are looked at as products that have to compete on a global level and they are manipulated by people that operate at that global level, from the outside. I started losing my belief in this metropolitanism. (…)

BU: Once we accept the failure and impossibility of true ideologies, how do you see the tendency of borrowing the esthetics and imagery of brilliant past ideologies and stripping them from their meaning and turning them into current dogmas?
BR: For example, the fascination with the images from Superstudio's Monumento Continuo, which were made to fiercely criticize capitalism, globalization, and the last Modern Movement of the sixties, but now these images are taken almost as real architecture proposals because of their striking beauty and monumentality. Isn't it a little awkward the usage of images without regard their initial meaning?
WsV: I agree with this. But I even think that there is something more desperate about it. What you see is that ideology has become esthetics itself. It is something that you can buy into …(…)

You also see this with some of the neo-neorationalist architectural hypes being taught at the AA, Harvard, and the Berlage Institute, this armchair flirting with communism and socialism, without any real political engagement. Within the world of architecture, dead and buried ideologies are being used as designer objects, attributes or talisman, that get you access to tenure tracks, magazines and conferences.

I find it extremely perverse because it creates this jargon problem, this extremely incomprehensible elitist language. The language of architecture theory has becomes so convoluted, so obtuse, so…. That even the dumbest person can use it, because it just does not make any sense anyway. (…)


08-12-11 // ARTIST NO MORE








MONU's editor-in-chief Bernd Upmeyer has been interviewed by the Milan-based magazine "STUDIO".

STUDIO: Officially today we live in an urbanized world. More than 50% of humanity live in urban contexts. Is this the age of urbanity or the age of the crises complexity?
Bernd Upmeyer: If you ask me like that I would rather say that it is the age of urbanity, because crises always happened. It is not that we are just now having a lot of crises and we never had them before. But I also don't see exactly the relation between the age of urbanity and the crises we are facing at moment. First of all you have to define what kind of crises you're talking about. Today we are dealing for example with three main crises: the financial crisis, the climate crisis, but also the geo-political crisis.

STUDIO: So this is not an urban topic?
BU: That depends on what crisis you are talking about. The current financial crisis, for example, has of course an impact on cities, but cities did not produce the financial crisis to begin with. If you wish to talk about the relation of the climate crisis to cities, then you can of course also say that the recent enormous population growths of cities did not make the situation easier. However, we can speak of an urban age, mainly because of the vast movements of people from the countryside to the cities, which happened especially in Asia - a tendency that does not happen so much in the Western world, where cities are rather shrinking.

...continue reading the entire interview here.


30-11-11 // MONU AT MELANCHOTOPIA






MONU Magazine is currently part of the Melanchotopia exhibition at Rotterdam's Witte de With Gallery. For the duration of Melanchotopia, Witte de With is home to Pro qm from Berlin. Their owners have curated a special selection of titles to further explore the themes of Melanchotopia and include these together with books of the artists represented in the exhibition.

Melanchotopia is an exhibition that invites more than forty international artists to work with different venues in the city-center of Rotterdam – places where people live and work – and to activate their potential as spaces for ideas, discourse and invention. From large-scale interventions to very simple gestures, Melanchotopia supports a range of artistic practices that go beyond the classical approach to displaying art in public space. Working with the existing dynamics of the city, Witte de With's intention is to bring forward the diverse layers of daily life in Rotterdam, creating a rich framework for subjective encounters. It is an exhibition about the reality of Rotterdam. Today, Rotterdam seems to be on hold between its past and its future: filled with nostalgia for the pre-WWII city and in wait for the utopian future, which is perpetually stalled in unfinished developments and reconstructions. Projections about yesterday and tomorrow drive the image of the city, that seems to lack a present. Melanchotopia performs the present of the city through the specific practice of each artist. Over the course of the exhibition (and remaining active until 31 December 2011) Witte de With's galleries is reconfigured to become the epicenter of Melanchotopia. The projects, which spread throughout Rotterdam's center, are brought together via a graphic mapping. Several art works and installations are also on show inside the epicenter and it is the site for numerous events. (description from Witte de With's website)


21-11-11 // MONU #15 ON POST-IDEOLOGICAL URBANISM RELEASED



This new MONU issue on the topic of Post-Ideological Urbanism probably touches on one of the most fascinating and biggest issues of our time and in our culture, or what is left of it: the non-ideological - or better post-ideological - conditions of our society when it comes to cities. Today, ideology appears to have become, and to have been reduced to, something merely aesthetic, something you can buy yourself into as Wouter Vanstiphout explains in an interview with us entitled "Acrobatic Narratives". In that sense cities have become suspicious territories where hypocrisy and fakery prevail when it comes to urban ideologies and one wishes to have some kind of optical device that detects all the lies, similar to a kind of night vision infrared technology that Thomas Ruff used in his "Nacht Series" applying the same technology that was used during the Gulf War...continue reading in Issues.

To get a printed copy of this new issue, please e-mail your order to order@monu-magazine.com. The digital version can be downloaded on iTunes and Pocket Mags...more information can be found in Order .


07-11-11 // ARCHIZINES EXHIBITION OPENED IN LONDON







The ARCHIZINES exhibition opened successfully on 5 November in the Front Members' Room at the AA School, 36 Bedford Square, London. The exhibition features MONU's issue #14 together with 59 other international magazines and runs until 14 December 2011.

MONU #14 is the most recent issue of the magazine, which illustrates very well where we stand at the moment. It displays its mature status and its achievement in surviving and prospering over the years. This issue is important because it shows how the magazine has developed since its foundation more than seven years ago from a very small, stapled together, black and white publication to one of the most relevant and one of the main independent publications focused exclusively on urbanism. Ever since the summer of 2004, when MONU's first issue on the topic of "Paid Urbanism" appeared, two issues were released regularly every year. This current issue of MONU shows more than ever that even in market-driven and post-critical times, a non-conformist niche publication such as MONU magazine, that collects critical articles, images, concepts, and urban theories from architects, urbanists and theorists from around the world, can exist and find its place of pride without bowing to "market forces". (Bernd Upmeyer's answer to Archizine's question "Why this issue is important and why it was selected for the exhibition?")

(Image 1+2: Valerie Bennett; Image 3: Sue Barr)


01-11-11 // NEW CALL FOR SUBMISSIONS FOR MONU #16 - NON-URBANISM





(Image: "Jeffrey returns to his home town from College to visit his father in hospital. On his way back from the hospital he happens to find a severed ear in the overgrown fields behind his home." Blue Velvet (1986), David Lynch. @De Laurentiis Entertainment Group)

Some six years ago and in one of our first issues - MONU #4 - one of the contributors explained "how suburbs destroy democracy" when people live in high degree of residential and cultural isolation and individualism. By that time he could not have forecasted that...continue reading in Submit.


28-09-11 // MONU #14 AT FUTUR CULTUR FESTIVAL IN TOKYO








During the summer MONU's issue #14 has been exhibited in Tokyo as part of the Futur Cultur Festival. The event was dedicated to those in the Tohoku region who lost their homes in the aftermath of the march 11th earthquake and tsunami. A short video of the event can be found on vimeo and a photo report on Designboom.


14-09-11 // MONU AT THE AA IN LONDON





The Architectural Association in London is hosting an ARCHIZINES exhibition in London from 5 November to 14 December 2011. MONU will be showcased together with 59 other architectural magazines, fanzines and journals from 20 countries around the world and include video interviews with their creators.

Launched by Elias Redstone as an online research project in January 2011, with art direction by Folch Studio, Archizines celebrates and promotes a recent resurgence of alternative and independent architectural publishing. From the photocopied newsletter to beautifully bound magazines, each fanzine is a creative platform for the subject and the author. Together they provide a rich and unique window into how people relate to the spaces we inhabit. Across the world, publications are cultivating architectural commentary, criticism and research. Bucking the current trend for digital media, architects, artists and academics are producing printed matter that adds a dynamic, and often radical, voice to architectural discourse. Each magazine will be on show, while their authors will be represented in video interviews talking about their work.


08-07-11 // MONU #7 REPRINTED





After being sold out for about three years, MONU #7 on the topic of 2nd Rate Urbanism has been reprinted and is now available. To give a few examples, MONU #7 featured an interview with Floris Alkemade/OMA entitled "Dumped in Almere"; "I ROTterdam" by Charles Bessard and Nanne de Ru/ Powerhouse Company; and the "The Re-Creation of the European City" by Beatriz Ramo/ STAR. Browse the entire reprinted issue #7 on YouTube here.

In an increasingly connected world the economic realities are precarious for most 2nd rate cities. In the competition for jobs and an ever expanding tax base, 2nd rate cities are in a squeeze between the suburbs where land is even cheaper and even more accessible by car on the one side, and the real attractive 1st rate urban areas that draw the highly educated and the creative on the other side. And since planning 'down' to a suburb is not an option that is considered by most cities, the fight for the survival of 2nd rate cities is to attract more urban assets...continue reading here.


07-06-11 // MONU IS AVAILABLE DIGITALLY



As of today, MONU Magazine on Urbanism is available digitally as an IPAD Application for Magazines using Apples' iPad, iPhone and MAC products. At the moment the available issues include MONU #8, #9, #10, #11, #12, and #13. They can be downloaded on iTunes and Pocket Mags.


17-05-11 // MONU #13 IS EXHIBITED IN PRAGUE









MONU's issue #13 is currently exhibited at the Czech Design Gallery in Prague. The exhibition is entitled "We are closing in 21 days" and runs from May 9 until May 30, 2011. The event is organized by Oldschool - a group project of three designers from Prague working in the field of visual communication, graphic design and fashion. The aim of the event is, apart from presenting fashion, to introduce foreign independent publishing to a wider czech audience.


02-05-11 // NEW CALL FOR SUBMISSIONS FOR MONU #15 - POST-IDEOLOGICAL URBANISM





Today we find ourselves in a jealous mood, yet at the same time disillusioned, looking back to the times when revolutionary urban ideologies were not only conceived but actually, unlike today, also truly believed in. Just think about the passionate ideas of the Situationist International, ...read the rest of the new call for submissions in Submit (Image: Dexter, ready to kill. ©Showtime)


18-04-11 // MONU #14 - EDITING URBANISM RELEASED













Despite the current urgency to deal with the enormous potential of the already existing urban material as Urban Editors, there seems still to be an enormous lack of interest in topics such as urban and architectural restoration, preservation, renovation, redevelopment, renewal or adaptive reuse of old structures among architects and urban designers. But ignorance in this matter can only be dismissed as socially irresponsible and economically and culturally unacceptable. But what might be the reason for the prevailing ignorance? Who is to blame? Why is Urban Editing considered to be so utterly unattractive?...continue reading here


12-04-11 // MONU AT MILAN DESIGN WEEK





MONU magazine will be exhibited and presented at the Milan Design Week 2011 from April 12 - 17. Bernd Upmeyer will speak about MONU on Friday, April 15 at 6pm at the Chiedi alla Polvere, via Cola Montano 24, Milan. MONU will be part of the Green Island. (Image: Vessel One by Adam Farlie, photo ©Adam Farlie, Milan Design Week 2009)


21-03-11 // MONU IS EXHIBITED IN ARANJUEZ, SPAIN






MONU is exhibited in the Espacio para el Arte y la Cultura (Espacio para el Arte y la Cultura, C/ San Antonio, 49, 28300 Aranjuez, Spain) in Aranjuez, a town located 48km south of Madrid. The exhibition opens on March 22 at 19:00 with a music session by the Sindicalistas / Autoplacer and runs until May 22, 2011.


01-03-11 // MONU WILL BE PRESENTED AT BASEL'S YOUNG ART FAIR







MONU will be presented at Basel's Young Art Fair entitled LISTE from June 14 - 19, 2011. LISTE is the discoverer fair for young galleries and young art. Every year since its opening in 1996, the LISTE has presented new and important galleries and highly contemporary young art. The LISTE's concept of introducing galleries in general no more than 5 years old and artists under 40 has been at the heart of its being one of the most important fairs for young art and still being considered one of the art world's most important discoverer fair. (Image 1and 3: Daniel Spehr, photographer; Image 2: Courtesy LABOR, Mexico D.F)


14-02-11 // SUCCESSFUL MOST VALUABLE URBANISM DEBATE










MONU's Most Valuable Urbanism Debate was a great success. The main statements of the presentations and the debate of Piet Vollaard, Floris Alkemade, Jaap van den Bout, Adriaan Geuze and MONU's editor in chief Bernd Upmeyer will be published in MONU's coming issue on the topic of "Editing Urbanism" by the beginning of April.


09-02-11 // MONU #11 REPRINTED



After being sold out for a couple of months, MONU #11 on Clean Urbanism has been reprinted and is available again. To get a single printed copy of MONU #11, please e-mail your order to publishers@b-o-a-r-d.nl.

Do we simply have to stop having sex to produce Clean Urbanism - i.e. an urbanism that is dedicated to minimizing both the required inputs of energy, water, and food for a city as well as its waste output of heat, air pollution as CO2, methan, and water pollution, Samo Pedersen asks in his piece "Sci-fi greenery..or just Responsibility?"...


04-02-11 // MONU MAGAZINE IS DISPLAYED AT ARCHIZINES





ARCHI ZINES is a showcase of new fanzines, journals and magazines from around the world that provide an alternative discourse to the established architectural press. Launched by Elias Redstone, with art direction by Folch Studio, the project celebrates and promotes publishing as an arena for architectural commentary, criticism and research, and as a creative platform for new photography, illustration and design.
Alternative and independent publishing has had a dynamic and important relationship with architecture over the years, with prolific moments in the 1960s, 1970s and 1990s. A recent resurgence has seen new titles emerging in many countries, from Argentina, Belgium and Chile to the UK and USA. ARCHI ZINES brings together this international collection of publications for the first time as an important resource for architects, designers, critics, photographers and anyone interested in discussing the buildings and spaces we inhabit.
ARCHI ZINES is an expanding archive of the best publications from 2000s to the latest releases, and is growing as new titles and issues are acquired. The publications themselves vary in style (from photocopied zines to professionally printed and bound magazines) and content (from architectural research to personal narratives about buildings and cities). The commonality is a shared interest in documenting and discussing the spaces we occupy in ways that more mainstream or professional publications do not. As well as adding to architectural discourse, they are lovingly made objects to hold and to keep.


24-01-11 // MONU IS EXHIBITED AT THE "ESPACIO PARA EL ARTE" IN ZARAGOZA









After the success of the "De Zines" exhibition at "la casa encendida" in Madrid, Spain, the show opens its doors again in Zaragoza in the "Espacio para el Arte". More than 400 independent international publications (magazines, fanzines, artbooks and others) will be shown. The opening will be on Tuesday, January 25 at 19:00. The exhibition will run until March 13.


03-01-11 // MOST VALUABLE URBANISM DEBATE





MONU - magazine on urbanism is organizing a public debate on the topic of its last issue: MONU #13 - Most Valuable Urbanism on Thursday, February 10, 2011 at 7:00 p.m. in "De Machinist" in Rotterdam.

The debate will be moderated by Piet Vollaard and the panel will include four people with four different ideological backgrounds in order to discuss the topic in a rich and diverse way and to provoke a lively and productive clash of ideas and opinions. The panel members are: Floris Alkemade, Ashok Bhalotra, Jaap van den Bout, and Adriaan Geuze. The entire event will be in English.

The topic "Most Valuable Urbanism" will be used as the starting point for the debate, but with a focus on the Dutch context and Dutch cities. The aim of the debate is to discuss the topic "Most Valuable Urbanism" among the Dutch public and to critically reflect on traditional Dutch city values. The main questions of the debate will be: What is a good and what is a bad city? How should we evaluate cities in this day and age? Which city might be the most valuable, producing the most valuable urbanism and what kind of criteria should be applied to define valuable urbanism? What role do architects and urban designers play in the production of valuable urbanism?

Location:
De Machinist
Willem Buytewechstraat 45
3024 BK Rotterdam
Date:
10.02.2011, 7:00 p.m.

Tickets:
The debate is sold out


13-12-10 // MONU IS SHOWCASED IN A NEWLY LAUNCHED DIGITAL LIBRARY FOR INDEPENDENT PUBLISHERS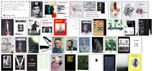 MONU has been invited to be part of the collection of the newly launched digital library No Layout . No Layout is an online library for independent publishers, focusing on art books and fashion magazines. It is meant as a support for printed publications, allowing users to flip through full content on any screen without downloads or apps. A promotional and archive tool.
Three issues of MONU are currently showcased: MONU #5 - Brutal Urbanism; MONU #10 - Holy Urbanism; and MONU #12 - Real Urbanism. The following articles are fully readable on any screen for free:
#5: The Return of the Repressed by Loïc Wacquant; The Evil Architects Do by Eyal Weizman; Preventing Brutal Urbanism - Interview with the Director of the Security Task Force for the 2006 World Cup by Bernd Upmeyer; Terrorists Love Density by STAR
#10: The Sacred and the Holy: Transient Urban Spaces by Colin Davies; Peace Through Superior Horsepower by Speedism; The Mormon Church's Infrastructure of Salvation by Jesse LeCavalier
#12: Real Creativity: A Case for Ethical Freedom in Architecture by Randall Teal; Life without Architects - Interview with Magriet Smit by Bernd Upmeyer; Market Value(s) by STAR; Rotterdam is a Whore - Interview with Andre Kempe by Beatriz Ramo and Bernd Upmeyer


06-12-10 // MONU'S CHRISTMAS OFFER 2010







From December 6 until December 31 MONU offers:

1. A 1 year subscription (2 issues) for only €20 instead of €22,50 (saving 20% on cover price instead of 10%) + shipping.
2. A 2 year subscription (4 issues) for only €35 instead of €40 (saving 30% on cover price instead of 20%) + shipping.
3. A 50% discount on one copy if 2 issues of any # are purchased at once.
4. A 25% discount on each copy if 3 issues of any # are purchased at once.
If you are interested, please e-mail your order to christmasoffer@monu-magazine.com.


01-11-10 // NEW CALL FOR SUBMISSIONS FOR MONU #14: EDITING URBANISM





These days, the need for new buildings or entire city quarters is decreasing or even ceasing to exist altogether - at least in the Western world - due to the demographic changes and financially difficult times. Ever since, architects and urban designers, who were trained by schools that focused their education first of all on the past and mainly taught urban and architectural restoration, preservation, renovation, redevelopment, or adaptive reuse of old structures might be best prepared for a future, in which cities will be edited rather than extended or even newly designed.

In such a future, which has become reality in most Western cities of this day and age, architects and urban planners will become urban editors...read the rest of the new call for submissions in Submit


29-10-10 // MONU IS COOL AND STRANGE






MONU magazine has been featured as "cool & strange" in the issue #6 2010 of the Korean edition of ELLEgirl.


05-10-10 // MONU #13 ON "MOST VALUABLE URBANISM" RELEASED





When John Lennon was photographed by the legendary rock 'n' roll photographer Bob Gruen, wearing a New York City T-shirt in the year 1974, he proudly expressed his love for the city of New York. For Lennon, although born in Liverpool, New York City was without doubt the most valuable city...continue reading here.


18-08-10 // MONU MAGAZINE IS DISPLAYED AT THE BALTIMORE BOOK FESTIVAL









MONU magazine on urbanism has been invited to be on display at the Baltimore Book Festival in Maryland, USA from September 24-26, 2010. The festival took place in the historic and picturesque Mount Vernon Place. MONU was part of an exhibition called "Creative Control", a collection of zines, self-published and independent art books and magazines.


29-06-10 // MONU #12 EXHIBITED AT "LA CASA ENCENDIDA" IN MADRID










MONU magazine on urbanism #12 on "Real Urbanism" is being exhibited at "la casa encendida" in Madrid, Spain. The exhibition entitled "de zines", curated by Roberto Vidal and Oscar Martín, features independent publications (magazines, fanzines, artbooks and others). Around 400 international works are shown from June 29th, 2010 throughout all the summer.


31-03-10// MONU AT NEXT ART FAIR IN CHICAGO







MONU magazine on urbanism is being exhibited as part of a "research library" and magazine show during the NEXT art fair in Chicago from April 30 to May 3, 2010.


11-03-10 // MONU #12 ON REAL URBANISM RELEASED



Just like the "Ideal Woman" on the cover of this issue on Real Urbanism - a sculpture by the Brooklyn based artist Tony Matelli - most of our cities are shaped by a particular set of values... read more here!


25-02-10// MONU AT THE "BOOKMARK NAGOYA"






MONU magazine will be exhibited during the "Bookmark Nagoya" event in the city of Nagoya, Japan. The exhibition will take place from March 20th to April 20th 2010. More than 50 organizations will exhibit rare publications, vintage books, magazines, picture books from around the world. Various conferences with editors and writers take place, as well as temporary book making workshops among others are offered for all generations.


20-11-09// MONU'S CHRISTMAS OFFER






From November 20 until December 31 MONU offers a 50% discount on the issues MONU #5 - BRUTAL URBANISM and MONU #6 - BEAUTIFUL URBANISM. To get a single copy of #5 or #6 (Soft cover; Black/White; 84 pages; 27 x 20 cm) for €5 (+ NL €1,76 EU €2,96 Non-EU €5,70 shipping + ~4% PayPal fees), please e-mail your order to christmasoffer@monu-magazine.com.


19-10-09// MONU AT TOKYO DESIGN WEEK







MONU magazine on urbanism will be exhibited during the TOKYO DESIGN WEEK from October 30th to November 3rd 2009 inside the main venue of the 100% DESIGN TOKYO hall. The Magazine Library space
will be in the center of the main venue.


17-07-09 // MONU MAGAZINE ON URBANISM WILL BE EXHIBITED
AT THE "A FEW ZINES" EXHIBITION IN LOS ANGELES FROM AUGUST 14 TO 16









The A Few Zines show has been in New York and Boston, and is now coming to Los Angeles. The LA Forum hosts the insta-show for three days on Hollywood Blvd. The festivities kick off Friday, August 14 with a panel discussion and opening party. (photos taken by Bryan Jackson and John Southern)


08-05-09 // MONU MAGAZINE ON URBANISM WILL BE EXHIBITED AT THE SPACE ROCKET IN HARAJUKU, TOKYO






The exhibition will take place from May 22 to June 2 with daily opening times from 12:00-19:30.


20-04-09 // MONU MAGAZINE ON URBANISM WILL BE PRESENTED ON THE YOUNG ART FAIR IN BASEL
- LISTE 09 FROM JUNE 9 - 14




Every year since its opening in 1996, the LISTE - the Young Art Fair in Basel has presented new and important galleries and highly contemporary young art. The LISTE, by introducing galleries in general that are no more than 5 years old and artists under 40, is considered as one of the most important fairs for young art and one of the art world's most important discoverer fair.


29-01-09 // MONU HAS BEEN SELECTED TO BE PART OF THE MOOH EVENT IN TOKYO







MONU - magazine on urbanism has been selected from magazines around the world to be exhibited from March 5 to March 14 2009 in a temporary magazine library in the Omotesando Hills building complex in Tokyo,
Japan. MONU will be part of the MOOH event: "The Magazine of Omotesando Hills Library".