News Issues Interviews Order About Follow Support Submit Contact ©MONU


26-08-16 // PINK FLAMINGOS AND MUSCULAR MEN - INTERVIEW WITH BART LOOTSMA AND DIJANA VUCINIC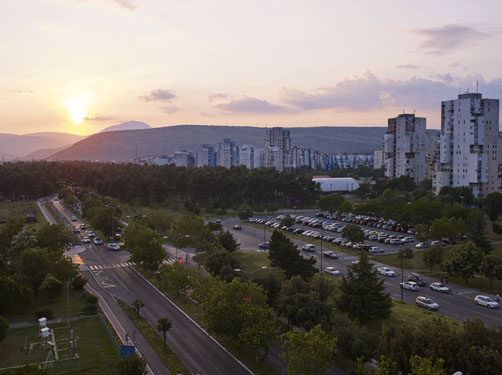 1970's housing in Podgorica in Montenegro, an example of socialist architecture of the
city, designed by architects Vukota Tupa Vukotic and Mileta Bojovic
Photo by Luka Boskovic

Bernd Upmeyer interviewed Bart Lootsma and Dijana Vucinic. Lootsma is a historian, theoretician, critic and curator in the fields of architecture, design and the visual arts. He is Head of the Institute for Architectural Theory, History and Heritage Preservation at the University of Innsbruck. Together with Katharina Weinberger he curated the Project Solana Ulcinj for the Montenegrin pavilion at the 2016 Venice Biennale. Dijana Vucinic is an architect and currently leading a team in the Government of Montenegro, working on a portfolio that includes many emerging projects in architecture and urbanism. She is a commissioner for Montenegro pavilion at XV Venice Architecture Biennale. The interview took place in August 2016.

Urban Challenges of a Newly Independent Country
Bernd Upmeyer: Montenegro is a fairly new country that became independent only ten years ago in the year 2006. Where do you see the biggest challenges but also the greatest potentials due to this independence when it comes to Montenegro's cities, especially to its capital Podgorica, but also for cities such as Cetinje, or coastal towns such as Ulcinj or Kotor?

Bart Lootsma: Independence is a relative phenomenon these days. No country and no city can really be independent. We're all depending on global flows of money, goods and people. On one hand, the independence of a small country –and even of a bigger country like the United Kingdom as we currently see- may guarantee a certain amount of autonomy in certain issues. On the other it is vulnerable to the degree in which it can realize its collective needs and desires because the tax revenues are limited, unless there are exceptional tax benefits attracting capital (as in Luxembourg, Monaco, Switzerland) which will always be disputed by the neighboring countries; exceptional natural resources on its territory like oil; or the strategic position is such that the country is a port or gateway to other countries (Singapore, Hong Kong). Montenegro does not really have one of these benefits. It still struggles with the side effects and after effects from the privatizations after the falling apart of Yugoslavia. The old industry, losing national planning and protection, cannot compete internationally yet, and a new one will have to be invented and financed...

Dijana Vucinic: Being independent again from the rest of Yugoslavia, but then not so independent within an international context - considering EU integration, NATO membership and other financial and political implications might send one into the wrong direction when it comes to articulating the challenges we are facing.
Foreign and local capital influences the course of the development of the city on many levels, which is particularly significant for a small country like Montenegro. Preserving the identity within the cities and culture while heading towards the EU and struggling to meet contemporary demands in the urban environment is one of the biggest challenges for Montenegro or other countries that went through very significant social, political and economic transformation from socialism. This transformation is actually the one that is substantial for the present and the future of Montenegrin cities. Socialist architectural heritage in the cities of former Yugoslavia is very potent and putting these spaces in right use or finding the smart way to transform them, upgrade and develop their potential further, in my opinion, would be the key to a successful city and the rich social and cultural life of it's inhabitants…

…the complete interview was published in MONU #25 on the topic of Independent Urbanism on October 17, 2016.

This issue is supported by University of Leuven's Master of Human Settlements and Master of Urbanism and Strategic Planning, Estonian Academy of Arts' Interdisciplinary Master's Programme in Urban Studies, Erasmus University Rotterdam's Institute for Housing and Urban Development Studies (IHS) and Incognita's Architectural Study Tours. Find out more about MONU's supporters in Support.


19-08-16 // STRATEGIES FOR A NEWFOUND FREEDOM - INTERVIEW WITH GVIDO PRINCIS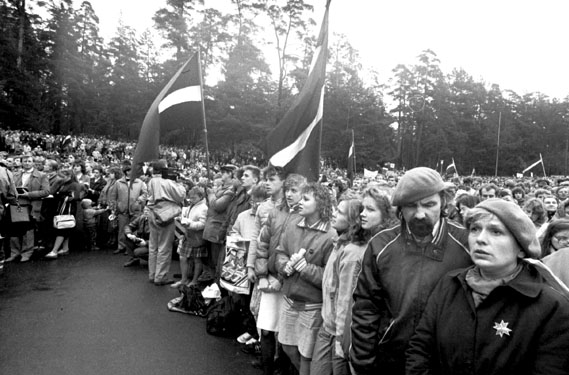 Singing Revolution 1987
Photo by Aivars Silins

Bernd Upmeyer interviewed Gvido Princis. Since 2012 he has been the director of the Office of the Riga City Architect – the Riga City Architect. He joined the Riga City Council in 2000 and his career was initially linked to the City Development Department of the Riga City Council. Three years later he was promoted to Director of the Detail Plan Unit and during an eight-year period he succeeded in becoming the Head of the City Development Department of the Riga City Council where he was responsible for reorganization of the entity for more than two and a half years. He holds the diploma in architecture issued by Riga Technical University, Faculty of Architecture and Urban Planning. The interview took place in August 2016.

Regaining Independence
Bernd Upmeyer: After the so-called peaceful "Singing Revolution", starting in 1987, that called for Baltic emancipation of Soviet rule, Latvia declared the restoration of Independence of the Republic of Latvia in May 1990. What were the biggest challenges, struggles and difficulties, but also the greatest potentials that Latvian cities and especially Latvia's capital Riga was facing and held during the first years of independence?
Gvido Princis: After 1990 a lot of soviet era development plans for Latvian cities, as well as Riga, literary collapsed because they mostly were based on immense extensive expansion and had no more support, resources or ideas to be carried on in the originally intended manner. As a result, new opportunities and challenges emerged in many areas of urban development and management when construction stalled, investments in different objects petered out and most of the USSR industrial giants established in Riga (e.g. VEF Radio Plant) closed down, giving space for a new development in the city center and on the left riverbank of the Daugava opposite Old Riga…
BU: What kind of new relationship models between public and private real estate owners and what kind of new mechanisms for the protection of planning, investments and public interests needed to be established exactly? Could you elaborate on this a bit more? What did and do, for example, such new models and mechanisms look like and what exactly has been done?
GP: The context requires explanation of the overall weakness of architecture and urban planning, and their limited impact on the urban development of Riga in general during the Soviet times. A typical example of this could be the closing of the Faculty of Architecture at the University of Latvia in 1951 largely inspired by Krushchev's notorious decree on liquidation of excesses. Different areas of national economy, including the building sector with construction of housing, roads and bridges prevail in the urban development.
In regards to properties, it is also important to mention, e.g., how Ivars Godmanis (the first prime minister of independent Latvia) characterizes the peculiar way that Latvia introduced private land ownership: "We simply gave back to the previous owners what the Bolsheviks had taken from them." I believe the key word here is "simply" which suggests that it was done without a clear vision of the future spatial development…

…the complete interview was published in MONU #25 on the topic of Independent Urbanism on October 17, 2016.

This issue is supported by University of Leuven's Master of Human Settlements and Master of Urbanism and Strategic Planning, Estonian Academy of Arts' Interdisciplinary Master's Programme in Urban Studies, Erasmus University Rotterdam's Institute for Housing and Urban Development Studies (IHS) and Incognita's Architectural Study Tours. Find out more about MONU's supporters in Support.


17-02-16 // DOMESTICITY – INTERVIEW WITH HERMAN HERTZBERGER



Hertzberger: "My idea was based on a sort of basic unit, which you can multiply. You might compare this unit
with the room and the table shown in Van Gogh's Potatoes Eaters, where people are having a discussion, eating food together,
praying together, with a lamp for focus."
Bernd Upmeyer spoke with Dutch architect Herman Hertzberger. Hertzberger can be considered, along with Aldo van Eyck, as the main influence behind the Dutch structuralist movement of the 1960s. He believed that the architect's role was not to provide a complete solution, but to provide a spatial framework to be eventually filled in by the users. The interview took place on February 17, 2016 in his studio in Amsterdam.
Revolution
Bernd Upmeyer: In the 1960s you were one of the driving forces behind the Dutch structuralist movement, influencing a new way of thinking and a kind of revolution in architecture and city building. We have the impression that, today, we are once again in desperate need of a revolution in housing, in the design of floor plans, strategies for typologies, and in need of re-inventing and evolving the concept of the "domestic" and the concept of the "home" radically. How do we need to design houses today?
Herman Hertzberger: Houses should have a certain number of square meters and the rest should be flexible. Then, you can buy your kitchen or other functions and put them inside, according to your family, your age, and other considerations. That an architect should design every detail and, for example, the bathroom and the living room – that, you should forget. But the surface and the layout of a house should start with the smallest unit. Have you ever realized that the surface of the house is an indicator of someone's wealth? Rich people have, for example, 250 to 300 square metres, average people have, in this rich country, something like 100 to 120, and poor people have 50 to 80 square meters. But I think that we have to go down to 30-40 square metres, maybe, to make houses affordable also in the future. I cannot say what houses will look like in the future, but one thing I know for sure: they should start from a small unit. They all should have something like a basic unit where you have everything basic inside, but with the possibility of extensions.
BU: What should this smallest unit include? The kitchen, the bathroom, or other functions?
HH: Both, of course. And if you want, you can also have a big bathroom with a Jacuzzi, and all of these elements should be able to be plugged in. It may also include simple parts like your bed, your dinner table or your television. That is it.
BU: And how big should this unit be?
HH: 30-40 square meters.
BU: A size of apartment that is very common in Paris.
HH: Yeah, and you are very happy when you get that kind of size there...
…the complete interview was published in MONU #24 on the topic of Domestic Urbanism on April 18, 2016.
This issue is supported by University of Leuven's Master of Human Settlements and Master of Urbanism and Strategic Planning, Erasmus University Rotterdam's Institute for Housing and Urban Development Studies (IHS), University of Liechtenstein's Master (Msc) of Architecture and Incognita's Architectural Study Tours. Find out more about MONU's supporters in Support.


09-02-16 // THE HOME AS POLITICAL ARENA – INTERVIEW WITH ANDRÉS JAQUE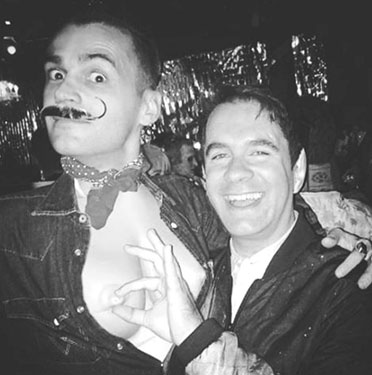 Instagram andres_jaque; November 1, 2015; DCTV: andres_jaque Please welcome Dalí Parton (Salvador + Dolly). Great night at @storefrontnyc Critical Halloween! !!!! Thanks @rutgerhuiberts for the great pic!!! With @ivanlopezmunuera #salvadordali #dollyparton; hwaneetoe top-notch costume by @ivanlopezmunuera!; alexmartinezmolinero Jaja estáis geniales @andres_jaque, abrazos!
Bernd Upmeyer spoke with Spanish architect Andrés Jaque. His work explores the role architecture plays in the making of societies. In 2003 he founded the Office for Political Innovation, a trans-disciplinary agency engaged in creating an ordinary urbanism out of the combination of heterogeneous architectural fragments. Currently he is Advanced Design Professor at the Graduate School of Architecture, Planning and Preservation GSAPP Columbia University, and Visiting Professor at Princeton University SoA. The interview took place on February 9, 2016.
Christmas Trees and Remote Controls
Bernd Upmeyer: In 2010 during the Architecture Biennale in Venice, you explained to Hans Ulrich Obrist that you ended up being an architect due to very domestic experiences and interests in things like interior decoration, Christmas trees, dinner-table settings, etc. What fascinated you about these very domestic aspects of cities?
Andrés Jaque: I was interested in the way architecture could make the best of its role in the shaping of politics and how things that happen in domestic interiors are actually completely relevant for our societies. A great number of the processes by which our societies are shaped happen in domestic interiors. The way we decide, for example, how to construct our gender or the way we relate to sexuality, education, or consumption. Within the domestic realm, a lot of things are addressed as practical daily life decisions, and that makes it the place where important aspects of our societies can be reconstructed as mundane ones. But often the particular architectural technologies then constitute the home, such as table-settings, laundry, Christmas trees, boilers, wallpapers, pets, garbage collection… are perceived as banal, decorative, or unimportant realities unrelated to politics. So, that particular concern was my introduction to architecture. I wanted to know how architecture could participate in politics in particular, but through material and object-oriented politics. A very different approach to the one that at that time, the 1990s, was current among most architects. Political collective action was seen as something that happened mainly in the streets, squares, and public spaces, and not in the domestic areas of life. The role-play of architecture was mainly perceived as a very passive one, just hosting or containing protest, but architectural devices in themselves were not perceived as actors contributing to the collective making of politics.
BU: When a lot of political activities and actions are happening within domestic spaces, what is still happening in the streets? Are the streets becoming less important? Is it all about interiors these days?
AJ: I think that there is collusion but also a certain friction between what happens in the streets and what happens indoors, and what happens off-line and on-line. But I would suggest that the realm of domesticity is not that much acknowledged when you think, for instance, of the Arab Spring. There, the role of squares was highlighted by everyone. The squares became famous and extremely popular. But it was not appreciated that nothing would have happened there without the activities and collaborations that took place at the home, where people watching TV or interacting online from their sofas were in fact scaling up to what happened in the squares…
…the complete interview was published in MONU #24 on the topic of Domestic Urbanism on April 18, 2016.
This issue is supported by University of Leuven's Master of Human Settlements and Master of Urbanism and Strategic Planning, Erasmus University Rotterdam's Institute for Housing and Urban Development Studies (IHS), University of Liechtenstein's Master (Msc) of Architecture and Incognita's Architectural Study Tours. Find out more about MONU's supporters in Support.


14-09-15 // PARTICIPATION AS A BATTLEFIELD – INTERVIEW WITH DAMON RICH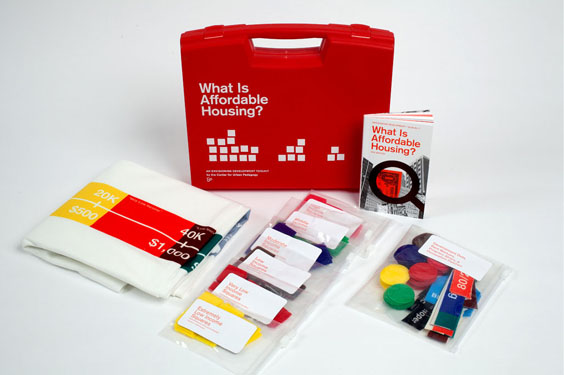 CUP's Affordable Housing Toolkit, image ©Damon Rich
Bernd Upmeyer interviewed the American designer, urban planner, and visual artist Damon Rich, based in Newark, New Jersey, who is known for investigating the politics of the built environment. His work studies the shaping of the world through laws, finance, and politics. In 1997, Rich founded the Center for Urban Pedagogy (CUP), a New York City-based nonprofit organization that uses the power of design and art to improve civic engagement, where he served as Executive Director and lead designer from 1997 to 2007, when he retired from CUP staff while continuing to serve on the Board of Directors through this year. From 2008 to 2015, Rich served as the Planning Director & Chief Urban Designer for the City of Newark, New Jersey. He now is principal with Jae Shin of planning and design firm Hector Design Service, while continuing his practice as an educator and exhibition-maker. The interview took place in September 2015.
Center for Urban Pedagogy
Bernd Upmeyer: In 2004 you were one of the first contributors to MONU Magazine with an article, written together with your "Center for Urban Pedagogy", for MONU's issue #1 entitled "Imagining the Subsidized Landscape". Just a couple of years previously you founded the Center for Urban Pedagogy, a nonprofit organization that uses the power of design and art to improve the quality of public participation in urban planning and community design in New York City. What were your motivations for creating this organization and why did you want it to focus on public participation at that time? What were your ideals and who were your role models from the past?
Damon Rich: Hello. Yes, I am remembering the legitimating thrill of being asked by a European journal (I pictured MONU as dour as the Frankfurt School) to report on some of CUP's work. The feeling reflected the European orientation of my architectural education, which heroized early 20th-century modernism through the distorting lens of the 1970s US East Coast architectural vanguard.
[…]
Improving the Quality of Participation
BU: How, at first, did you intend to use design and art to improve the quality of public participation in urban planning and community design through the Center for Urban Pedagogy? Can you give some examples? What kind of projects did you do in relation to public participation and where were they located?
DR: From a disciplinary perspective, coming from the planet of axonometric models, I wanted to put architecture back into the world. Rather than only insisting on responsible design in panel discussions with other architects, I wanted to join people working systematically increase democratic control of the built environment in a context dominated by property-rights. This meant asking, in public, to whom design responds. I wanted to be helpful in the steady and slow work of turning around institutions and design processes that use abstraction to link democracy and the built environment in order to put something like a public in its deserved place. I bring up the disciplinary issue because I found these to be some of the biggest impediments to designers working well with partners outside of the field…
…the complete interview was published in MONU #23 on the topic of Participatory Urbanism on October 19, 2015.

This issue is supported by University of Leuven's Master of Human Settlements and Master of Urbanism and Strategic Planning, Erasmus University Rotterdam's Institute for Housing and Urban Development Studies (IHS), University of Liechtenstein's Master (Msc) of Architecture and Incognita's Architectural Study Tours. Find out more about MONU's supporters in Support.


03-09-15 // DISTRIBUTING POWER – INTERVIEW WITH JEREMY TILL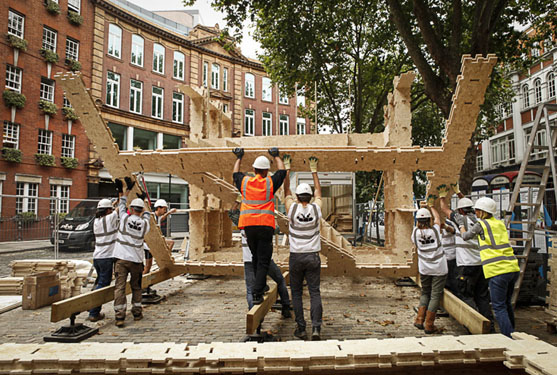 Assembly of the "Wiki House" in London, ©Margaux Carron
Bernd Upmeyer, on behalf of MONU, spoke with the British architect, writer, and educator Jeremy Till. He is the head of Central Saint Martins and Pro Vice-Chancellor of the University of the Arts, London. Previously he was Dean of Architecture and the Built Environment at the University of Westminster, and Professor of Architecture and Head of School of Architecture at the University of Sheffield. Till's research and writing concentrate on the social and political aspects of architecture and the built environment. His written work includes 'Flexible Housing', 'Architecture Depends' and 'Spatial Agency'. In 2005 he was one of the editors of the publication "Architecture and Participation" to which he contributed a piece entitled "The Negotiation of Hope". The interview took place on September 3, 2015.
Architecture and Participation
Bernd Upmeyer: In 2005, you were one of the editors and contri-butors to the book "Architecture and Participation" that brought together, according to the summary, leading international practitioners and theorists, ranging from the 1960s pioneers of participation to some of the major contemporary figures in the field. Could you tell us a bit about these early beginnings? When and how were users first introduced in architecture and urban planning processes? Which of the projects that were mentioned in the book did you find especially interesting and successful?
Jeremy Till: The pieces that I found interesting about the history of participation were, for example, from people such as Giancarlo De Carlo.1 We translated and published Giancarlo De Carlo's seminal text, Architecture's Public. De Carlo and others were using participation as a way to deconstruct what it means to be an architect or to be a designer. I find this aspect of participation interesting because it questions a lot of the premises on which architecture as a profession is founded – the premises of the individual author-hero, the premises of control, and the premise of expertise and so on. Participation undeniably challenges and upsets some of those standard conventions.
BU: The 1960s were probably the years when participatory processes were first introduced, on a more substantial scale, into planning and design processes.
JT: Yes, this is when a lot of people, including N. John Habraken2 and Giancarlo De Carlo, tried out new things. The 1960s to 1980s were the golden years of participation and of revolutionary ideas in general. Some of the most interesting participatory projects were reserving up to 20% of public budgets to be decided by public vote, so-called participatory budgets. In certain cities in Brazil, such as Porto Alegre3, a participatory budget is part of their city processes. A serious proportion of the city's budget is determined by open participative techniques, which include open meetings, for example. That is very interesting…
…the complete interview was published in MONU #23 on the topic of Participatory Urbanism on October 19, 2015.

This issue is supported by University of Leuven's Master of Human Settlements and Master of Urbanism and Strategic Planning, Erasmus University Rotterdam's Institute for Housing and Urban Development Studies (IHS), University of Liechtenstein's Master (Msc) of Architecture and Incognita's Architectural Study Tours. Find out more about MONU's supporters in Support.


19-02-15 // INFORMAL CONTROL – INTERVIEW WITH ULF HANNERZ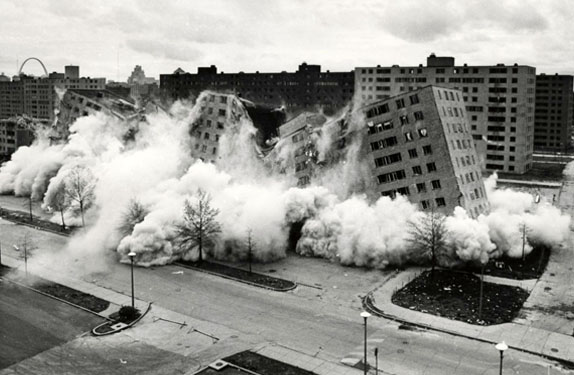 The infamous Pruitt-Igoe housing project in St. Louis, Missouri that was built in 1955 only to be demolished in 1976. Screenshot from the film "The Pruitt-Igoe Myth".
Bernd Upmeyer interviewed the Swedish social anthropologist Ulf Hannerz on behalf of MONU. Hannerz is one of the leading theorists of modern cultural anthropology and a pioneer in urban and social anthropology. As early as the 1960s he began researching and describing culture in the age of globalization as dynamic, flowing, creative, and as something continuously changing. Hannerz is emeritus professor of social anthropology at Stockholm University. His research includes urban societies, local media cultures, transnational cultural processes, and globalization. The interview took place on February 19, 2015.
Personal Transnational Life
Bernd Upmeyer: You were born in the Swedish city of Malmö, which is the third largest city in Sweden and which constitutes today, together with Copenhagen, the transnational Øresund Region, the most densely populated area in Scandinavia. How do you remember this region when you grow up there and how did it change until today? What kind of urban anomalies defined the area back then and how does that compare to today?
Ulf Hannerz: Yes, born in Malmö, but I was only a year or two when my family moved to Stockholm (where both my parents came from). But I visit Malmö occasionally, and keep an eye on it. It has gone through major changes. I was born during World War II, when Germany occupied Denmark, so there was no real contact with Copenhagen, just across the Øresund, and not much contact with the outside world. Now Malmö has become more or less world-famous as one of the most transnational cities anywhere. Indeed it has a lot of immigrants, and children of immigrants. Occasionally, one comes across the rumour, mostly spread by xenophobic and Islamophobic commentators elsewhere, that Malmö has a Muslim majority, and is a centre of what was once called "Eurabia." Certainly not true. Like many European cities with large immigrant and refugee populations, it has its problems: unemployment, some interethnic conflict and suburban rioting, one xenophobic terrorist with a gun. But it is also a lively place, which a lot of people living there enjoy. Of the two most recent mayors, one came to Sweden as a child refugee, and the other has immigrant family connections. And one of Europe's best football players, Zlatan Ibrahimovic, grew up in one of those neighbourhoods (Rosengård) with a controversial reputation.
BU: In the 1960s you became interested in social and urban anthropology after having travelled to West Africa. What did fascinate you about this field especially?
UH: I was struck by the social and cultural transformations, which were most visible in the cities. Some West African cities – particularly those of the Yoruba people in western Nigeria – were originally of a very ancient historical type, hardly found elsewhere in the world any longer: with peasant populations, and a ritual aristocracy at the centre…
…the complete interview was published in MONU #22 on the topic of Transnational Urbanism on April 24, 2015.

This issue is supported by EMU - European Post-masters in Urbanism, Bauhaus University Weimar's International Master Programmes, Fontys' Master of Architecture and Master of Urbanism, University of Liechtenstein's Master (MSc) of Architecture, University of Leuven's Master of Human Settlements, Erasmus University Rotterdam's Institute of Urban Management (IHS), Incognita's Architecture Trips, and Studio for Immediate Spaces - Sandberg Instituut, Amsterdam. Find out more about MONU's supporters in Support.


06-02-15 // LIBERTÉ, DIGITALITÉ, CRÉATIVITÉ – INTERVIEW WITH JEAN-LOUIS MISSIKA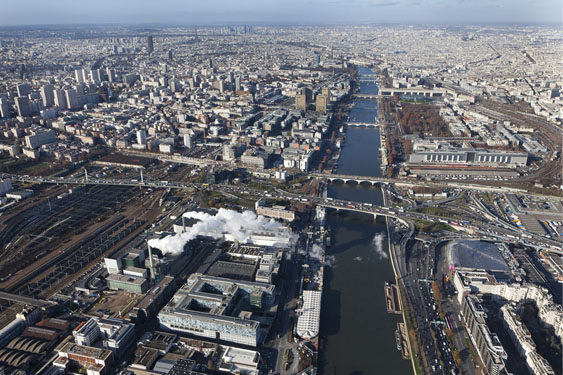 Aerial view of Ivry Bercy, ©City of Paris
Beatriz Ramo and Bernd Upmeyer, on behalf of MONU, spoke with the French sociologist Jean-Louis Missika. He is a member of the Council of Paris and assistant Mayor of Paris in charge of urban planning, architecture, projects of Greater Paris, economic development, and attractiveness. Since 1984 Missika has taught media sociology at the Institute of Political Studies in Paris and has published se-veral essays on the subject, particularly on the place of television in society. The interview took place on February 6, 2015 in his office in the City Hall of Paris.
Transnational Cities
Bernd Upmeyer: We would like to talk to you about a phenomenon that we call "Transnational Urbanism". The motivation to dedicate an entire issue on that topic was born several years ago when we published an issue entitled "Border Urbanism", which focused on urban phenomena that appear in cities that are located close to nation-state borders. And with this new issue of MONU we would like to expand on the topic of "Border Urbanism" through the topic of "Transnational Urbanism" as cross-border processes are not just limited to cities that are located close to nation-state borders, but impact cities anywhere else as well through trans-border relations. That is why we wanted to investigate how trans-border and transnational relations between individuals, such as people from Paris, Moscow or Rome, groups, firms or institutions have consequences for cities and create transnational urban landscapes and transnational urban lifestyles.
Jean-Louis Missika: And you have also the transfrontier, transborder cities like Basel, which has a governing body consisting of French, German, and Swiss people. A study once showed that in 2040 there will be more than 30 Global Cities that will be in-between two or three nation-states, mainly in Africa, some in Asia. In Africa you can have, for example, a conurbation of 70 million people connected through four different nation-states. This is interesting, because, as I state very often, the Global Cities, the World Cities and the nation-states are developing in very different ways. While the nation-state is declining – not the concept, but the reality of the nation-state – the World City is growing. And there will be some big difficulties in the future between nation-states and Global Cities as well. You already have some problems, for example, between New York and the United States. In Paris it is different, because the state is in a relationship with Paris that is based on the assumption that Paris and France is the same thing, which is actually not true. And in Great Britain, the United Kingdom, it is different too. There, the nation-state is at the service, and is a servant of the city of London. So, the relationship there is totally reversed.
Beatriz Ramo: In some of your recent interviews and texts you talk a lot about the opening of Paris and "Grand Paris" to the world, making Paris a very attractive city that welcomes investment, entrepreneurs, artists, researchers to settle in Paris, and also to participate in, and to contribute to, the richness of the city. All of this will generate more transnational lifestyles in the city. We would like to analyze, together with you, what impact this will have on Paris. If we call these transnational lifestyles in the city "software", what would be, in your opinion, the "hardware" of the city that is needed for those lifestyles, in terms of, for example, infrastructure, urban logistics, etc., that is probably different from the hardware that is needed for people that do not live transnational lives in Paris? How can the city prepare itself for these changes?
JLM: You have given the answer already, because, in fact, Paris is in that sense like all the World Cities, I mean all the World Cities that are truly World Cities, like a seismograph of all the conflicts of the planet…
…the complete interview was published in MONU #22 on the topic of Transnational Urbanism on April 24, 2015.

This issue is supported by EMU - European Post-masters in Urbanism, Bauhaus University Weimar's International Master Programmes, Fontys' Master of Architecture and Master of Urbanism, University of Liechtenstein's Master (MSc) of Architecture, University of Leuven's Master of Human Settlements, Erasmus University Rotterdam's Institute of Urban Management (IHS), Incognita's Architecture Trips, and Studio for Immediate Spaces - Sandberg Instituut, Amsterdam. Find out more about MONU's supporters in Support.


29-08-14 // 3D NOLLI – INTERVIEW WITH WINY MAAS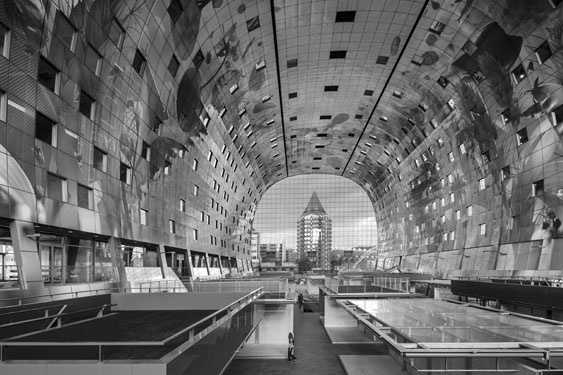 Interior of the Market Hall, ©MVRDV
Beatriz Ramo and Bernd Upmeyer, on behalf of MONU, spoke with the Dutch architect, landscape architect, professor, and urbanist Winy Maas. Maas is one of the co-founding directors of the globally operating architecture and urban planning firm MVRDV, based in Rotterdam, Netherlands, known for projects such as the Expo 2000 and the vision for greater Paris, Grand Paris Plus Petit. The interview took place on August 29, 2014 in his office in Rotterdam.
Interior Urbanism
Bernd Upmeyer: This new issue of MONU Magazine deals with the urban scale and urban aspects of interiors and especially of public interiors. Because we have the impression that these days public interiors are creating public spaces of a quality that can usually only be found outdoors or in connection with the outdoors. This is why we wanted to look at public interiors with a fresh eye and at interior urbanism as a professional field that might demand new experts: interior urbanists, who are neither interior architects, nor architects or urban designers, but something more of a hybrid.
Beatriz Ramo: So we think that there is a new generation of public interiors that we should investigate, which we found, for example, in cities such as Tokyo, Shanghai, and Hong Kong. Probably you have reflected already on this form of public urban space that happens in the interior, some kind of "Interior Urbanism", in relation to your "Market Hall" project. How might we define its parameters, do you think? Is it a new form? What are we dealing with here?
Winy Maas: There are more ways to approach this. First, we could simply follow and build Buckminster Fuller's Cupola and to make basically an acclimatizer, as I called it in KM3. Secondly, we could comment on the isolated box, like the malls, that remains in the classic dichotomy of exterior and interior. For me – in that respect – the most interesting part where the term interior urbanism makes sense more and more is within density. The denser you are the more the role of the interiors makes sense and becomes active. To look at Nolli would not be so bad here.
BR: Yes, Nolli was also one of the things we thought of initially when talking about interior urbanism.
WM: Nolli becomes obvious when you go, for example, to New York, where the lobbies are part of the streetscapes. It also becomes apparent in your experience in Indonesian Kampongs or Chinese Hutongs, where your neighbors are somehow part of you own interiors. In the case of the Market Hall, ultimately, I would love it if it was surrounded by a lot of buildings, because then the Market Hall would become stronger and better than in isolation…
…the complete interview was published in MONU #21 on the topic of Interior Urbanism on October 20, 2014.
This issue is supported by University of Leuven's Master of Human Settlements, University of Leuven's Master of Urbanism and Strategic Planning, University of Liechtenstein's Master (MSc) of Architecture, Inside - Master Interior Architecture, Erasmus University Rotterdam's Institute of Urban Management (IHS), and Incognita's Architecture Trips. Find out more about MONU's supporters in Support.


28-08-14 // INTO THE WILD – CONVERSATION WITH PETRA BLAISSE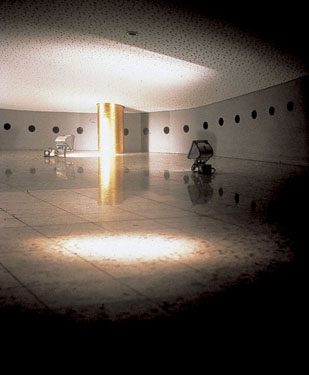 Under the auditorium of the Netherlands Dance Theatre, ©Inside Outside
Beatriz Ramo and Bernd Upmeyer, on behalf of MONU, spoke with the Dutch designer Petra Blaisse. Blaisse works in a multitude of creative areas, including textile, landscape and exhibition design. In 1991 she founded her own office "Inside Outside" in Amsterdam. Throughout the years, Inside Outside has collaborated with various architects and designers, such as the Office for Metropolitan Architecture (OMA). Blaisse has lectured and taught extensively in Europe, Asia, and the United States. Her work has been included in numerous design and architecture exhibits internationally. In 2000 a solo exhibition on Inside Outside's work was, for example, organised at the Storefront for Art and Architecture in Soho, New York. The interview took place on August 28, 2014 in her office in Amsterdam.
Interior Urbanism
Bernd Upmeyer: In this new issue of MONU we would like to discuss something that we call "Interior Urbanism", because we have the impression that these days interior spaces are getting so big, alive, and public that they can no longer be identified as mere interiors but as somewhat advanced versions of interiors and as something on an urban scale and of an urban complexity that thus would be better described as interior urbanism.
Beatriz Ramo: Such a new generation of public interior spaces we experienced recently while visiting a few cities in Asia, where you find vast interconnected interior spaces that are characterized by a multiplicity and complexity of features and aspects that can usually only be found outdoors or in connection with the outdoors. We have the impression that we are dealing today with a new generation of public interior spaces, especially in climatically challenged cities. What are your experiences in relation to that?
Petra Blaisse: In the past, public life and public spaces were indeed much more dependent on the climate and difficult to achieve in cities such as Hong Kong given the hot and humid weather. When we worked with OMA, for example, on the West Kowloon Cultural District in Hong Kong, we realized that today the people there do not walk outside longer than a certain number of minutes. Because the weather is either too hot, too humid, or the rain is pouring down. And the people don't want to get burned by the sun and prefer protected and covered spaces, which can be a shopping mall, an office building, or something else. These spaces are usually connected – via escalators or pedestrian bridges – to other buildings and the boundaries between the buildings and the different interior spaces disappear. Because of the fact that pedestrian paths need to be covered and ideally interiorized in Hong Kong, we proposed groups of trees that provide shelter, for the parks of the West Kowloon Cultural District.
BR: How does you work differ in projects in different climatic zones such as Riga in comparison to projects in Hong Kong? How do the different locations influence your designs? Do you feel, for example, more constrained because of the climate or because of the political context of a project?
PB: Both, of course. We are trying not to be political and to create work that is truly international. But you are, of course, dependent on politics and the economy of the context of a project. Because the budget, but also the political mentality of a city, influences how things are used, treated and maintained…
…the complete interview was published in MONU #21 on the topic of Interior Urbanism on October 20, 2014.
This issue is supported by University of Leuven's Master of Human Settlements, University of Leuven's Master of Urbanism and Strategic Planning, University of Liechtenstein's Master (MSc) of Architecture, Inside - Master Interior Architecture, Erasmus University Rotterdam's Institute of Urban Management (IHS), and Incognita's Architecture Trips. Find out more about MONU's supporters in Support.


26-02-14 // BEYOND BRANDING – INTERVIEW WITH BART LOOTSMA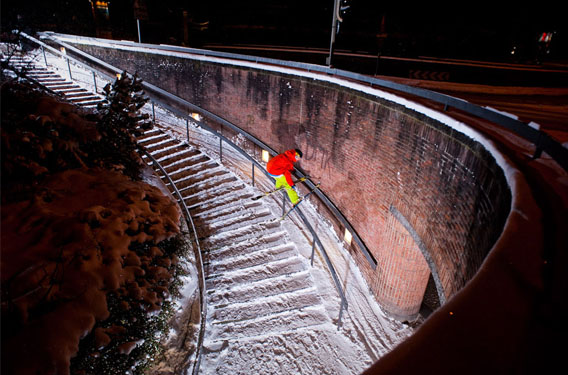 Paul Fischnaller is sliding down a handrail at the Train Station in Bolzano, 2011
Photo: Paul Fischnaller, ©Paul Fischnaller
Bernd Upmeyer interviewed Bart Lootsma on behalf of MONU. Bart Lootsma is a historian, critic, and curator in the fields of architecture, design, and the visual arts, as well as a Professor for Architectural Theory at the Leopold-Franzens University in Innsbruck. The work of Bart Lootsma was released in many publications, including Media and Architecture, in collaboration with Dich Rijken (1998), his internationally acclaimed book SuperDutch (2002), mostly dealing with Dutch Architecture, and ArchiLab 2004: The Naked City, which was widely published in 2004. The interview took place in February 2014.
Geography and Identity
Bernd Upmeyer: You recently posted an image on Facebook featuring scenes of the mountains around the city of Innsbruck that you photographed from your kitchen window. What does this view and these mountains mean for you and for the city of Innsbruck?
Bart Lootsma: For someone born in The Netherlands it is still amazing to wake up, open the curtains, and see mountains in the morning. When I rented my apartment I wondered why all electricity sockets for the bed were intuitively – and even in terms of Feng Shui, I recently discovered – on the 'wrong' side of the bedroom. Until I sat down where the bed would be and discovered that the view from my bed frames the Hechenberg exactly. It is different every day, depending on the weather. For the city of Innsbruck this means something much deeper. The Hechenberg is part of the Nordkette, a chain of mountains that is part of the Karwendel Mountains separating Austria from Germany.
[…]
BU: Might this view out of your window just as well be replaced by a photo or any other medium that is placed on the wall of your kitchen featuring the same mountain view? To what extent is geography merely an image or artifact in the background of a city that needs to be framed by architecture or media?
BL: No. The constantly and unpredictably changing weather conditions are crucial. And more than that: I realize that my visual appreciation of these mountains shows me up as an immigrant. It leads to bored comments by, for example, the president of the Austrian chamber of architects Georg Pendl, who lives in Tyrol, on my Facebook posts like "Hechenberg again" and I can only be happy there is no emoticon for "yawn". Or maybe he didn't find it. Instead, he posts images of the traces of himself skiing alone in pristine snow on mountains you can only climb with great difficulty with touring skis…
…the complete interview was published in MONU #20 on the topic of Geographical Urbanism on April 14, 2014.


20-02-14 // WORKING WITH GEOGRAPHY – INTERVIEW WITH BERNARDO SECCHI



Locations of strategic spaces and strategic projects in Antwerp, ©Studio Associato Bernardo Secchi Paola Viganò
Bernd Upmeyer spoke on behalf of MONU with the Italian, internationally renowned, teacher, practitioner, and theoretician of urban planning Bernardo Secchi. Secchi has taught architecture and urbanism in many universities: Milan, Venice, Geneva, Leuven, Zurich, and Rennes. In Venice, he is professor emeritus of urbanism at the Venice School of Architecture. From 1975 to 1982 he was the Dean of the Milan School of architecture. Since 1990 he has been associated with Paola Viganò in the Studio Associato Bernardo Secchi Paola Viganò based in Milan and other cities including Brussels. The interview took place on February 20, 2014.
Urban Design and Geography
Bernd Upmeyer: During your long career as an urbanist you have done a lot of studies and made many master plans in cities of countries that were very different when it comes to their geography, by which we mean the physical geography, and in particular the natural geographical features such as landforms, terrain types, or bodies of water. What meaning does physical geography have for your projects?
Bernardo Secchi: For me, physical geography is very important. It is the starting point for all our ideas about planning. When we start working, our first step is always to study very carefully the physical geography, which means three things to us: firstly, topography, secondly, the problem of the waters and how they contribute to the form of the ground, and thirdly, the nature of the soil. What is important for us, and that is the reason why we consider the physical geography as the starting point of any idea for any city or a territory, is that over time people transform geography, and especially topography, into topology. In Brussels, for example, the city develops along a valley. But the rich people wanted to live in the hills and on the slopes, so the poor people were obliged to live in the valley. In that way the physical geography of the Brussels region influenced the social and political geography. But as we can see, the starting point was the physical geography. In fact, this happens more or less everywhere.
BU: You have done particularly many projects in cities in Belgium and Switzerland. What influence did these different geographical contexts have on your projects?
BS: Every region in Europe uses geography in a different way, with the same elements, but in a different way. For instance, if you go to Switzerland, you will see that the physical geography is very nice: it is constituted by very high mountains. The villages in these mountains have had a destiny in modern times: some of them were abandoned because culture was not possible and others, on the contrary, became tourist villages. So, here too we can see a transformation in the geography and the topology…

…the complete interview was published in MONU #20 on the topic of Geographical Urbanism on April 14, 2014.


16-08-13 // METROPOLITAN STRATEGIES – INTERVIEW WITH RIKHARD MANNINEN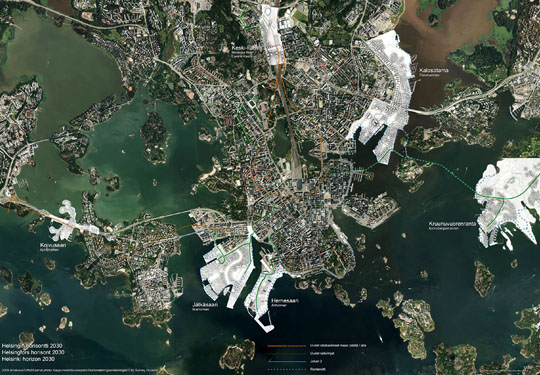 The changing harbor areas of Helsinki, 2009, ©City Survey Division
Bernd Upmeyer interviewed Rikhard Manninen on behalf of MONU. Manninen is the head of the Strategic Planning Division in the City Planning Department of Helsinki. He is in charge of long-term land-use planning in cooperation with other divisions such as the Traffic Planning Division. The interview took place in August 2013.
The "Greater Helsinki 2050 Vision" Competition
Bernd Upmeyer: The competition "Greater Helsinki 2050 Vision" was launched in 2008. What were the main reasons behind initiating this project?
Rikhard Manninen: By the mid-nineties, Greater Helsinki was considered one of the fastest growing metropolitan regions in Europe. Within 50 years, the region had doubled its population. The signs were that this trend was going to continue and that new development would continue at a fast pace. Construction of new housing was having difficulty keeping pace with demand. For example, in Helsinki, the average living space per inhabitant was 33m2 yet the Helsinki Development Plan of 2002 aimed for 50m2 per person. The launching of the international Ideas Competition for the Greater Helsinki Region aimed to provide the cities and neighboring municipalities with new and fresh ideas on how to tackle these challenges, as well as other important questions regarding sustainable and vibrant urban life and economics.
BU: But as far as I know the birth rate in Finland has been below the threshold of population renewal since 1969, which is approximately 2.1 children per woman. Today, Finland's birthrate continues to decrease. In 2012, for example, Finnish women gave birth to an average of 1.80 children. However, plans such as the "Greater Helsinki 2050 Vision" predicted a population growth from 1.3 million to 2 million by the year 2050. Where should all these people come from?
RM: In 2012 the increase in population for the Helsinki Region was 17 000 inhabitants. This reflected Helsinki's attractive position in Europe due to its high living standards, as well as being a very attractive place to live. Finland is part of Northern Europe and Helsinki represents a major growth centre that will probably be a growing "hub" in the future as well. Finland is experiencing greater urbanization pressures and society is going through major structural changes which aim to keep pace with the World Economy. Hence, Helsinki is able to attract people from abroad and also from the rest of the country. Change is still occurring from traditional manufacturing industries towards knowledge-based services and innovation-based industries and the Nordic Welfare culture recognizes this through high levels of education geared to supporting these changes. The agglomeration benefits from dense, populated centers that support specialization and create the most value added activities…
…the complete interview was published in MONU #19 on the topic of Greater Urbanism on October 14, 2013.


03-07-13 // UNLIMITED GREATNESS – INTERVIEW WITH ANTOINE GRUMBACH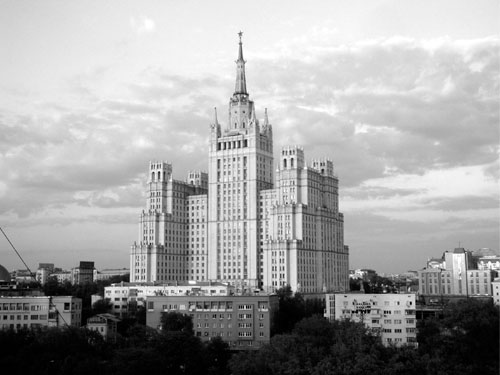 One of Moscow's 'Seven Sisters'
Beatriz Ramo and Bernd Upmeyer spoke on behalf of MONU with the French architect and urban designer Antoine Grumbach. Since 2008 Grumbach has been leading one of the teams of the Grand Paris project, an initiative launched by former French President Nicolas Sarkozy for a new global plan for the Paris metropolitan region. The 15 teams of architects and urban planners, appointed by the so-called Atelier International Grand Paris (AIGP) to be part of the Scientific Committee for the mission 'Grand Paris: pour une métropole durable', were selected through a competition. Grumbach proposes for Paris a so-called "Seine Metropolis" – he recommends to develop Paris along the valley of the river Seine linking Paris, Rouen, and Le Havre.
In 2012 Antoine Grumbach and Jean-Michel Wilmotte won two of the three available prizes at the "Greater Moscow" competition. The competition intended to solicit concepts regarding the development of Greater Moscow. The winners of this competition were selected in a series of seminars that invited the final teams, with architects from Russia and countries in Europe, the Americas and Asia, to discuss specific proposals, which were intended to create an image of prestige for Greater Moscow as a place with a competitive business environment. This interview took place on July 3, 2013 in Grumbach's office in Paris.
The Greater Moscow Competition
Bernd Upmeyer: Last year you won prizes in the Greater Moscow competition and since 2008 you have been involved in the Grand Paris project. How might both projects be compared?
Antoine Grumbach: One of the biggest differences between the Grand Paris and Greater Moscow project was the fact that Grand Paris was supported by the President of France, namely Sarkozy, who asked architects and urbanists to make proposals without any constraints. In Moscow the Mayor and his administration had decided on the extension of the city and organized the competition according to a programme. They were very strict there and made a 9-month programme and each month we met for a 3-day seminar, where 400 people took part.
Beatriz Ramo: 400 people in one seminar?
AG: Yes. In that respect, it was not a real seminar, because each team had to respond to a question and presented it to a large audience and at the beginning got marks, and the ones that had bad marks were supposed to be kicked out. Happily, it happened only at the first presentation that a Russian team had to leave the consultation.
BR: Like at Big Brother.
AG: After we complained about that and said that this is ridiculous, we understood that they did not know how to handle a great diversity of projects. Their expectation was to have something to start building immediately. Of course, there were many propositions on a theoretical basis rather than a project to be immediately realized. In the process they were decent enough to organize a final jury that had to select three prizes, one for the region, one for the city extension, and a third for the development of a project – which was very much criticized – to move all the civil servants and the entire administration of Moscow to a new development outside the city. It was a bit like La Defense. And I was wondering: why? Because they had their offices in beautiful old buildings, but they wanted to concentrate the federal administration, but finally this idea was abandoned. The financing of this project was based on the opportunity to sell the land and the buildings in the centre of Moscow…
…the complete interview was published in MONU #19 on the topic of Greater Urbanism on October 14, 2013.


25-01-13 // PROMOTING COMMUNAL LIFE – INTERVIEW WITH ATELIER 5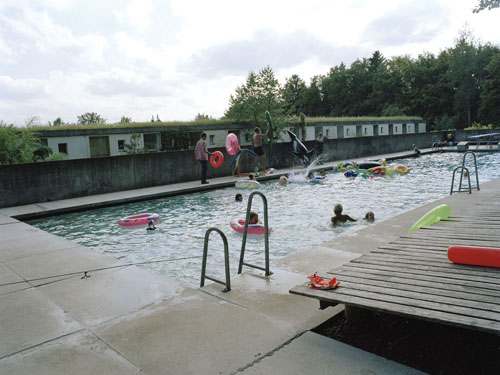 Swimming pool in Halen, Photo: Yoshi Kusana, ©Yoshi Kusana, Bern
Bernd Upmeyer interviewed Heinz Müller of the Swiss architecture collective "Atelier 5", where he has been working since 1968 and of which he has been one of the partners since 1986. Atelier 5 was established in 1955 in Bern by five architects: Fritz Erwin, Samuel Gerber, Rolf Hesterberg, Hans Hostettler and Alfredo Pini. Their "Siedlung Halen", realised between 1958-62 is known worldwide as a seminal example of the integration of the common areas and common facilities in residential settlements.
Siedlung Halen
Bernd Upmeyer: Atelier 5's project "Halen" is known worldwide as a pioneering project when it comes to the integration of the common areas and communal facilities in residential settlements. What did Atelier 5 try to achieve originally and what role did communal life play in the project?
Heinz Müller: It all started in 1954 when the five young architects Fritz, Hesterberg, Hostettler, Pini, and Gerber, who had arrived in 1955 from Brazil, were sitting in Hans Brechbühler's office in Bern being not overly busy. At that time they were dreaming of building something by themselves and therefore in need of a plot of land, which they eventually found five kilometers north of Bern. This plot, however, was too big for a couple of private houses for their own use and thus they started sketching plans for a settlement. The integration of the common areas and communal facilities was supposed to stimulate the social behavior of residents, counteract social segregation, and create a platform that could be taken and inhabited by the people as an extension of and complement to their own houses.
BU: And later on, what was the atmosphere like in this settlement and how did community life there develop?
HM: When I, for example, moved to Halen myself, which was during the summer, I had the impression that I was in a Club Méditerranée. It was a kind of touristy, village-like atmosphere, because when the weather is nice, most people are outside. But it had also something to do with the fact that the Halen settlement had quite a lot of children. Because with around 230 to 240 residents there are also quite a lot of children, approximately 40. And these children are then also outside not only during good weather in the summer, but even during bad weather in the winter. At the same time the adults sit a lot outside in the evenings and for dinner as well. That is a bit what the mood in the settlement is like…
…the complete interview was published in MONU #18 on the topic of Communal Urbanism on April 23, 2013.


18-01-13 // ECSTASY AND PRIVACY – INTERVIEW WITH RAINER LANGHANS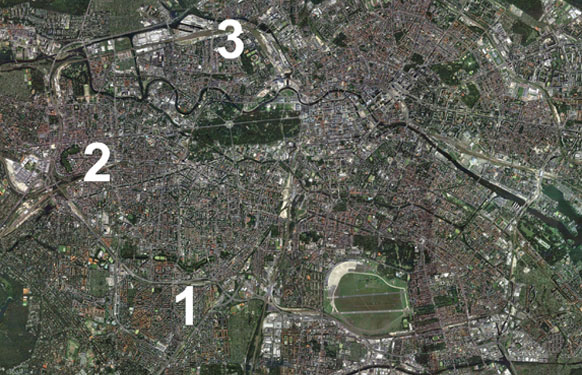 Map of Berlin showing the 3 locations of the Kommune 1: 1. Friedenau, 2. Charlottenburg, 3. Moabit, ©BOARD
Bernd Upmeyer conducted an interview with Rainer Langhans, a pioneer of communal living, who has lived in various forms of community for over fourty years. Langhans is known most of all for his membership of the legendary "Kommune I" which was established in Berlin in 1967 and through which he gained popstar-status in the Germany of the 1960s and 1970s. The interview took place on 18 January 2013.
The 1960s
Bernd Upmeyer: Ever since the 1960s you have gathered experience in communal living. You moved in with the famous Berlin "Kommune I" in 1967 – what did you imagine communal life and living to be like in those days?
Rainer Langhans: In order to understand what we did in those days, you have to grasp that all of us, especially the younger people, were caught in an incomprehensible level of ecstasy. We saw ourselves for what we truly were. This led us to the desire to create a better human being, who would be peaceful and able to live without war. We did not want any more wars, but a new and better cooperative order, which would be more loving, more beautiful, no longer war-like and no longer murdering on a mass scale, as used to be the case. And we did achieve some of that at the time; not too much, of course, but still some of it. That was the origin of the rebellion against our elders who had left us with a pile of corpses after their mass murders.
BU: What role was played by physically sharing spaces for communal use?
RL: My experience of the period of 1968 and the "Kommune I" was a meeting of spirits. We did this physically as well, of course, because that was the only way to stimulate spiritual community life. Today, we know that it is all about communication. To that extent, the experience of 1968 was a kind of spiritual love affair. Therefore, one could say that love is the highest form of communication and in those days we stood in a loving relationship to everyone, to the entire world. And this love was brought about by strengthened communication. Because we are not just bodies and animals concerned with their survival and desires, but we are spiritual creatures. And in the years around 1968 we experienced this love in the Kommune, where we perceived paradise and the promised land, in which all of us were gods…
…the complete interview was published in MONU #18 on the topic of Communal Urbanism on April 23, 2013.


16-10-12 // EMERGING GEOGRAPHIES – INTERVIEW WITH SASKIA SASSEN




Geopolitical Urban Vector: Istanbul, Ankara
Bernd Upmeyer interviewed Saskia Sassen on behalf of MONU. Saskia Sassen is the Robert S. Lynd Professor of Sociology and Co-Chair of The Committee on Global Thought, Columbia University. Her recent books are Territory, Authority, Rights: From Medieval to Global Assemblages, A Sociology of Globalization, and the 4th fully updated edition of Cities in a World Economy. Among older books is The Global City. Her books are translated into over 20 languages. She is the recipient of various diverse awards and mentions, ranging from multiple doctor honoris causa degrees to named lectures and being selected as one of the 100 Top Global Thinkers of 2011 by Foreign Policy Magazine.
Next Eleven Countries
Bernd Upmeyer: The so-called "Next Eleven" countries that include Bangladesh, Egypt, Indonesia, Iran, Mexico, Nigeria, Pakistan, the Philippines, Turkey, South Korea, and Vietnam have been identified as becoming, along with the BRICs, among the world's largest economies in the 21st century. How do you judge that?
Saskia Sassen: Let me crawl slowly towards an answer to your question. I do not think in these terms. The only exceptions in the "next 11" that I would argue are promising are Turkey and South Korea, who are already de facto part of the BRICS. Then, I would take Russia out of the BRICS: Russia has the poor and billionaires, no millionaires – it is a kleptocracy. The middle classes are getting poorer too.
BU: The criteria that were used to classify the Next Eleven countries were macroeconomic stability, political maturity, openness of trade and investment policies, and the quality of education. Do those criteria make sense to you?
SS: First, "national economies"— as in the 11 countries— are increasingly problematic categories. I see rather emergent geographies of centrality that connect prosperous areas of countries, including major and global cities, across the world. These new geographies of centrality cut across the old North-South divide. Similarly I see emergent geographies of marginality that also cut across the old N-S divide. There is growing, often acute poverty in highly developed countries, including new forms of poverty, such as the impoverished middle classes which fueled the Indignados and Occupy and Tahrir movements. And there is increasing magnitude of wealth in the Global South – South Africa, Nigeria, Kazakhstan, Mexico, India…and on and on…
…the complete interview was published in MONU #17 on the topic of Next Urbanism on October 16, 2012.


16-10-12 // LAGOS: WORLD'S NEXT MODEL CITY – INTERVIEW WITH KUNLÉ ADEYEMI ON NIGERIAN CITIES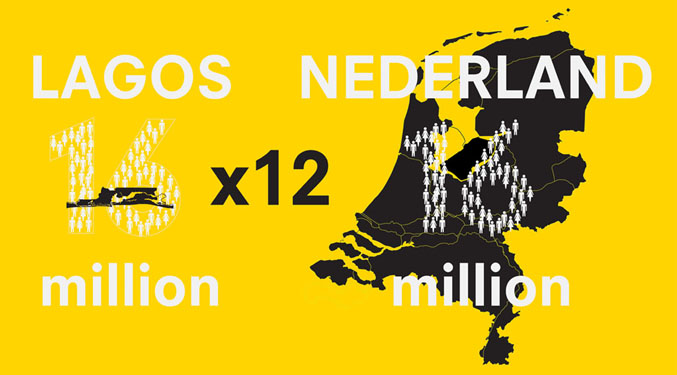 Comparism of size and population of The Netherlands with Lagos, ©NLÉ

Bernd Upmeyer spoke on behalf of MONU with the Nigerian-born and Amsterdam-based architect and urbanist Kunle Adeyemi. He was born and raised in Kaduna, in the north of Nigeria, and studied and started his early career in Lagos. In 2005, he received a Post-Professional degree at Princeton University, where he investigated – together with Peter Eisenman – the rapid urbanization and the role of market economies in developing cities of the Global South, focusing on Lagos. Before starting his own office in the Netherlands, he worked for nearly a decade at the Office for Metropolitan Architecture (OMA), where he led projects such as the "The 4th Mainland Bridge" and Master Plan in Lagos.
Kaduna, Lagos and Abuja
Bernd Upmeyer: You were born in the Nigerian city of Kaduna. What kind of city is that?
Kunle Adeyemi: I grew up there and lived the first ten years of my life in Kaduna and moved to Lagos later. It's a city in the northern part of Nigeria. It is quiet, at the same time politically volatile. It is not the biggest northern city – Kano is the biggest– but it is one of the most densely populated cities in Nigeria. Kaduna is an industrial town with a large petroleum refinery, factories and a long river. The name Kaduna actually comes from the word "kada", which means crocodile in the native Hausa language.
BU: In your early career you worked on projects in the city of Abuja, another Nigerian city. What was your relation with Abuja and what kind of city is Abuja in comparison with Kaduna or, for example, Lagos?
KA: My relation to the city of Abuja is mainly based on research and visits. I spent three years in a neighboring city called Suleja, during my time in high school. In addition, the first two years of my career I worked from Lagos on projects in Abuja. While Lagos is Nigeria's commercial centre, Abuja is its administrational and political capital. Therefore, there is always a lot of movement between Lagos and Abuja.
BU: How would you say these three cities, Abuja, Kaduna and Lagos changed over the last thirty years?
KA: Well, first of all, Kaduna was established by the British colonialists, while Abuja was established only in the 1970s in an effort to 'decongest' Lagos. Abuja is only about forty years old and has changed significantly in terms of infrastructure and physical development. Today, Abuja is a thriving city. Lagos, of course, has grown significantly due to its population increase – its population explosion – especially in the last ten years. Lagos has also changed through improvements in infrastructure and social conditions…
…the complete interview was published in MONU #17 on the topic of Next Urbanism on October 16, 2012.


28-02-12 // THE NEW RURAL: GLOBAL AGRICULTURE, DESAKOTAS AND FREAK FARMS – INTERVIEW WITH KEES CHRISTIAANSE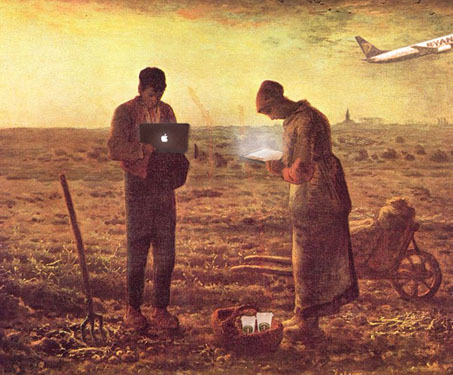 Checking mails at 6 pm, ©STAR strategies + architecture, Original painting: The Angelus, 1857–59 by Jean-François Millet
Bernd Upmeyer and Beatriz Ramo spoke on behalf of MONU with Kees Christiaanse. Between 1980 and 1989, Christiaanse worked for the Office for Metropolitan Architecture in Rotterdam, becoming a partner in 1983. In 1989 he founded KCAP Architects and Planners, which now encompasses 75 collaborators, and offices in Rotterdam, Zurich and London. The interview took place at KCAP's office in Rotterdam on February 28, 2012.
What is the Rural?
Beatriz Ramo: This issue of MONU is about the rural, the non urban, the country side… We think it is interesting to talk to you, an urban planner, about non-urban topics. How would you define the rural, or what we call "Non-Urbanism", today?
Kees Christiaanse: If you go in the hardcore urban and the hardcore rural, it is quite simple to define it, but that is maybe not so relevant. It is more significant to talk about the condition in between. And this condition is extremely difficult to define. For instance we are working a lot in Indonesia with our university. If you look at the island of Java, you see that it is as big as England in surface but it has about five times as many inhabitants. Java is extremely dependent on agriculture, but in fact you could also say that the whole island is urban, because it is so densely populated in small patches of farm land, towns and kampungs that we can only conclude that the rural is just a condition of the past. Today it has so many interactions with urbanity that you cannot speak of strictly rural anymore.
Bernd Upmeyer: How do slums fit into the rural/ urban discussion?
KC: If you look at statistics you see that the movement of people from the countryside to the slums leads in most cases to a condition where inhabitants are already reaching a modest lower middle class level by the second generation. This happens through better education, access to mobile phones, multiple choices for work, a minimal level of medical care – facilities which they formerly did not have in the rural condition… Increasingly, the rural condition can not sustain itself anymore; it needs the money sent by the people in the city in order to survive at all. There is a very strong reciprocal relationship between the urban and the rural in which the rural is very fragile but functions as a kind of cultural and ancestral anchor for people that move all over the place – a point of reference.
BU: How would you judge the slums?
KC: Most of the people believe that a slum is bad and that cities should clear them, but the slum is sort of a transitional area. The people who are in the slum, are not there anymore ten years later, they have almost all developed into better conditions and the people who are there are new immigrants. So in that respect the slum is a kind of upgrading and emancipation machine. One should be careful how to deal with it, not immediately tear it down…
…the complete interview was published in MONU #16 on the topic of Non-Urbanism on April 17, 2012.


28-01-12 // NON-URBAN EROTIC SPACES – INTERVIEW WITH SCOTT HERRING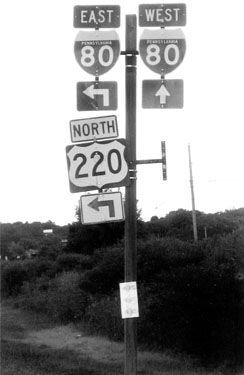 I-80/Route 220 signpost in rural Pennsylvania, ©Scott Herring
Bernd Upmeyer spoke on behalf of MONU with Scott Herring. Herring is an Associate Professor in the Department of English, an Affiliate with the Department of Gender Studies, and an Adjunct in the Department of American Studies at Indiana University. He is the author of the Lambda Literary Award-winning book "Another Country: Queer Anti-Urbanism", which tracks how rural American queers have responded to a myopic mindset of urbanism and offers a theory of queer anti-urbanism that refuses to dismiss the rural as a cultural backwater. The interview took place on January 28, 2012.
Bernd Upmeyer: In your recent book "Another Country: Queer Anti-Urbanism" you criticize the common urban narrative that distinguishes clearly between the urban and the non-urban. Could you elaborate that critique a bit for us?
Scott Herring: The book discusses gender and sexuality studies—specifically queer studies—across the twentieth and twenty-first century United States as the field relates to questions of non-urbanism, anti-urbanism, and urban formations. I was most curious to think about a longstanding urbanist bias in gay communities that tends to structure thinking about the rural as well. Part of this bias announces itself as a 'flight to the city' narrative that presumes non-metropolitan gays should move to the city because of its promise of a fuller, richer life. By proxy, rural environments are stereotyped as somehow more isolated or lonely. My primary aim with this book was to counteract this stereotype of the rural as a space of cultural poverty for lesbians and gays, and so I looked to non-urban queer spaces as sites of cultural richness and resistance.
BU: Where do you think lay those potentials of the supposedly backward, rustic, and unfashionable non-urban areas? In which way is the countryside subversive? What kind of life is possible in the countryside that is not sustainable in dense urban areas?
SH: Everywhere, frankly. I think that when one talks about erotic acts for queer populations, there is an assumption that it is easier in cities to initiate contact. But social historians have shown that it wasn't that difficult for rural lesbians and gays to have rich erotic lives as well as intense social networks. So on the one hand I trace how rural lesbian and gays developed erotic worlds in, say, the 1920s and in the 1970s. On the other hand, I wanted to contradict the idea that the rural is a space without cultural possibilities by concentrating on acts of what I call aesthetic metro-subversion. As someone who grew up outside of a metropolitan area in the US south, and also as someone who currently lives outside of a major metropolitan area in the state of Indiana, I was curious to trace moments in literature, painting, and performance that had no interest in confirming the urbanity of lesbian and gay life in the modern US. I wanted to attend to these individuals who play with stereotypes of the rural as rustic and backward, and who engage in extraordinarily rich cultural practices across genres…
…the complete interview was published in MONU #16 on the topic of Non-Urbanism on April 17, 2012.


14-09-11 // ACROBATIC NARRATIVES – INTERVIEW WITH WOUTER VANSTIPHOUT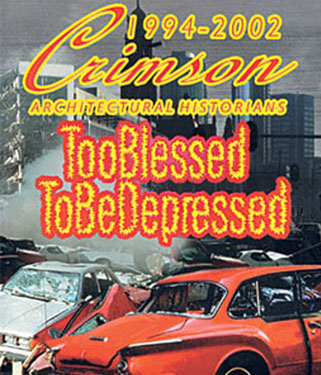 Cover of "Too Blessed to Be Depressed" by Crimson Architectural Historians
Bernd Upmeyer and Beatriz Ramo interviewed Wouter Vanstiphout on behalf of MONU magazine. Wouter Vanstiphout is a member of Crimson Architectural Historians in Rotterdam. He is professor of Design and Politics at the Faculty of Architecture of Delft Technical University. The conversation took place at the Crimson Office on September 14, 2011.
Ideology and Branding
Beatriz Ramo: We would like to discuss with you some delicate issues around the current understanding of ideology, or better, the flexibility and malleability that "ideology" has been put through until becoming a brand. From general, large-scale city strategies to much smaller interventions in Rotterdam, examples of success as branding operations but questionable in the transparency and honesty of its message, which is heavily loaded with rhetoric about the public, the social, the participatory, the creative…etc. We are confronted by plenty of these ideologies which turn into highly hypocritical and unethical promotional strategies. How does one judge that? Would you be able to justify them?
Wouter Vanstipout: What I find is that it is difficult to distinguish between authentic social or ecological motivations, and motivations that are used as window dressing or smokescreens for something else. Today, even the most hard-nosed developer, corporate architect or neoliberal politician uses language of community and sustainability to the extent that there is nothing on the surface you can disagree with.
But I also resist accusing people, especially young offices, of hypocrisy; it is a very fine line and we cannot generalize. We, and scores of others, also had some criticism from BAVO when we did this regeneration project in Hoogvliet some years ago. They are very much into hardcore left and Marxist theories. They have an endless repertory of accusations of hypocrisy; it comes very easy to them because of their complete lack of ambition to actually change things, or be helpful in any way. Their position is interesting on an academic level – I've heard it say – but is in the end totally academic and the opposite of political.
[…]
Bernd Upmeyer: Do you think this is representative for the architects of this moment?
WV: This and many other similar hybrids of guerilla development and corporate development, is representative for the ambiguity, and slipperiness of the current situation for young, so-called experimental offices. But I will not dismiss systematically the whole social or participatory agendas. Because whether we like it or not, the social aspect of architecture and planning is the only reason for its existence; there is nothing but society; and architecture – and planning's – biggest problem is its enormous democratic deficit; the fact that it does not represent the interests of an enormous majority of the population, makes participation of extreme importance.
But in order to claim back the real value of these themes, architects need to develop something that is very rare these days: real, hardcore, suicidal arrogance and the nerve to just once say 'fuck you and your fucking scam' to a developer or a municipality that really have nothing good or real to offer, and, of course, the knowledge and the wisdom to distinguish between hopeless situations and ones that offer a glimpse of possibilities. Architects should really stop being so horribly helpful and optimistic all the time…
…the complete interview was published in MONU #15 on the topic of Post-Ideological Urbanism on November 21, 2011.


18-04-11 // DEADLY SERIOUS – INTERVIEW WITH ADOLFO NATALINI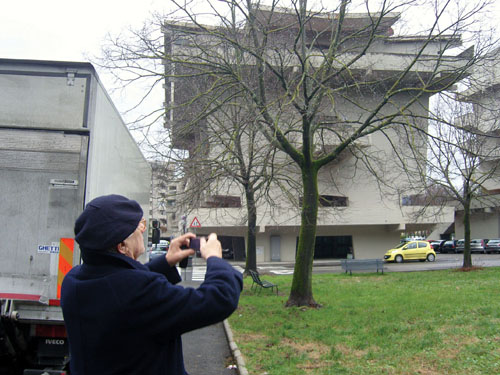 Adolfo Natalini is taking a photograph of a neobrutalist building by Ricci in Florence, 2011, photo by Beatriz Ramo, ©STAR
Beatriz Ramo and Bernd Upmeyer spoke on behalf of MONU with Adolfo Natalini. Natalini was one of the founders of the legendary 60ies architecture firm Superstudio, which was one of the major part of the radical architecture movement of the late 1960s. In 1991 Natalini founded the Florence-based office Natalini Architetti. The interview took part in his office in Florence.
Beatriz Ramo: When we opened your website, the first thing we saw was this picture and we thought 'he looks very serious'.
Adolfo Natalini: I am very serious. I am deadly serious.
BR: We were reminded of historical paintings, where everything in the composition had a meaning. They were very narrative. We X-Rayed every element in your photograph; they seem to reveal tradition, culture, decorum…. Does it show the values you are striving for as an architect?
AN: This is a funny photograph. Somebody asked us to be in a very professional portrait, something to be used for an advertising campaign by the brick producers of Italy. And they wanted us to look like serious professionals, so they did it this way. Which by the way I like, because you can see several objects that I produced myself, like the chair, the bookshelf…
I think that this photograph does represent the office quite well. In fact we are quite old-fashioned guys; we are not modern at all. I have always dressed in the same way; we always wear ties, because we were brought up in families in which we were supposed to be properly dressed. I am a man of habit; I have always the same things… And in this photograph is one of my best friends. Fabrizio Natalini and I have been working together from the beginning of '71. So it's a sort of family photograph.
BR: So Fabrizio was already with you during the time of Superstudio.
AN: Fabrizio was the only collaborator at Superstudio, because at the very beginning you had the five of us, Fabrizio, and the secretary, which by the way was my wife.
BR: If Fabrizio has shared all the experiences with you, from Superstudio to Natalini Architetti, he probably did not see this radical change in your work, which most people insist on pointing out. We think that rather than changing you just moved from writing to building, but your position has stayed the same.
AN: To me it was not a radical change. People look at both images at the same time, but there are 40 years between the two of them. If they look at my work in chronological sequence, they will not see a radical change. In fact, the most conceptual work was not produced during the Superstudio years, but towards'79 and so on, when I designed the Romerberg in Frankfurt or the Jerusalem project, which are much more theoretical than everything else that we did before.
The difference is that with the more recent projects we were using the tools of architecture and in the previous ones we were using the tools of art, literature, and so on…
…the complete interview was published in MONU #14 on the topic of Editing Urbanism on April 18, 2011.


05-10-10 // THE CRUMBLES OF THE CAKE – INTERVIEW WITH RURAIGH PURCELL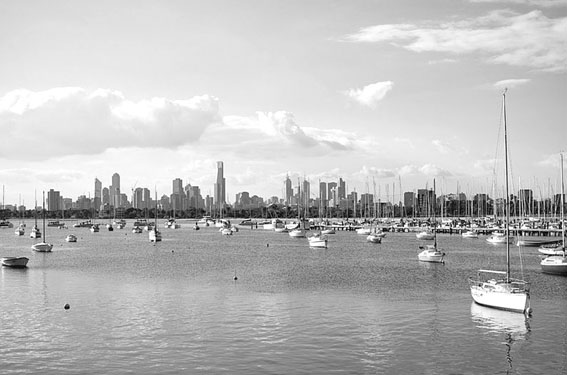 Melbourne, Australia was ranked by the Economist Intelligence Unit as the World's most livable city since 2011
Bernd Upmeyer spoke on behalf of MONU with Ruraigh Purcell. Ruraigh spent three years running an analytical team producing city ranking lists concerned with the issue of 'quality of life' at ECA International, one of the leading provider of compensation data for expatriate assignments.
Bernd Upmeyer: The topic "Most Valuable Urbanism" of this MONU issue has originally been inspired by globally and annually published city ranking lists that have been produced by companies such as Mercer or the Economist Intelligence Unit. Ever since we at MONU learned about those lists, we were fascinated by the fact that somebody is actually able to rank cities and determine the world's most liveable city. You were in charge of an analytical team producing such city ranking lists relating to the issue of 'quality of life' at the company ECA International. How and why do you rank cities?
Ruraigh Purcell: ECA, but also Mercer or the Economist Intelligence Unit (EIU) produce city ranking lists to assess the level of hardship for expatriates, when they are sent overseas by their governments or organization. The process behind the lists assesses the level of difficulties associated with adapting to living in the host location. We look at multiple factors which are considered important for this particular socio-economic group. Expatriates are generally well paid, well educated and they need to be sent somewhere for a reason. The assessments recognize and quantify some of the difficulties that they are going to face in meeting that transition to a new country.
But the most fundamental aspect of the city ranking list is that we don't set out to create them; we create the assessments and the lists are a by-product of that. The lists are an interesting marketing exercise that is based on the research that comes out of the assessments.
BU: So the lists are only the crumbles of the cake at the end?
RP: Absolutely. The lists are almost the inverse of the assessments. Because what we are actually looking for is: what is missing, what is really difficult to adjust to, what is uncomfortable, and what is of poor quality in a particular city. The lists show the opposite of that. They display the cities that don't have any problems and therefore a high standard of living…
…the complete interview was published in MONU #13 on the topic of Most Valuable Urbanism on October 5, 2010.


26-01-10 // LIFE WITHOUT ARCHITECTS – INTERVIEW WITH MAGRIET SMIT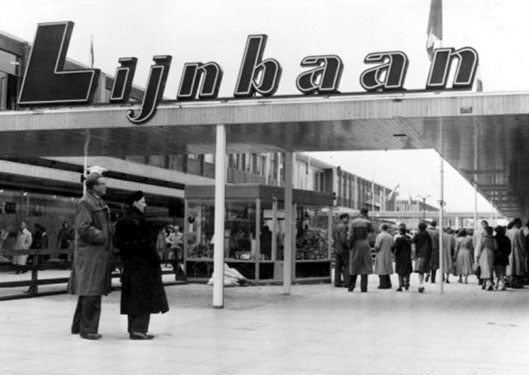 Rotterdam's inner city shopping street "Lijnbaan", 1953
Bernd Upmeyer spoke on behalf of MONU with Magriet Smit. Magriet Smit is a real estate developer for a Rotterdam-based company.
Bernd Upmeyer: How would you define a good district to invest in in a city? Which are the bad ones? How do you distinguish between them?
Magriet Smit: There are always two important arguments. On the one hand there is the financial situation of an area and on the other there are the people, our clients, who live there. We start or continue a project if we can make a profit, or if the financial loss is accepted as a risk. Areas also change from time to time, can become better or deteriorate.
BU: How could you not define a good or bad location in Rotterdam?
MS: The strange thing in Rotterdam is for example that the inner city doesn't have a much value if you compare it with other Dutch cities. Usually, big cities always see the highest prices in the centres. That's not the case in Rotterdam.
BU: Why is that?
MS: I think this is mainly because there is not so much housing in the inner city. The housing density is really low compared to other city centres. But another reason is that there is a lot of retail in the centre.
BU: You are not interested in retail?
MS: Sometimes we also invest in retail, but it really is a completely other way of thinking. We develop mainly housing, care institutions, and schools.
BU: Why are you not entering other fields too?
MS: There is of course the minister of VROM, who says what we are allowed and not allowed to do. Although we manage ourselves as a social housing corporation with our own money, we are still dependent on the lower interest rates that are given to us for loans. And the minister controls those rates and controls therefore also our business. Due to the current financial crisis, it is very difficult to increase the value of property as well. The control of the state on the development activities of housing corporations is an agreement made during the privatisation of the corporations in the nineties…
…the complete interview was published in MONU #12 on the topic of Real Urbanism on January 26, 2010.


15-01-10 // ROTTERDAM IS A WHORE – INTERVIEW WITH ANDRE KEMPE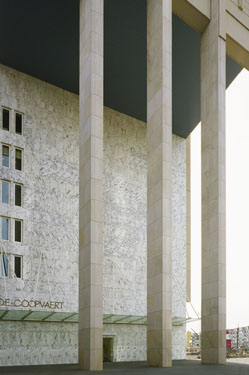 "De Coopvaert", a residential/ office tower in the
centre of Rotterdam, photo: Bas Princen, ©Bas Princen
Beatriz Ramo and Bernd Upmeyer spoke on behalf of MONU with Andre Kempe. Andre is one of the principals of the Rotterdam-based architecure office Atelier Kempe Thill.
Bernd Upmeyer: How can we understand the process of how a plot of land is being developed in Rotterdam?
Andre Kempe: Usually, as an architect, you are asked by a developer, who is your client and then there is the city planning department, which takes care of the urban space of the city, checking the correct heights of the buildings, etc., and then there is also the OBR 1 in Rotterdam that is selling the land. The OBR is a very important factor in the development as they influence the prices that are charged for the land to the developers, which then influences the amount of money that the investors can spend on the quality of the building. The question of how much money goes towards the land and how much towards the building is always subject to crucial negotiations.
Beatriz Ramo: Does the OBR still have an influence on the development after they have sold the land? Who sets the rules?
AK: In our projects until now we have had the experience that the real selling took place when the project was fixed. The price of the land is always related to the number of houses and their size, in so far the real agreement came at the end of a longer negotiation process. With regard to urban rules, there are usually different planning instruments. Most important is the so called "bestemmingsplan" that defines the parameters of a building, its height, size, amount of stories, percentage of built surface etc. Sometimes this plan does not yet exist. In that case the size of the building is negotiable and has to be defined in consultation with the municipality. If the agreement with the developer is not yet fixed the city could ask for more quality, if investors have made deals in advance the municipality has – of course – a less strong position in these negotiations. Important in this is also that municipality companies like the OBR fix the land price according to the amount of houses that are to be developed. If a developer builds more houses the OBR can charge a higher price. In that sense, the OBR doesn't necessarily have exactly the same agenda as the urban planning department…
…the complete interview was published in MONU #12 on the topic of Real Urbanism on January 15, 2010.


25-08-09 // DOMES OVER MANHATTAN – INTERVIEW WITH GERD HAUSER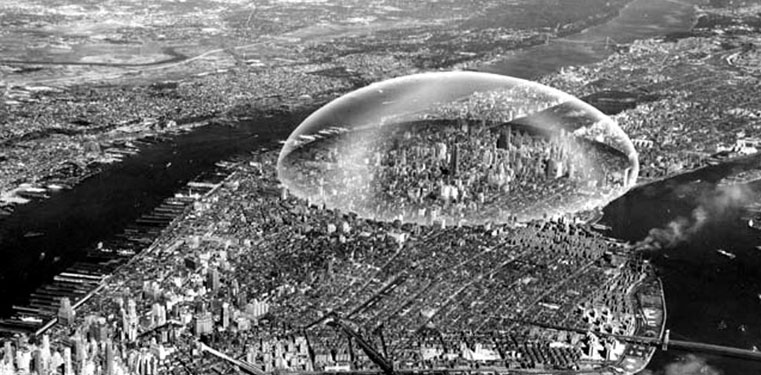 Buckminster Fuller's Dome Over Manhattan Island
Bernd Upmeyer spoke with Gerd Hauser, who is the head of the Institute of Building Physics at the Technical University of Munch in Germany that acts as a research institute for national and international standardization committees and advises Germany's Federal Ministry of Transportation, Building, and Urban Development. Prof. Dr.-Ing. Gerd Hauser is one of the leading researchers for the implementation of the EU Directive on "Energy Performance of Buildings". This interview deals in general with the question of how a Clean Urbanism – i.e. an urbanism that is dedicated to minimizing city-wide both the required inputs of energy, water, and food as well as its waste output of heat, air pollution as CO2, methane, and water pollution – could be achieved and defined.
Bernd Upmeyer: How might the know-how on sustainability, which has been successfully acquired at the architectural level over the last decades, be transferred and applied to the urban level to produce a clean urbanism?
Gerd Hauser: On the urban level, we have to understand that it does not make any sense to optimize the building as a single object. Although it might make sense to a certain extent, we also have to take the necessary next step and evaluate how important it might be to create urban structures that spend less energy, for example on traffic. To me, traffic is the crucial factor when it comes to a clean urbanism. We have to achieve cities with shorter commuting distances. But in general, I assume that not before long we will manage to create urban areas self-sufficient in their energy needs.
Bernd Upmeyer: What will such energy self-sufficient urban areas look like?
Gerd Hauser: We will exploit to the full all the known and tried and tested methods for energy efficiency. And after we have reduced all energy requirements to the furthest extent possible technically, we will service the remaining energy needs with renewable energies. Today, we are already able to achieve that on the building level. Projects exist that produce more energy annually than is consumed. With the help of such technologies we are able to provide not only the necessary electricity for the buildings themselves, but also – to a degree – the energy necessary for individual transportation in the form of electrical vehicles…
…the complete interview was published in MONU #11 on the topic of Clean Urbanism on August 25, 2009.


16-07-08 // PSEUDO-DEMOCRACIES AND PSEUDO-COMMISSIONS – INTERVIEW WITH REINIER DE GRAAF



Dubai satellite image, ©OMA
Beatriz Ramo and Bernd Upmeyer spoke with Reinier de Graaf, who is one of the partners of Rotterdam-based OMA (Office for Metropolitan Architecture). He joined OMA in 1996 and in 2002 became the director for AMO, the think tank of OMA. In that capacity he was responsible for the production of 'The Image of Europe', an exhibition that provides a history of European political representation. Recently, he has taken responsibility for OMA's growing engagement in the Middle East and leads several master plan projects in Dubai, including Waterfront City, Kuwait, and Ras-Al-Khaimah, and buildings in Dubai and Saudi Arabia. The interview deals in general with the question what it means for a European planner – being used to a democratic context – to design in the Gulf States ruled by absolute monarchies. Furthermore, it discusses what kind of urban conditions are being produced there and what impact those planning processes have on the Western world. More specifically, the interview deals with OMA's Waterfront City project in Dubai.
Beatriz Ramo: At OMA you are currently busy with many projects in the Gulf Region. What is it like for a European planner, used to a democratic context, to design in states that are ruled by absolute monarchies?
Reinier de Graaf: There is a lot to say about the whole political dimension of where we are working at the moment. An engagement in a place that is not democratic is often equated with endorsement of non-democracies, or at best, it is equated with political indifference and opportunism. But actually, the choice of places where we work is quite deliberate, and as such very much the opposite of opportunism. As an architect you generally go where they build a lot, but at a certain moment we simply decided to explore the Eurasian continent and explore it to the fullest. A continent that geographically consists of about 20 percent democracies and about 35 percent dictatorships, but for the vast majority – the remaining 45 percent – it actually consists of what we have called: "pseudo-democracies": places where they have elections, but where you know in advance who is going to win. It is a very slippery and dangerous phenomenon. At this moment the Pseudo-democracy seems to be the most prevailing political system on the Eurasian continent. In many ways it entails the end of black and white thinking about politics in general. Pseudo-democracies have a two-way effect: on the one hand they function as the easy option for dictatorships when faced with pressures for democratic reform, (since for dictatorships it is always easier to transform itself into a pseudo-democracy than into a democracy). So to some extent it inspires good behavior in dictatorships. But on the other hand, it also constitutes a kind of very gentle and subtle erosion of previously well established democracies. So both dictatorships and democracies are weirdly sliding into the same diffuse state… If things were once black and white – good and bad, they are increasingly drifting towards a kind of grey state in which even supposedly respectable democracies can give rise to somebody like Berlusconi.
BR: So could we say that Italy is a pseudo-democracy?
RdG: Clearly some of Berlusconi's ongoing control of the Italian media while being in government has raised questions also inside EU nations about the robustness of the democratic political system. It is something we are acutely aware of. The question then is: what do you do? I must admit I always get a little annoyed that architects, simply because they are professionally active in other forms of political regimes, are the first whose integrity is called into question…
…the complete interview was published in MONU #9 on the topic of Exotic Urbanism on July 16, 2008.


04-02-08 // SLAVE CITY – INTERVIEW WITH JOEP VAN LIESHOUT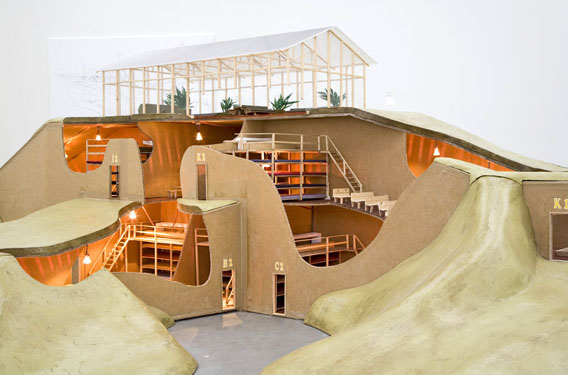 Female Slave University, 2006, ©Atelier Van Lieshout (AVL)
Bernd Upmeyer spoke on behalf of MONU with the Rotterdam-based artist Joep van Lieshout. Van Lieshout is the founder of Atelier Van Lieshout (AVL), a multidisciplinary art practice encompassing installation, design, furniture and architecture. Recurring themes in the work of AVL are autarky, power, politics and sex.
Bernd Upmeyer: Does SlaveCity have borders?
Joep van Lieshout: It absolutely has borders. Otherwise the slaves would walk away or people would get in. These don't have to be physical borders, but at least it should be a border to prevent people from walking out.
BU: Does the city have an own constitution?
JvL: No, it is not a free state or a democratic state or anything like that. So it doesn't need to have its own constitution. There are rules of course – many, very simple rules, but no constitution.
BU: Slave City has a very special building at its borders: the "WelcomingCenter". What is happening there?
JvL: It is an area for selection and for job interviews. Personal belongings will be collected here as well. The slaves are selected in the WelcomingCenter. Slaves who aren't clever and healthy enough to work in SlaveCity, are being used for other purposes. There is a large department for organ transplantations, a butcher and a slaughterhouse. You can also find a collection of silos, where all the agricultural products are made, where they are mixed, cooked and distributed. So basically it provides space for functions like selection, medication and cooking, all in one building. Like a giant man-eating-machine, you could say – very cannibalistic.
BU: Where are the slaves coming from? How do people become slaves?
JvL: I haven't thought about that yet. They probably appear rather randomly, but I don't expect the slaves to come all by themselves. I should imagine that you take a plane and fake to go to Venice and just land somewhere else. Of course, you should not tell people that they are going to become slaves. It was actually never really important for me to think about who is going to be a slave or not. I never gave a shit about where the slaves are coming from…
…the complete interview was published in MONU #8 on the topic of Border Urbanism on March 14, 2008.


21-01-08 // BOHEMIAN CHEAPNESS – INTERVIEW WITH JAROSLAV KUBERA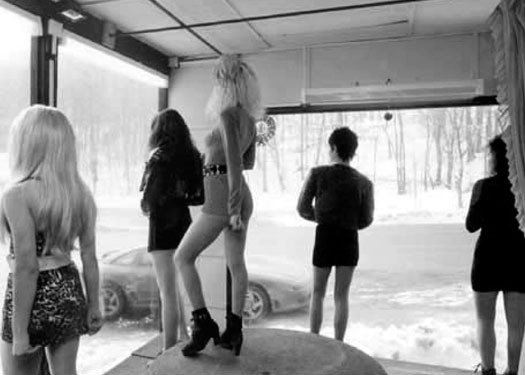 Dancing women in Teplice, 2003, photo: Sonja Zekri, ©dpa
Bernd Upmeyer spoke on behalf of MONU with Jaroslav Kubera, the mayor of the city of Teplice. Teplice is a mid-sized town with a population of around 50.000 inhabitants in Northern – Bohemia, and is located only 15km from the German border. Since 1989 Teplice has become popular as a result of its thriving sex industry. The area around Teplice has been branded Europe's biggest brothel by more than the occasional commentator. Cheap products such as cheap gas, cheap food and cheap sex combined with increasing gambling opportunities have attracted hundreds of thousands of German consumers since the demise of the USSR who cross the border and indulge themselves in the "Las Vegas of the East".
Bernd Upmeyer: In 1989, the Czech Republic gained independence and became an independent nation state. The city of Teplice was no longer located in the middle of the so-called "Ostblock", but directly at the border with a reunified Germany. What impact did this shift have on the city of Teplice?
Jaroslav Kubera: Unfortunately, the border which we have today, was the border with the former German Democratic Republic before. As today the unemployment rate in the former German Democratic Republic is the same as it is here, the situation did not change very much. The hope of a labor- exchange, I mean people traveling to work in Germany, was never really realized. People in the Czech Republic also feel deeply rooted in their region. So the idea of mobility – I mean the dream of people traveling across the border to get a job somewhere else – was a bit of an illusion.
BU: What are the biggest differences between the city of Teplice and the city of Kladno, which is of a similar size, but is located in the very center of the country and close to Prague?
JK: The cities are quite similar at first sight. Both of them are located in industrial areas, although there is less industry in our region. There is actually only one huge industrial company in the region of Teplice. But Kladno has a great advantage as it is directly connected to Prague – the capital city. And most of the people who were jobless in the nineties found a job in Prague.
BU: What would you say has been the biggest impact of its closeness to the border on the city?
JK: Generally speaking there is nothing special, but one thing is true, that Czech prostitutes have had a lot of clients from Germany. And maybe due to being a border town, we have more transport – particularly heavy transport…
…the complete interview was published in MONU #8 on the topic of Border Urbanism on March 14, 2008.


22-08-07 // DUMPED IN ALMERE – INTERVIEW WITH FLORIS ALKEMADE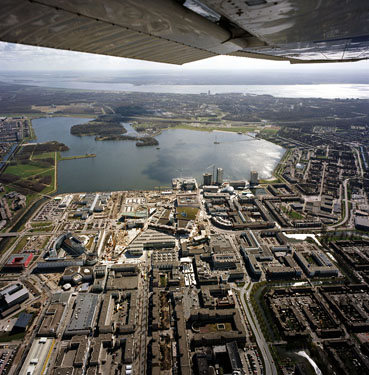 Aerial view of Almere, ©OMA
Beatriz Ramo and Bernd Upmeyer spoke on behalf of MONU with Floris Alkemade. Floris Alkemade is one of the partners of Rotterdam based OMA (Office for Metropolitan Architecture). He joined OMA in 1989 and has worked there as a project director for architecture and urban planning since 1996. As project architect and project leader, he worked in the early nineties on the Euralille master plan, a 70-hectare business, and civic centre in northern France hosting the European hub for high-speed trains. Since 1994, he has been leading the master-plan project for the City Center of Almere, which is currently under construction. The land where Almere sits today was part of the North Sea 50 years ago. At the end of the fifties, the construction of the polder began. Today Almere can be categorized as a 2nd rate city with 180.000 inhabitants. The city is located 35 km east of Amsterdam. The first house was built in 1976, and just 8 years later, Almere was designated an official municipality. It is expected that the population of Almere reaches 210.000 inhabitants by 2015, making it the 5th largest city in Netherlands.
Beatriz Ramo: Was Almere ever planned to be a 2nd rate city?
Floris Alkemade: Almere, strangely enough, was never intended to be a city. Almere was planned at the time, when the Bijlmermeer was constructed, that hardcore CIAM-kind of architecture. People started to realize, what the effects of that kind of architecture were and they decided to never do it again. Then they started to plan Almere and they decided that what ever they would do, it should not become a city. They planned Almere as five independent villages (Almere Haven, Almere Hout, etc), separated by vast amounts of green spaces. They were planned as very small-scale areas, where the car traffic would always located outside, in a ring road with only one road connection finishing in the area as a dead end. The intriguing thing was, even though Almere was never planned as an entire city, somehow its proximity to Amsterdam lead to the effect, that it started to grow and grow, which first of all had to do with the availability of the area.
Bernd Upmeyer: In that sense, at the beginning Almere was purely a housing area? Like a dormitory city?
Floris Alkemade: Exactly. At the beginning, it was a real satellite of Amsterdam, also politically. So the people in Amsterdam told Almere what to do. Amsterdam also financed projects there. However, at a certain moment it started to become clear, that Almere was growing more rapidly than anybody had ever expected. At a certain point, they decided that they no longer wanted to be a part of Amsterdam but wanted to become independent. It is almost like when children turn 16 or 17 and say "well, forget about it, I am going to live my own life". Almere thought, "We don't need your money. We are big, we will become even bigger and we can determine our own identity"…
…the complete interview was published in MONU #7 on the topic of 2nd Rate Urbanism on September 10, 2007.


25-06-06 // PREVENTING BRUTAL URBANISM – INTERVIEW WITH JÜRGEN MATHIES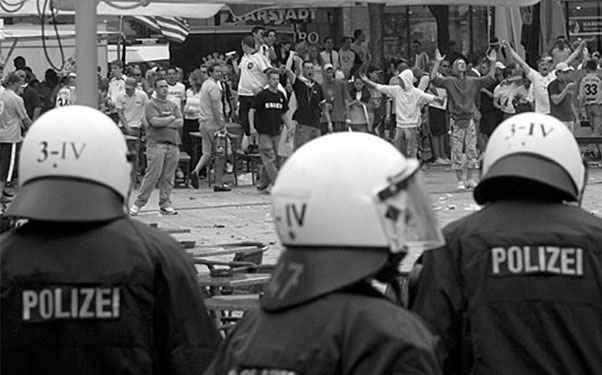 Hooligans during the 2006 FIFA World Cup
Bernd Upmeyer spoke on behalf of MONU with Jürgen Mathies, the Director of the Security Task Force for the 2006 Soccer World Cup in Germany. Mathies is the Executive police director and operating commissioner for the secretary of the interior in the federal state of North-Rhine Westphalia. He is responsible for police work across the state.
Bernd Upmeyer: Mr Mathies, you were the director of the managing committee that put together the security-masterplan for the 2006 FIFA World Cup. How does such a plan look like?
Jürgen Mathies: The managing committee was established by order of the Interior Secretaries of the German states. It included all of the police forces from the different states, the national police force and the Office of the Interior Secretary. First we looked at which topics we would have to especially keep an eye on. The first topic was dangers from hooliganism, secondly terrorism and extremism and the third was regular and organized crime that specializes in large events. We then divided this project team that already grown to 20 people into smaller teams that in consideration of these three topics worked on specific tasks. One subgroup worked on foreign country collaboration. That specifically involved collaborating with the police planning units of other countries and also coordinating the deployment of foreign police troops in Germany. One team dealt with the task of information exchange within our country and also with other countries and also the question of what kind of picture of the situation do we have during the World Cup? Yet another team was in charge of public relations and collaboration with the press. Team 5 was doing the operations management. That is what tasks do different police forces in Hamburg, Berlin, Cologne or Munich have to fulfill according to uniform standards? And finally team 6 was doing the actual work of crime fighting. All these parts in turn were incorporated into the police master-planning framework, which we updated several times.
BU: And how do you organize such an organizational structure? How do the police officers get to the places where they need to be – the dangerous areas?
JM: First you have to keep in mind that all of the 12 World Cup cities have a lot of experience when it comes to the policing aspect of soccer matches. With the exception of Leipzig, all the police forces have real experience in league games and also with international matches. So it was not our task to organize the everyday policing. Our task specifically was to organize what had to be done uniformly. In order for us to not only theoretically drift about without a reality check, four times during the preparation I invited all of the operating chief officers of all 12 police forces and we discussed the framework, so that what is written in the plan could also be put into reality. And it seems that by all accounts we were successful…
…the complete interview was published in MONU #5 on the topic of Brutal Urbanism on July 10, 2006.


30-06-05 // MODEL CITY – INTERVIEW WITH MAGRITTA FASSL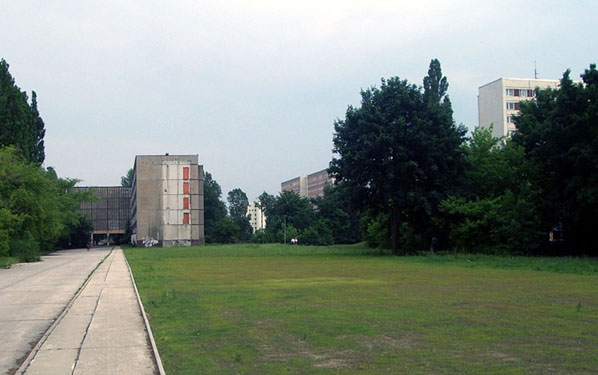 Hoyerswerda-Neustadt in decay, photo by Bernd Upmeyer, 2005
Bernd Upmeyer spoke on behalf of MONU with with Margitta Fassl, the managing director of the 'Wohnungsgesellschaft Hoyerswerda'. The reunification of Germany and the transformation of the former GDR from a socialist plan-economy into a market economy almost over night radically changed the economic and political realities of all cities and villages in what is now called the new states of Germany. While some select cities have adapted relatively well to the new structures, others seem to have drifted into a downward spiral of job-loss and population decline. This is particularly obvious in cities that had been chosen as model cities by the GDR regime and had been especially promoted, that are now, after the collapse of socialism, existing in the shadows and suffering dramatic population losses, unemployment, political disorientation and a lack of economic perspectives. Today they are model-cities of decline.
Hoyerswerda is one of these cities. Hoyerswerda developed in only 25 years from a small town with 7,000 inhabitants to a socialist model city with 70,000 people. It was planned to accommodate 100,000 at some point. Hoyerswerda was built up into the largest brown-coal refineries of Europe. For the thousands of new employees, housing was created in the periphery of Hoyerswerda. In the new part, Hoyerswerda-Neustadt, a total of ten new housing complexes with several thousand units and a new city center were created until the 80's in what was the first use of industrial large prefab housing construction. After the fall of the iron curtain and the reunification, the brown-coal industry collapsed. The ensuing economic demise caused the city to lose almost half of its population. Every year about 1,800 people leave the city – five every day.
In spite of all the privatization efforts Hoyerswerda-Neustadt, the new part of Hoyerswerda has a very peculiar ownership structure. There are basically only two property owners for the whole housing stock: a housing coop and the Wohnungsgesellschaft [housing management company] Hoyerswerda. Today about 40% of the all apartments belong to the Wohnungsgesellschaft Hoyerswerda. One could say that the transformation of the company, its buildings and tenant population is representative for the transformation of the city.
Bernd Upmeyer: The 'Wohnungsgesellschaft Hoyerswerda' was founded in 1991. You are the managing director since 1993. What was the situation on your first day of work?
Margitta Fassl: At that time the first thing to do was to adjust the rents from the GDR-level to one that actually takes into account the cost of maintenance and renovation. These adjustments dragged out until 1996. Naturally the economic situation was very difficult because of that. On top of that we had the fact that the properties were not yet completely allocated to the Wohnungsgesellschaft. The property, which used to belong to the city, had to be re-allocated, so that you had mortgage-able real estate, which you need to go to a bank and get a loan. Those were the main tasks at hand. We also had an obligation to privatize, which proved to be difficult to realize since we mostly had multi-family homes with 18 units or more, and to transfer those into private property was a venture in uncharted territory. This process depends to a large degree on the economic circumstance of the individual and not everybody is interested in buying private property. You also had the first signs of high unemployment, which made people even more careful. There also was a tendency to fulfill other housing ideals – in the early 90's we saw a strong increase in the development of single family homes in the periphery, which happened at the expense of our housing units.
BU: Your organization mainly owns 'Plattenbauten'?
MF: Yes. Today we own about 11,000 apartments thereof are 9.000 so-called 'Plattenbauten' in the new part of Hoyerswerda and about 2,000 in the old city.
BU: You mentioned that a large part of those apartments belonged to the city – were publicly owned by the GDR so to say.
MF: In 1990 the federal municipalization law was passed stipulating that municipalities would from that point on own the housing units that were within their jurisdiction. Before, our housing management company was called the VEB Gebaeudewirtschaft Hoyerswerda, which also owned units outside of the municipality. However those were then all of a sudden no longer belonged to us since they were not within the jurisdiction of Hoyerswerda. On the other hand the city of Hoyerswerda brought other housing units, which were within its jurisdiction into the Wohnungsgesellschaft…
…the complete interview was published in MONU #3 on the topic of Political Urbanism on July 5, 2005.


20-01-05 // MIDDLE CLASS URBANISM – INTERVIEW WITH THOMAS SIEVERTS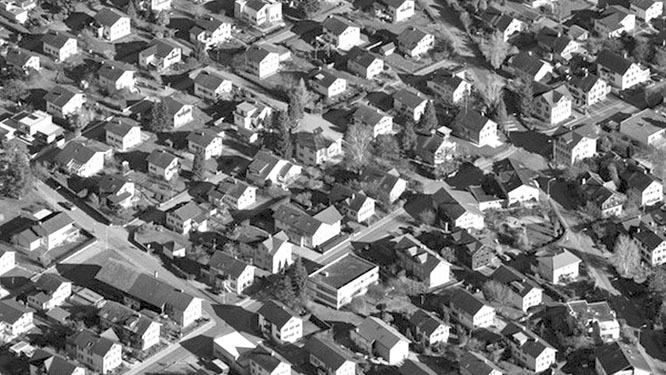 Single-family detached homes in Switzerland
Bernd Upmeyer spoke on behalf of MONU with the architect and urban planner Thomas Sieverts. His publications include 'Zwischenstadt' in English under the title 'Cities without Cities' and numerous articles and essays. He taught at the HdK in Berlin, at Harvard University and the TU in Darmstadt. From 1989 to 1994 he was the director of the Internationale Bauaustellung Emscher Park.
Bernd Upmeyer: The disappearing of the middle-class is predominantly known as an American phenomenon. To what extent is this also relevant in Europe?
Thomas Sieverts: I am not sure that this is a serious problem in Europe as yet. However many European cities complain about it. Hamburg for example is concerned about the fact that it looses 5000 solid middle-class inhabitants to its suburbs each year and in return gets either unstable lower class households or extremely rich people. These developments can become a problem even for prospering cities like Hamburg. I don't believe however that this is a common problem as of yet. An important question in this context of course is whether the financial burden sharing between cities, municipalities or neighborhoods will be eliminated. As long as this is not the case we won't have the doughnut-model in Europe, since inner cities are continually stabilized with large amounts of subsidies. I assume that this will continue to happen also in the future. It will become more difficult however since a lot of the retailers are leaving city centers while the old concepts still rely on the centrality of retail. This will change on the long run, since the inner cities are slowly realizing that they are loosing out with these policies and will start to become 'Zwischenstädte': If they can't avoid the big shopping malls then they will start to develop them in the context of their inner-cities. And if people want single-family homes at every price, they will transform areas designated for multi-family housing into single-family home areas. An extreme social polarization between neighborhoods will remain the exception in Europe, unless the neo-conservatives, who want to abolish social policies and redistribution, become strong. At the moment even the most conservative parties in Germany are still relatively 'social-democratic'. A really neo-conservative party – thank god – does not exist here or in Europe for that matter.
BU: In Europe there seems to be a displacement rather than a disappearing of the middle-class. For example the disappearing of the middle class from the city centers. Do cities need the middle-class?
TS: Yes. If we don't want to preserve the European City just as a tourist destination then we need a strong middle-class in the cities. Without them European cities will become mere tourist ghettos or ghettos of the super wealthy – this is already the case in Paris to some extent. The normal Parisian can't afford living within the periphery any more. In some cases this is also true in Germany—in Munich, for instance, and to some extent in Hamburg. In cities like Berlin and Cologne these phenomena are not yet so pronounced. However, should there be a strong neo-conservative force in this country that will no longer support redistribution, then social segregation will happen on a large scale in Germany too. If the central cities are not longer supported by a confident middle-class, they will deteriorate socially and culturally…
…the complete interview was published in MONU #2 on the topic of Middle Class Urbanism on January 20, 2005.